Jose Altuve wins 5th consecutive AL Silver Slugger Award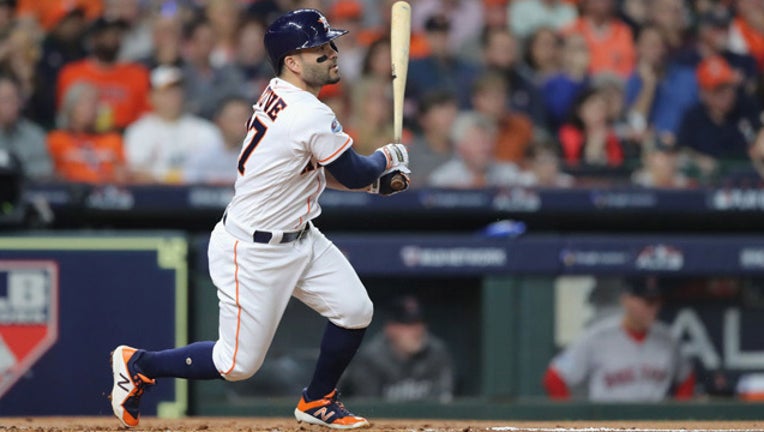 article
HOUSTON (FOX 26) - Louisville Slugger announced on Thursday night that Houston Astros All-Star second baseman Jose Altuve has won his fifth consecutive Silver Slugger Award (2014-18), which names him as the top offensive player at his position in the American League in 2018. By winning his fifth, Altuve joins Craig Biggio as the only players in franchise history to win five Silver Slugger Awards.
Established in 1980, the Louisville Slugger Silver Slugger Awards are the top offensive honors in Major League Baseball. Managers and coaches of all 30 Major League teams vote for the players they feel are the best offensive producers at each position in both the American and National Leagues.
Altuve, 28, hit .316 (169x534) with 29 doubles, 13 home runs, 61 RBI, 17 stolen bases and an .837 OPS (.386 OBP/.451 SLG) in 137 games for the Astros this season. He earned his sixth All-Star appearance (fourth start) and finished third in the AL in batting average and sixth in on-base percentage. Among AL second baseman, Altuve ranked first in batting average, OBP and slugging, while ranking second in hits and runs scored (84) and third in stolen bases. He was on pace for another 200-hit season, which he's reached four times, but was slowed in the second half of play with right knee soreness, which ultimately required offseason surgery. He is expected to make a full recovery and to be ready to play next Spring Training.
Altuve is the only Astros player to win five consecutive Silver Slugger awards, as Biggio won his in 1989, 1994-95 and 1997-98. In fact, Altuve is the just the second second baseman to win five straight at the position since the award was conceived in 1980. He joins Ryne Sandberg, who won a total of seven Silver Sluggers in his career, including a five-season run from 1988-92. Prior to Altuve, the last player at any position to have a five-season run of Silver Sluggers was outfielder Mike Trout from 2012-16.
There have been 11 Astros who have won a Silver Slugger Award: Altuve (2014-18), outfielder George Springer (2017), outfielder Carlos Lee (2007), third baseman Morgan Ensberg (2005), left-handed pitcher Mike Hampton (1999), outfielder Moises Alou (1998), first baseman Jeff Bagwell (1994, 1997, 1999), Biggio (catcher in 1989, second baseman in 1994-95, 1997-98), first baseman Glenn Davis (1986), outfielder Jose Cruz (1983-84) and shortstop Dickie Thon (1983).
This announcement continues a busy awards season for the Astros so far as several players have been named award winners or finalists for various honors. This began last week with left-handed pitcher Dallas Keuchel earning his fourth career Gold Glove Award (2014-16, 2018) and his fourth in a five-year span. Keuchel was the Astros only Gold Glove winner, but third baseman Alex Bregman and catcher Martín Maldonado joined him as finalists. Right-handed pitcher Justin Verlander is up for the AL Cy Young Award, as one of three finalists, set to be announced next Wednesday, Nov. 14. Verlander was also named a finalist as the American League's Most Outstanding Pitcher, as named by the Players Choice Awards. That award winner will be announced on Nov. 27.