James, Irving each score 41, Cavaliers stay alive in NBA Finals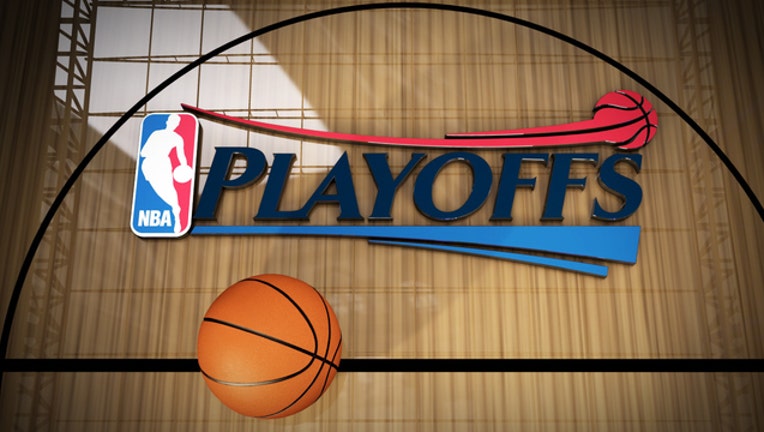 article
OAKLAND, Calif. (AP) - Booed every time he touched the ball, LeBron James cut through Golden State's defense and made layups look easy. Dunks and 3-pointers, so smooth, too.
And Kyrie Irving also completely had his way with the Warriors.
King James and Irving thoroughly overpowered the defending champions from every spot on the floor, and the Cavaliers are still alive to chase that elusive championship.
The unflappable, determined-as-ever James had 41 points, 16 rebounds and seven assists, Irving also scored 41 points and Cleveland capitalized on the absence of suspended star Draymond Green, staving off NBA Finals elimination with a 112-97 victory in Game 5 on Monday night.
"We had a mindset that we wanted to come here and just extend our period and have another opportunity to fight for another day," James said. "That was our main concern, and we were able to do that."
James and Irving became the first teammates to score 40 points in an NBA Finals game as the Cavaliers pulled within 3-2 and sent their best-of-seven series back to Ohio.
Afterward, sitting side by side on the podium, they offered back-and-forth shoutouts, with James noting of Irving, "It's probably one of the greatest performances I've ever seen live."
Take that, haters. James has much more to say about these playoffs before he's done — and not with his mouth, even as the criticism came from all directions following his Game 4 tussle with Green and reaction to what he considered the Golden State forward's inappropriate words. James was booed again as the Cavs left the court for their locker room, but thousands of fans had already made for the exits minutes earlier.
"Now, mind you, to repeat a performance like this would definitely be tough, but whatever it takes to win," Irving said.
Cleveland handed Golden State just its fourth defeat all season at sold-out Oracle Arena, denying MVP Stephen Curry and the Warriors a chance to celebrate another championship with their golden-clad "Strength In Numbers" supporters. Now, Curry and Co. must try to win on the road, just the way the Warriors did last year and also in their only other championship season out West in 1975.
The Warriors will get Green back Thursday as they try again for that repeat title.
"I kind of like our position," coach Steve Kerr said. "... I like our position a lot better than theirs."
Banned from the arena, Green watched from a baseball suite in the Oakland Coliseum next door, joined by Golden State general manager Bob Myers.
The All-Star forward was suspended Sunday for his fourth flagrant point of the postseason. He was assessed a retroactive Flagrant-1 for his swipe at James in the fourth quarter of Friday's Game 4.
Tied 61-all at halftime Monday, the Warriors missed 14 of their first 20 shots out of intermission and shot 7 for 24 in the third as James and the Cavs grabbed command by doing all of the little things on both ends of the floor — the very intangibles Golden State desperately missed without Green's high-energy presence on both ends. James jumped in the passing lanes to create defensive havoc, flipped passes around and got open.
Klay Thompson scored 37 points with six 3-pointers and Curry added 25 points with five 3s, seven rebounds, four assists and two blocked shots. But as the game wore on, the Splash Brothers shot airballs and clanked 3-point tries off the front rim. The Warriors often failed to get a hand in the face of Cleveland's shooters.
"We weren't very good defensively," Kerr said. "We obviously knew we were without Draymond, so there's no point in harping on that. We had to play better, and we didn't."
James and Irving combined to shoot 33 for 54, while the Warriors went cold and finished 36.4 percent from the field. James also had three steals and three blocked shots.
Andre Iguodala had 15 points, 11 rebounds and six assists starting in place of Green, but Oakland must hold off in planning another victory parade for now.
"We like our chances going forward and continuing to just try to be us, the best we can, and get one more win," Curry said.
Warriors center Andrew Bogut went down early in the third grabbing his left knee and writhing in pain, and will have an MRI exam on his sprained knee Tuesday.
Irving's three-point play with 7:30 remaining put Cleveland ahead 102-92, and the Cavs kept pushing. They answered on offense and made all the key stops on defense.
"It obviously stings real bad," Thompson said. "We'll come back stronger."
MOMENT OF SILENCE
Former Orlando Magic star Grant Hill spoke on behalf of the NBA in offering support, thoughts and prayers to victims in the Orlando mass shooting before a moment of silence.
TIP-INS
Cavaliers: Kevin Love returned to the starting lineup for the first time since sustaining a concussion in Game 2 here on June 5. ... James extended his NBA-record streak to 26 straight playoff series with at least one road win. ... James played his 197th postseason game, tying him with Manu Ginobili for No. 9 on the NBA's career list. He also passed Elgin Baylor (1,724) for No. 9 on the rebounds list.
Warriors: Golden State committed 17 turnovers. ... The Warriors had won their last four against the Cavs on their home court, outscoring Cleveland by a combined 48 points in Games 1 and 2 of these finals. ... Golden State had its streak of six straight Game 5 victories in the postseason dating to last year's Western Conference semifinals snapped.