Houston Texans host Miami Dolphins led by Osweiler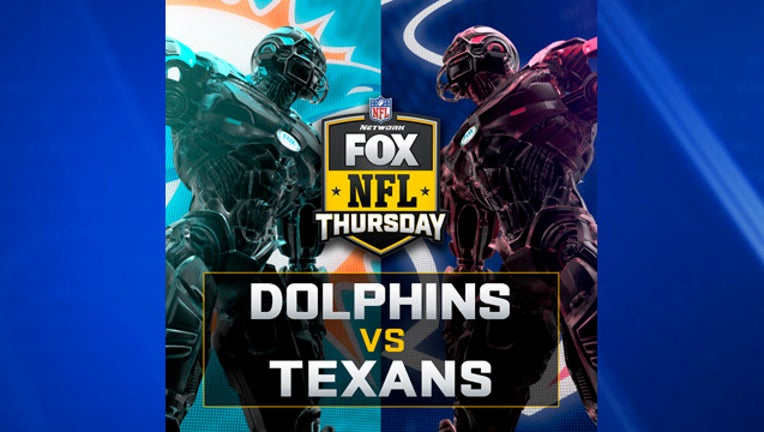 article
HOUSTON (AP) - When the Texans host the Miami Dolphins on Thursday night it will be a matchup of Houston's quarterback of the future in Deshaun Watson and one of the many failed quarterbacks of the team's past in Brock Osweiler.
It will be Osweiler's third straight start in place of Ryan Tannehill, who is out with a shoulder injury.
Watson is healthy after dealing with lung and rib injuries and helped the team to its fourth straight win last week after an 0-3 start to leave the Texans in first place in the AFC South.
The Texans traded up to draft Watson with the 12th overall pick in the 2017 draft to take over at the position after trading Osweiler to Cleveland just one difficult season after signing him to a $72 million contract. Osweiler spent last season with the Broncos before joining the Dolphins this year.
Osweiler was supposed to be the answer to Houston's longtime woes at quarterback, but instead ended up being the worst free-agent signing in the franchise's short history. He was benched in December of his first and only season with the Texans when he'd thrown three interceptions before halftime of a game against the Jaguars. Tom Savage started the next two games, but got a concussion early in the second one and the Texans looked to Osweiler again.
He played well to help Houston to a win in the wild-card game over Oakland. But his three interceptions doomed the Texans in a 34-16 loss to New England in the next round and he was sent packing a couple of months after that.
Osweiler, who is 1-1 as a starter this season, knows everyone will be talking about his time in Houston this week, but insists he isn't worried about it.
"There's going to be a lot of outside noise trying to make a situation bigger than what it really is; but at the end of the day ... my one season I had in Houston, I look at it as a successful season," he said. "We won our division and we won a playoff game."
He said he hasn't spoken to Houston coach Bill O'Brien since the trade, but that he has "great respect" for him and the Texans.
"There's no hard feelings," Osweiler said. "There's no ill-will ... (I'm) focused just on playing a good football game Thursday and doing whatever this football team needs me to do to help them get a win."
Although the Texans went 9-7 in Osweiler's one season, some of his former teammates don't have very fond memories of his time in Houston.
"He's not here anymore, so I don't really care for him," defensive end Jadeveon Clowney said. "We didn't win a lot with him. Trying to go against him now. Try to get after him this week up front make him rattled in the pocket, hope he'll throw a couple of interceptions."
While the Texans were certainly disappointed that Osweiler didn't work out after he signed that huge contract, they're happy with how things worked out considering that his failure led to them drafting Watson.
The 23-year-old Watson said he didn't know a lot about the revolving door the team had at quarterback in the years before he was drafted. But he does understand how excited fans are to have him and about his potential to be the franchise quarterback this team has long searched for.
"It's been awesome just to feel that love and just have people consider me as a franchise quarterback and they want me here," he said. "So, I've just got to continue to focus on what I can do to help this team win."
Some things to know about the Dolphins-Texans game.
EARLY ARRIVAL
The Dolphins flew to Houston on Tuesday, a day earlier than usual. Coach Adam Gase decided to tweak the schedule because in the Dolphins' two most recent Thursday night appearances, they lost at Cincinnati 22-7 in 2016 and at Baltimore 40-0 last year.
Gase conceded he's still trying to figure out the best way to prepare on a short week.
"I'm the wrong guy to ask on that, considering that I think we've scored seven points and given up 60-something," he said. "We're trying something new this year."
MILLER'S MIAMI TIES
Houston running back Lamar Miller was born and raised in Miami, went to college at Miami, was drafted by the Dolphins in 2012 and spent his first four seasons there before signing with the Texans before the 2016 season.
Miller, who had his first 100-yard rushing game since 2016 last week, said he's trying to approach Thursday as any other game, but admitted it might mean a little bit more because of his history.
"Of course, I want to do good because I played there and I'm from there," he said. "So, I'm going to try and do whatever I can to put us in the best spot to win this game."
KEY MATCHUP
Miami cornerback Xavien Howard is likely to spend a lot of time covering DeAndre Hopkins, who is tied for third in the NFL with 707 yards receiving on 47 catches.
"I see he likes to push off a lot," Howard said. "He likes to get physical. That's going to be part of his game."
Howard said that's fine with him.
"Oh, yeah. I'm a physical corner," he said.
Howard is tied for the league lead with three interceptions.
___
AP Sports Writer Steven Wine in Miami contributed to this report.
___
More AP NFL: https://apnews.com/tag/NFL and https://twitter.com/AP_NFL