Houston Rockets forward KJ Martin to participate in NBA All-Star Slam Dunk competition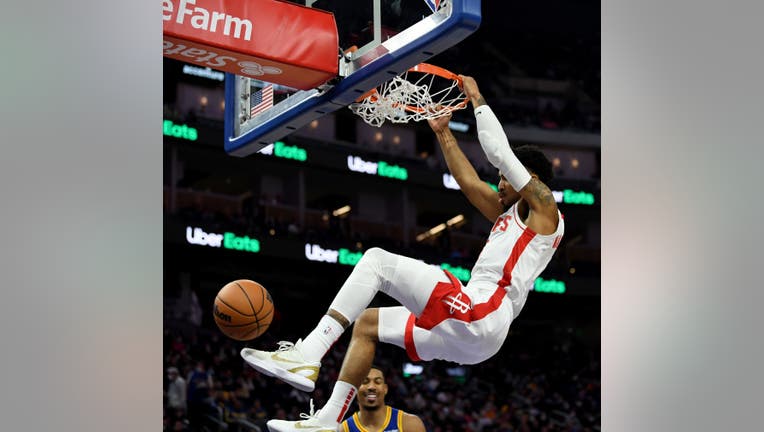 article
HOUSTON - Calling this one of the top moments of his brief NBA career, Rockets third-year forward KJ Martin is "looking forward" to competing in the AT&T Slam Dunk during NBA All-Star Saturday Night in Salt Lake City. 
"It's an honor," Martin said. "Looking forward to displaying my jumping ability on the biggest stage."
Martin is the sixth different Rocket to take part in an NBA dunk contest, joining Ralph Sampson (1984), Kenny Smith (1991, 1993), Steve Francis (2000, 2002), Chase Budinger (2012) and Jalen Green (2022). Francis was runner-up as a rookie to Vince Carter in 2000, while Budinger finished second to Jeremy Evans in 2012.  
KJ's dad, who played 15 years in the NBA and was an All-Star in 2004, is thrilled for his son.  
"I just can't wait for the rest of the world to see what I already know, and what people who've been watching him know," Kenyon Martin Sr. said.  
Kenyon said taking part in the Slam Dunk has always been KJ's dream.  
"Yea, I wanted to do it last year, but that didn't work out, but it's all good," KJ Martin said. "I'm here now, so it's pretty cool."
Rockets fans have watched KJ display dunk after dunk that showed he belonged in the Slam Dunk competition and the NBA agreed.  
KJ said being selected to compete in the event is really special.
"It's up there alongside me getting drafted and following my dad's footsteps to the NBA," KJ Martin said.