Houston Cougars defeat Arizona Wildcats 45-18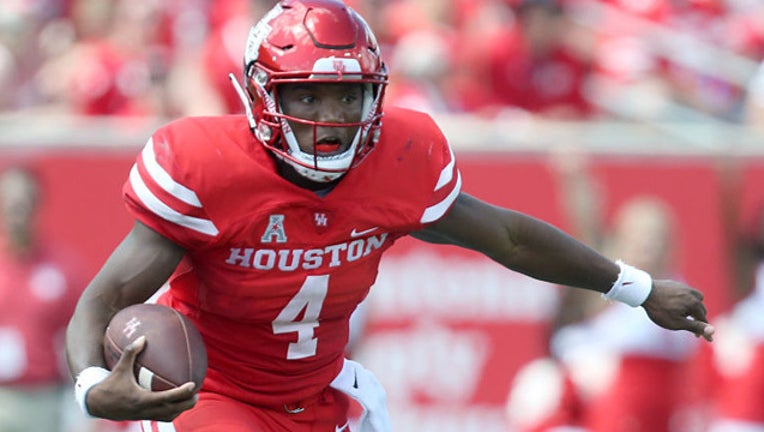 article
HOUSTON (AP) - Houston quarterback D'Eriq King threw for four touchdowns and rushed for one as the Cougars beat Arizona 45-18 on Saturday.
King finished with 246 passing and 27 rushing yards while Houston improved to 2-0 on the season.
King connected with Marquez Stevenson on a 24-yard TD pass, scored on a 1-yard run, then hit tight end Romello Brooker for a 52-yard score and a 21-0 Houston lead after one quarter.
Arizona, playing uphill the rest of the game, never recovered.
UH scored two more times before halftime - on a 35-yard field goal from Dalton Witherspoon and on King's 13-yard pass to Bryson Smith for a 31-0 lead.
Arizona quarterback Khalil Tate tweaked his ankle in the first half but remained in the game. The elusive quarterback, who came into the season in the Heisman Trophy conversation, looked sluggish at times, but finished the game completing 24 of 45 passes for 341 yards and two interceptions.
Arizona avoided the shut out, scoring its first points in the third quarter on a 49-yard field goal from Lucas Havrisik. Running back Darrius Smith scored on a 1-yard rush with 11 seconds remaining in the third quarter to give the Wildcats their first touchdown. With just over 11 minutes left in the game, Tate scored his only touchdown of the day on a 2-yard run.
Houston finished the game with 551 offensive yards (297 rushing, 254 passing) and will play another Power 5 Conference opponent, Texas Tech, next week.
The game marked the return to Houston for Arizona coach Kevin Sumlin, who coached the Cougars from 2008-2011 in his first head coach post. He finished 35-17 in that time before heading to Texas A&M.
THE TAKEAWAY
Arizona: The Kevin Sumlin reign in Tucson is not off to a great start as the Wildcats picked up their second loss of the season. Quarterback Khalil Tate, who started the season in the Heisman Trophy conversation, tweaked his ankle in the first half but played through the injury
Houston: The Cougars proved that they are a team to keep an eye on - not just because of the lopsided win on Saturday, but because of the way they won. The offense, led by head-turning quarterback D'Eriq King, is getting due credit, but the Houston defense was also impressive while holding off the Arizona offense and picking off two Khalil Tate passes.
UP NEXT
Arizona: The Wildcats are back at home on Saturday and host Southern Utah.
Houston: The Cougars travel to Lubbock to play Texas Tech on Saturday.