Harden scores 38 points, leads Rockets over Pelicans 117-107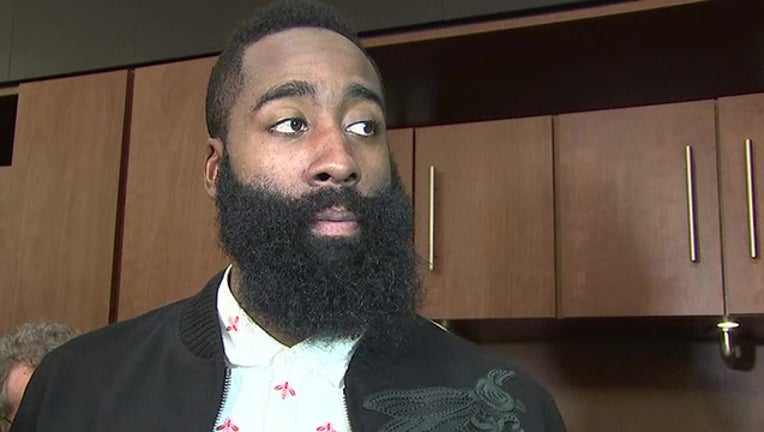 article
HOUSTON (AP) - James Harden scored 38 points, including eight down the stretch, and tied a career high with 17 assists to help the Houston Rockets pull away for a 117-107 victory over the New Orleans Pelicans on Friday night.
The Pelicans had scored seven points in a row, capped by a 3-pointer from DeMarcus Cousins, to cut the lead to two with about two minutes left. Harden scored Houston's first points in almost 2 1/2 minutes after that on a driving layup to extend the lead. And after a bucket by Cousins on the other end, Harden made three free throws to leave the Rockets up 110-105 with about 90 seconds left.
A 3-pointer by Harden soon after that put it out of reach, and gave the MVP candidate a standing ovation from the home crowd.
Anthony Davis had 33 points and 16 rebounds and Cousins added 29 points for the Pelicans, whose three-game winning streak was snapped.
The Rockets have won eight of the past 10 games against the Pelicans and five straight at home.
Harden got going early, scoring 17 points in the first quarter en route to his fourth straight game with at least 30 points and 10 assists.
Cousins tied it with a three-point play with about 8 1/2 minutes left when Houston began a 7-0 run, powered by five points from Patrick Beverley. Beverley made a 3-pointer before adding a tip-in layup on the next possession after a missed 3-pointer by Ryan Anderson to make it 97-90.
The Pelicans got within six, but Eric Gordon hit a 3-pointer after that to extend Houston's lead to 105-96 with 4 1/2 minutes to play.
New Orleans trailed by six in the fourth quarter when Cousins pushed Beverley and he fell to the ground before Cousins stepped back and sunk a 3-pointer. No foul was called and Beverley began jawing at the referees, earning a technical foul. But New Orleans missed the foul shot to remain down by three with about nine minutes left.
The Pelicans trailed by four late in the third quarter before Davis scored six straight points to put them on top 72-70. Clint Capela made a hook shot for Houston after that, but Davis stayed hot and responded with a step-back jumper to leave New Orleans up 74-72 with two minutes left in the quarter.
The Rockets got a basket from Trevor Ariza before Davis struck again, adding a basket to leave the Pelicans on top 76-74.
Houston scored the next six points, highlighted by a 3-pointer from Harden, before Jordan Crawford capped the third quarter with a 3-pointer to cut the Rockets' lead to 80-79 entering the fourth quarter.
Davis scored 17 points in the third quarter.
The Pelicans led 50-49 at halftime.
TIP-INS
Pelicans: Cousins made five 3-pointers. ... Omer Asik sat out with an illness. ... Jrue Holiday had 18 points.
Rockets: Beverley finished with 17 points. ... Capela had 10 points and 13 rebounds for his 13th double-double this season. ... Nene had 12 points to give him at least 10 points in eight of his last 11 games.
UP NEXT
Pelicans: Visit Denver on Sunday.
Rockets: Host Thunder on Sunday.