Harden helps Houston Rockets beat Brooklyn Nets 117-103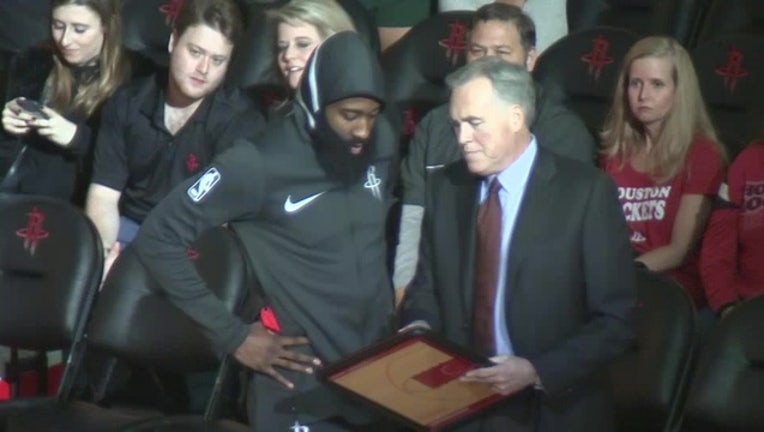 article
HOUSTON (AP) - James Harden scored 20 of his 37 points in the first quarter to lead the Houston Rockets to a 117-103 win over the Brooklyn Nets on Monday night.
Harden added 10 rebounds and eight assists to guide the Rockets to their fifth straight win. When he took a break with 1:28 remaining in the first quarter, he was outscoring the Nets 20-17 by himself, not to mention four assists at that point. He was 5-for-5 from 3-point range in the first quarter and finished 8-for-13.
Clint Capela added 20 points for Houston, and Chris Paul had a season-high 14 assists on "Chris Paul Bobblehead Night" at the Toyota Center.
For the Nets, Isaiah Whitehead led scorers with 24 points off the bench. Spencer Dinwiddie had 14 points, Caris LeVert had 13 and Sean Kilpatrick added 12. Coming off of a 98-88 win in Memphis on Sunday night, Brooklyn has lost four of its last five.
Houston led 66-55 at halftime and entered the fourth quarter with a 16-point lead.
Brooklyn's bigger lineup outscored the Rockets 54-40 in the paint and had 43 rebounds to Houston's 42. But the Nets struggled to guard the sharpshooting Rockets on the perimeter. Houston made 20 of 50 3-pointers, good for 40 percent.
Ryan Anderson had 13 points, and Eric Gordon scored 12 points off the bench for Houston despite shooting 1-for-10 from 3-point range.
At 16-4, the Rockets are off to their third-best start in franchise history. Houston has won 11 of its last 12 games, going 11-1 in November with Indiana visiting on Wednesday night to close out the month.
TIP-INS
Nets: Forwards DeMarre Carroll (upper respiratory condition) and Allen Crabbe (lower back soreness) were both out. . Quincy Acy had seven points in 20 minutes after missing the previous two games by coach's decision.
Rockets: Houston was without two of its big men -- veteran center Nene was inactive with a strained right shoulder, while rookie center Zhou Qi had a sore left calf. . The Rockets have won 10 of their last 11 meetings at home against Brooklyn.
UP NEXT
Nets: Visit Dallas on Wednesday night.
Rockets: Host Indiana on Wednesday night.