Hamels leads Rangers to 2-1 win over Astros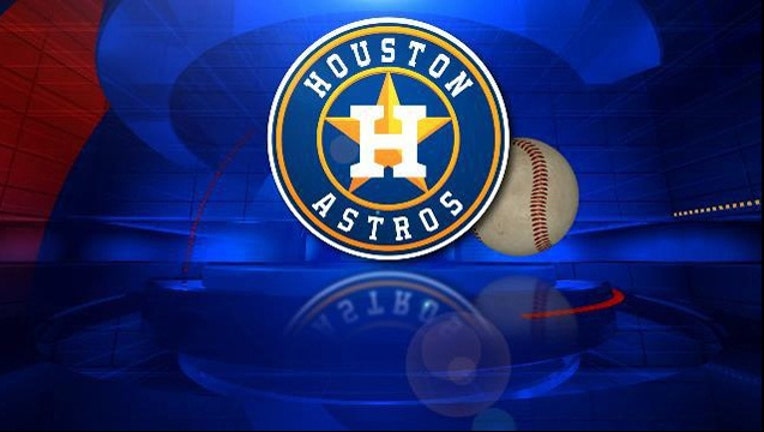 article
ARLINGTON, Texas (AP) - The Houston Astros wanted to get to Cole Hamels early. They simply gave away several chances to do it.
The Texas ace hit the first two Houston batters of the game, the Astros had three straight singles to start the second inning and a leadoff hit in the third.
But Houston didn't score after making an out on the bases in each inning, and Hamels ended up extending his career-best winning streak to 10 games while getting a two-run home run from Rougned Odor in the Rangers' 2-1 victory Wednesday night.
"We talked about before the game where you've got to get to him early if you get a chance to," Houston manager A.J. Hinch said. "We did a really good job of creating havoc for him. We just didn't do anything with it."
Hamels (3-1) had never hit more than two batters in a game, and ended up with a career-high three. That included Jose Altuve twice — to start and end the left-hander's outing.
"I don't think I've hit more than two guys in a game and I definitely just broke that record," Hamels said. "But to lead off a game, it's not what you want to do."
Doug Fister (1-2) allowed Odor's second homer in the second inning as the Astros lost their ninth straight at the Rangers. But the right-hander went six innings for the first time in three starts for Houston, allowing two runs on five hits.
"That's the best that Doug's been as an Astro," Hinch said. "I was very impressed with how he went about it."
Hamels allowed rookie Tyler White's fifth home run in the sixth but combined with reliever Sam Dyson to strand the tying run at third with one out in the seventh.
Jake Diekman got called third strikes on Colby Rasmus and Evan Gattis with the tying run at second in the eighth, and closer Shawn Tolleson pitched the ninth for his fifth save.
In addition to three hit batters, Hamels walked three and gave up five hits with seven strikeouts in 6 2/3 innings. But the Astros helped him survive.
White took a called third strike on a double steal in the first, and Texas catcher Bryan Holaday threw behind the lead runner to get George Springer easily at second.
With one out and the bases loaded in the second, Marwin Gonzalez flew out to right fielder Nomar Mazara, who threw home without a hop, forcing Rasmus to backtrack to third. Carlos Gomez was caught too far off first base, and Rasmus eventually was tagged out in a rundown.
"Always when you're running the bases in that situation, you look at when the throw is going to be high. And that's what I see," Gomez said. "We see Colby take off, and he stopped. So, we have to stop, too. They take advantage and throw to first. I guess nobody's fault."
Altuve started the third with a sharp single down the line in left but was thrown out trying to go to second on the first career outfield assist for converted shortstop Ian Desmond, who got help on a diving tag by Odor.
BLOWN CHANCES
After stranding Gomez at third with one out in the seventh, the Astros couldn't advance Carlos Correa following a leadoff double in the eighth. Houston was 1 of 12 with runners in scoring position and is 3 for 24 in the first two games, both losses in the first series between the Texas rivals and last year's AL West playoff teams.
UP NEXT
Astros: AL Cy Young winner Dallas Keuchel (2-1, 2.18) has made 14 career starts against Texas, most of any opponent for the lefty. His four wins against the Rangers are tied for the most by a Houston pitcher with Collin McHugh, Roy Oswalt and Wandy Rodriguez.
Rangers: RHP A.J. Griffin (1-0, 3.27) goes on seven days' rest in his first start for Texas at Globe Life Park and third overall. He allowed just two runs in 11 1/3 innings in two starts for Oakland at the home of the Rangers, but didn't get a decision in either one.