Hall of Famer Elvin Hayes part of group trying to buy Rockets franchise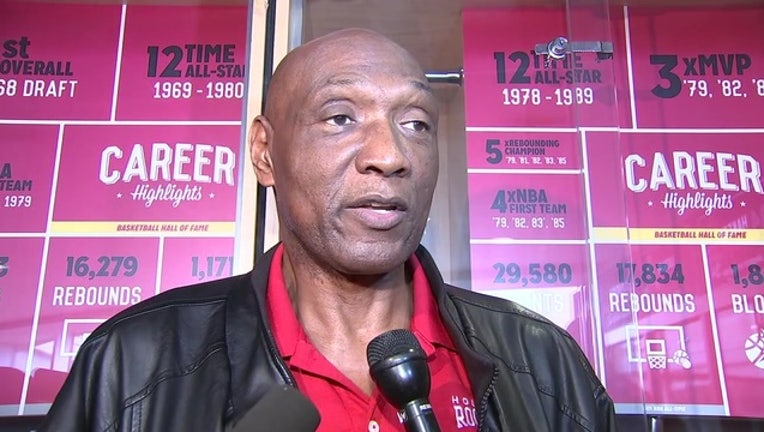 HOUSTON (FOX 26) - Hall of Fame forward Elvin Hayes said he is a member of a group that is attempting to buy the Houston Rockets franchise.
Hayes said he and his group met recently with Rockets CEO Tad Brown, who is handling the sale for owner Leslie Alexander.
"We have met with the Rockets, and had a very cordial and a very nice, in-depth visit," Hayes said in an interview with FOX 26 Sports. "We feel good about our meeting with the Rockets, and I think they felt good with us.
"We have some very strong people in this group. We could do some very good things with this organization, with this team."
Hayes, who did not identify the members of his group, was inducted into the Naismith Memorial Basketball Hall of Fame in 1990.
He played 16 years in the NBA, beginning  with the San Diego Rockets in 1968, moving with the team to Houston in 1971 before being traded to Baltimore in 1972.
Hayes, who was an All-American at the University of Houston, also played for the Rockets from 1981-1984.
"It would really mean an awful lot to be a part of this group if we are able to do what we feel we are capable of doing," Hayes said.
"I look at it like it's very personal and heartfelt to me. This team is in Houston largely due to Elvin Hayes playing ball at the University of Houston, playing in a huge game in the Astrodome (1968) and showed basketball was a marketable product. Then going to the San Diego Rockets and a group of Mr. Billy Goldberg, Wayne Duddlesten, Mickey Herskowitz, these people looked and said 'we need to bring this team to Houston with Elvin Hayes.'
"If the team came with you and you have the opportunity to be part of an ownership group, I think it's just a match. That's the way I look at it. It's a no-brainer for me."
Hayes was a 12-time NBA All-Star, 6-time All-NBA, named a member of the NBA's 50th Anniversary All-Time Team and Hayes won an NBA championship with the Washington Bullets in 1978.
"It's one of the things where you have to look at the people in the game," Hayes said. When you look at the people in the game, a lot of times you say they might can go here. They might can go there, and you have to do an evaluation.
"If we are not fortunate enough to be successful in this endeavor, I feel that Tilman (Fertitta) would be a person that could really bring great benefit to this basketball team and this city. If we are not where we need to be, I feel that Tilman would be the person really to do amazing things with this basketball team."
Houston billionaire Tilman Fertitta expressed interest in buying the Rockets franchise when the team was put on the market in July.
Last week Houston billionaire, Dan Friedkin, said he was interested in exploring the purchase of the Rockets.
Another Hall of Famer, Dikembe Mutombo, also a former Rockets star, has said he has an interest in being part of a group that would attempt to buy the team.
Rockets CEO Tad Brown said when the team was put on the market, he would handle the sale and have no comment during the process.