Gordon leads Houston Rockets past Detroit Pistons 100-96 in overtime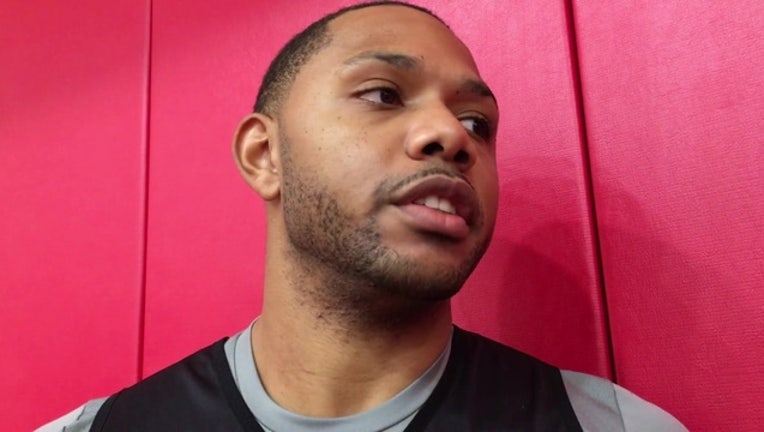 article
HOUSTON (AP) - James Harden scored 21 points, including 10 of Houston's 12 points in overtime, to shake off a tough four quarters and lift the Rockets to a 100-96 victory over the Detroit Pistons on Thursday night. Eric Gordon added 22 points for Houston on a night Chris Paul sat out with a sore left hamstring.
After going 2 of 16 in regulation, including missing a shot that would have won it, Harden warmed up in overtime. He put Houston up with a basket early in the period before making it 93-90 on a three-point play after a basket by Andre Drummond. He added three free throws with about a minute left before P.J. Tucker's tip-in made it 98-90 with 21 seconds to play.
Blake Griffin, who finished with a triple-double, had a 3-pointer after that, but Harden made two more free throws to push the lead to seven. Harden missed both free throws after a 3-pointer by Ish Smith with 4.2 seconds left, but the Rockets held on to extend their winning streak to seven games.
It was an ugly game which featured 71 missed 3-pointers combined. Houston was 12 of 51 and Detroit made just 6 of 38.
Griffin had 21 points, 10 rebounds and 10 assists. Drummond had 17 points and 20 rebounds.
The Pistons trailed by nine with about 4 1/2 minutes left in regulation when Griffin made a layup to start an 11-0 run. Reggie Bullock made a 3-pointer and Luke Kennard had four points in that stretch, including two free throws that put Detroit up 88-86 with about 90 seconds remaining.
Houston tied the game when Drummond was called for goaltending on a shot by Tucker with 30.5 seconds left.
Griffin missed a shot with 9 seconds left and Harden's shot jump shot at the buzzer was off to send the game into overtime.
After scoring 42 in Houston's win over Portland on Tuesday, Harden had trouble getting anything going against Detroit. He made 13 of 18 free throws, but was 0 for 8 on 3-pointers.
The Rockets opened the fourth quarter with five straight points, highlighted by a 3-pointer from Trevor Ariza, to lead 76-68 with about 10 1/2 minutes left.
Detroit got within four points before a 7-2 run by Houston made it 83-74 midway through the quarter. Joe Johnson got things going in that stretch with a 3-pointer and Gordon scored the other four points.
Griffin received a flagrant foul early in the third quarter when he tripped Harden as he came down after a 3-point attempt. Harden twisted his left ankle as he landed and crashed to the court. He remained there for a couple of minutes before slowly getting to his feet and remaining in the game.
He made two of three free throws as part of an 8-0 run Houston used to start the third quarter and take a 56-50 lead. The Rockets carried a 71-68 lead into the fourth quarter.
Detroit led for most of the first half and was up 50-48 at halftime.
TIP-INS
Pistons: Detroit forced 12 turnovers for its 59th straight game with at least 10, which is the longest such active streak in the NBA. ... Smith finished with 18 points. ... Reggie Jackson was 0 for 6 on 3-pointers.
Rockets: Coach Mike D'Antoni said Paul's injury wasn't serious and that he expects him to return on Saturday. ... Luc Mbah a Moute didn't play after halftime because soreness in his left knee. ... Clint Capela had 14 rebounds.
UP NEXT
Pistons: Host Chicago on Saturday night.
Rockets: Host New Orleans on Saturday night.