Gonzalez grand slam sends Astros past Rangers 8-7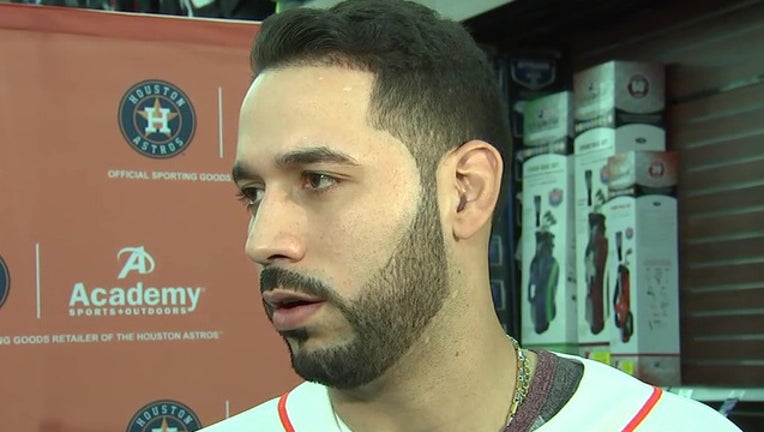 article
HOUSTON (AP) - No lead appears safe against the Houston Astros this season.
Houston rallied from a 5-0 deficit for the third time this season as Marwin Gonzalez hit two home runs, including a go-ahead grand slam in the eighth inning that rallied the Astros over the Texas Rangers 8-7 on Tuesday night.
Gonzalez hit a towering fly off Keone Kela (0-1) just over the right-field wall and inside the right-field foul pole for his first career grand slam - and a 7-5 lead.
"I was trying to look for a good pitch to hit," Gonzalez said. "The pitch before, I was little excited and swung at a ball. I was trying to be patient and get a good pitch."
Gonzalez stood near the plate, seeing if the ball would be fair, before tossing his bat toward the dugout and beginning his trot.
"First thing, I was wishing it would stay fair," Gonzalez said. "It was going foul. It was an unbelievable moment to come back in a game like that. We have been doing it the whole year, so hopefully we can keep doing that."
George Springer had an RBI single later in the inning.
Houston has a major league-leading 12 come-from-behind wins this season.
"I think we always feel like we've got a good shot," Houston manager A.J. Hinch said. "It gets increasingly difficult as the game goes on."
Jose Altuve hit a two-run homer in the fourth, and Gonzalez hit a solo homer in the fifth. Gonzalez has seven home runs this season, and four in his last four games.
"He's had power," Hinch said of Gonzalez. "I think when he gets a good pitch to hit he's always had power."
Delino DeShields, Joey Gallo and Elvis Andrus hit solo homers and Jonathan Lucroy had a two-run shot as the Rangers built a 5-0 lead. Nomar Mazara hit a two-run homer in the ninth off Luke Gregerson.
"Those guys came back late and strong and they were able to score some runs late," Andrus said. "We have to keep playing hard. Stop thinking about it and just find a way to win the game."
James Hoyt (1-0) pitched two scoreless innings. Will Harris earned his first save, striking out Carlos Gomez on a wild pitch, but catcher Evan Gattis tagged Pete Kozma, who was running home trying to score the tying run, at the plate to end it.
"Those get you beat," Texas manager Jeff Banister said. "Situation where there have been spots where our bullpen has been fantastic for us. Spots where it's been challenging for us."
Alex Claudio made his first career start. He pitched in place of Cole Hamels, who was scratched after experiencing tightness in his right oblique while warming up.
Hamels will return to Arlington on Wednesday to be examined by team physician Keith Meister.
"Just doing my normal routine that I've always done," Hamels said. "On the second pitch of the bullpen, just got caught with a sharp pain on the side. It's something I've never experienced I think ever in my career."
Mike Fiers was tagged for five runs and seven hits - although he struck out a career-high nine - in six innings. Fiers also tied a personal high by allowing four home runs, and has allowed a major league-high 12 this season. He has given up at least two homers in four straight games.
TRAINER'S ROOM
Astros: RHP Jandel Gustavo (right forearm tightness) could begin a rehabilitation assignment soon, Hinch said. "We feel like he cleared the hurdle of having any sensitive feelings in his elbow or shoulder or general arm soreness," Hinch said. ... OF Teoscar Hernandez (bruised lower left leg) ran Tuesday and has been getting better, Hinch said.
QUOTABLE
"This is absolutely the most freak thing I think I've ever had in my career. Normally you can pinpoint why injuries happen. I can always kind of backdate from previous experiences whenever I've had something nag or kind of been caused. I can definitely put a pinpoint of maybe this is where I pushed it a little bit more. This might have caused the direction for the reasoning. This was completely fluke. This is tough."- Hamels on the injury.
UP NEXT:
Rangers: RHP Nick Martinez (0-0) will make his third start Wednesday in the third game of the four-game series. Martinez has a no-decision in eight straight starts dating to his last win as a starter on Aug. 5, 2015, against Houston. He will be looking to build on his last start, when he allowed three runs in six innings.
Astros: RHP Charlie Morton (2-2) will make his sixth start this season Wednesday, looking for his second straight win after allowing four runs in seven innings Friday against Oakland.