Foles celebrates Super Bowl win at Disney World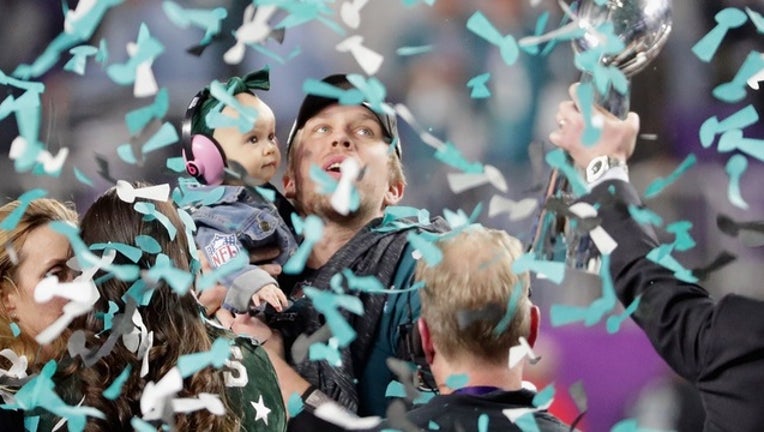 article
LAKE BUENA VISTA, Fla. (WTXF) - In the frenzy of the on-field celebration after helping lead his Philadelphia Eagles to a 41-33 upset win over the New England Patriots in Super Bowl LII in Minneapolis, quarterback Nick Foles turned to the TV cameras and shouted five famous words etched in sports lore:
"I'm going to Disney World!"
Foles' pronouncement, which will be part of a TV campaign airing nationally this week, followed a standout performance Sunday in which he threw three touchdown passes and he, himself, scored a TD – becoming the first quarterback in Super Bowl history to do that – to help bring Philadelphia its first Super Bowl victory.
And his performance anchors a remarkable broadcast achievement: a Disney Parks commercial that will be produced and aired in the immediate hours following the game on network and cable TV, another example from Disney Parks of the true power of magic.
MORE: Eagles defeat Patriots to secure first Super Bowl title | Eagles Super Bowl parade 'most likely Thursday'
Foles' visit to Walt Disney World Resort continues a Disney Parks tradition that began 31 years ago in 1987.
The Philadelphia Eagles quarterback rode atop a float at Disney's Magic Kingdom in Orlando, Florida, on Monday afternoon.
Monday marked the first time an Eagles player will participate in the Super Bowl parade at Disney. The team was winless in two previous Super Bowl appearances.
Foles joins a distinguished list of heroes from the sports world and beyond who have celebrated a major achievement at either Walt Disney World Resort in Florida or Disneyland Resort in California.