Fister exits early in Astros' 6-5 loss to Indians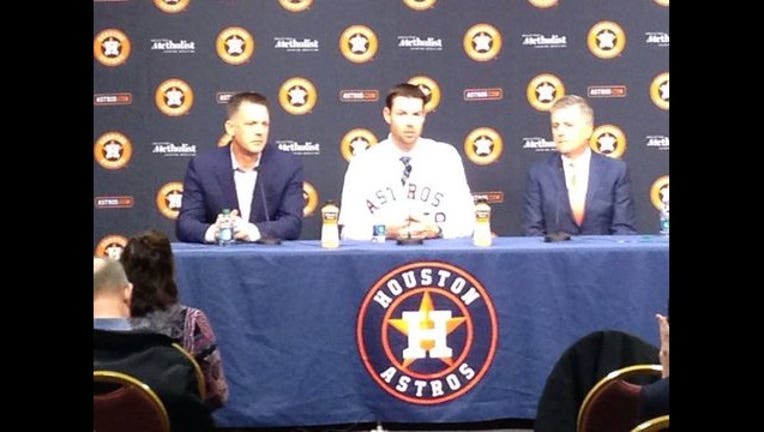 article
CLEVELAND (AP) — Doug Fister extended a streak the Houston Astros are eager to end.
The right-hander only pitched 4 1/3 innings and allowed six runs Wednesday night, as the Cleveland Indians beat Houston 6-5. The Astros remain two games out of the final American League wild-card berth.
Fister (12-11) became the seventh straight Houston starter to fail to complete six innings, forcing manager A.J. Hinch to use five relievers for the second straight night.
"At some point, it would be nice to mix in a starter that goes past the fifth; that would be good," said Hinch, who has made 14 pitching changes in the first three games of the series.
"Our schedule is so short this late in the year, I've gone to the bullpen overly early. That takes its toll on your relievers."
Rookie third baseman Yuli Gurriel and left fielder Colby Rasmus hit two-run homers for the Astros, who are an AL-best 13-5 since Aug. 19.
Gurriel's eighth-inning shot was his first in the big leagues and pulled Houston within 6-5. Tony Kemp led off the ninth with a single before Indians closer Cody Allen struck out three straight batters for his 25th save.
"I'm so happy I've got the first homer out of the way and I was able to drive home two runs with it," Gurriel said through an interpreter. "But I'm a little unhappy that we came up short."
The game-time temperature was 87 degrees, causing swarms of midges to travel from nearby Lake Erie to the muggy ballpark. A bug flew into the left eye of Cleveland right-hander Carlos Carrasco (11-7) as he threw a pitch to Gurriel in the fourth.
Fister, who leads the Astros in wins, is 0-3 with a 10.95 ERA over his last three starts. His frustrations boiled over when asked why the AL Central-leading Indians were able to collect nine hits and three walks off him.
"I gave up too many runs and we lost, that's pretty much the end of it," Fister said tersely. "I'm going to go watch video and work on things over the next five days. I've got to get back to basics, but I don't know what I'm doing differently, to be honest."
Left-hander Dallas Keuchel — the reigning AL Cy Young winner — was sent back to Houston to have his pitching shoulder examined. No timetable has been set for his return.
Shortstop Carlos Correa joined him Wednesday after experiencing left shoulder inflammation, but Hinch is "optimistic" that the 2015 AL Rookie of the Year will be able to play this weekend against the Cubs.
"This game was never out of reach, but we needed some guys to get us some outs," Hinch said. "Fister is having a hard time ending at-bats right now. Execution is key for him, and it certainly stands out when it's not there."
UP IN THE AIR
Hinch remains non-committal on his fifth starter going forward. RHP Brad Peacock got the nod Tuesday against the Indians, allowing one run in 3 2/3 innings, and is the favorite. "We won't make a decision until Peacock recovers from his start," Hinch said.
TRAINER'S ROOM
Astros: C Jason Castro (bruised knee) returned to the lineup after missing three games, going 1 for 3 with a double.
Indians: C Yan Gomes (separated right shoulder) caught five innings Wednesday for Triple-A Columbus.
UP NEXT
Astros: RHP David Paulino, one of Houston's top prospects, makes his big league debut. The 6-foot-7 Dominican went 5-4 with a 2.00 ERA in 20 minor league outings this year.
Indians: RHP Trevor Bauer tossed seven scoreless innings in a May 10 victory at Minute Maid Park. He is 4-0 with a 0.67 ERA in four career starts against the Astros.