Diddy wants to buy Carolina Panthers and sign Colin Kaepernick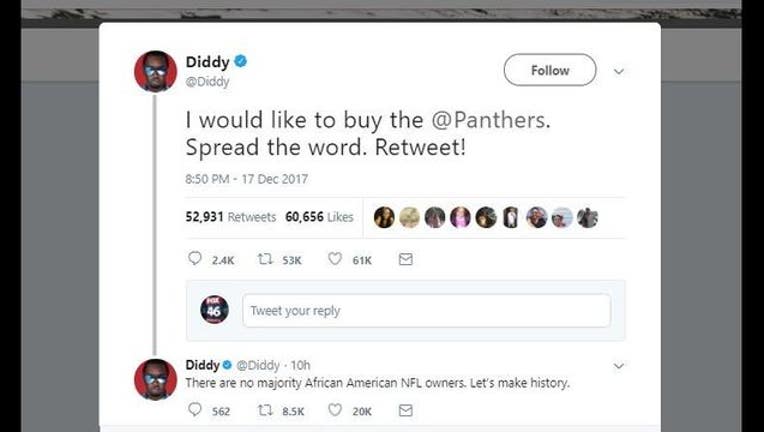 article
CHARLOTTE, NC (FOX 46 WJZY) - Diddy announced late Sunday night on social media that he wants to buy the Carolina Panthers, stating his first order of business would be to "immediately address the Colin Kaepernick situation." 
The announcement came after owner Jerry Richardson, who is being investigated for alleged workplace misconduct, said he would be selling the football team. 
Related: Carolina Panthers up for sale at end of season 
Diddy tweeted, "I would like to buy the @Panthers. Spread the word. Retweet!" 
He also added, "There are no majority African American NFL owners. Let's make history." 
Related: Report: Panthers made pacts with workers over inappropriate Richardson conduct 
Watch Diddy's announcement he made Sunday night on his Instagram page. The rap mogul said he would "immediately address the Colin Keapernick situation and put him in the running for next year's starting quarterback. It's just competition baby." 
It appears that other celebrities are interested in helping Diddy out. Warriors star Steph Curry tweeted back, "I want in!"