Curry leads Warriors over Rockets 113-106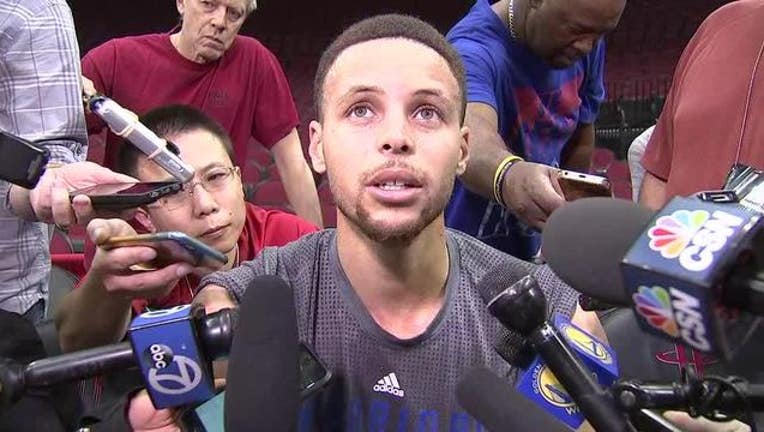 article
HOUSTON (AP) - Stephen Curry and the Golden State Warriors didn't get much time to celebrate their 60th win, not with a game at San Antonio coming Wednesday night.
Curry scored 32 points, Klay Thompson had 25 and the Warriors built a big lead early and held on for a 113-106 win over the Houston Rockets to become the sixth NBA team to win at least 60 regular season games in three straight seasons.
The Warriors scored 37 points in the first quarter and never trailed on the way to their eighth straight victory.
After handling the third-seeded Rockets, the Western Conference-leading Warriors immediately shifted their focus to the Spurs, who are 2 ½ games behind them in the standings.
"This is an important time of the year, especially with our schedule and teams we have to go up against ... all playoff teams and all atmospheres that, whether it's home or road, that we need to win in," said Curry, who tied a career high with 10 rebounds.
Golden State led by eight after a pair of free throws by Curry with just over three minutes left. Patrick Beverley countered with a tip-in layup for Houston, then was fouled when he was knocked down on a screen by Draymond Green seconds later.
James Harden missed a layup on the next possession before Green added a shot on the other end to put the Warriors up 107-99.
Another layup miss by Harden followed, and Curry made a 3-pointer with 1:46 left to send fans streaming to the exits.
"We just didn't play well for whatever reason," Houston coach Mike D'Antoni said. "This is not going to happen very often. This is a good learning experience ... we've got to get better."
Harden had 24 points, 13 assists and 11 rebounds for his 20th triple-double this season. Houston's four-game winning streak ended on a night when the Rockets made just 5 of 31 3-pointers.
"They missed some open ones, but that's obviously a big focus for us when we play these guys," Golden State coach Steve Kerr said. "We try to keep them off the line, run them off the line and force them to beat us with 2s."
Harden has been dealing with a sore left wrist that limited him on Tuesday.
"It's pretty tough man, I'm not going to lie," he said. "I don't feel sorry for myself at all (but) the shot is just short and it's frustrating when you can't really follow through."
The Warriors scored the last six points of the third quarter to lead 86-75 entering the fourth.
Golden State led by 22 in the first half and was up 60-52 at halftime.
TIP-INS
Warriors: Golden State expects to have an update on Kevin Durant's health on Wednesday. Durant hasn't played since Feb. 28 because of a left knee injury. ... Green went to the locker room for a few minutes in the third quarter after tweaking his left ankle but returned late in the quarter. He finished with 19 points.
Rockets: Montrezl Harrell was away from the team for the birth of a child. ... Harden has had at least 10 assists in nine straight games. ... Clint Capela added 21 points.
KERR'S MILESTONE
Kerr reached 200 career wins, making him the fastest to reach the milestone in NBA history. He got there in his 238th game to surpass Phil Jackson, who got to 200 in his 270th game.
"I know how lucky I am," Kerr said. "Most first-time coaches don't inherit Steph Curry and Draymond and Klay and all these guys. I inherited a hell of a team."
MCADOO INJURED
Golden State's James Michael McAdoo was injured late in the first quarter when Trevor Ariza accidentally hit him in the head with his knee as the two fought for a rebound. McAdoo was bleeding from his head and rushed to the locker room. The team said he got seven stitches to close a cut above his left eyebrow, and he did not return.
UP NEXT
Warriors: Visit Spurs on Wednesday night.
Rockets: Visit Portland on Thursday night.
___
For more AP NBA coverage: https://apnews.com/tag/NBAbasketball