Cougars face Red Raiders in Lubbock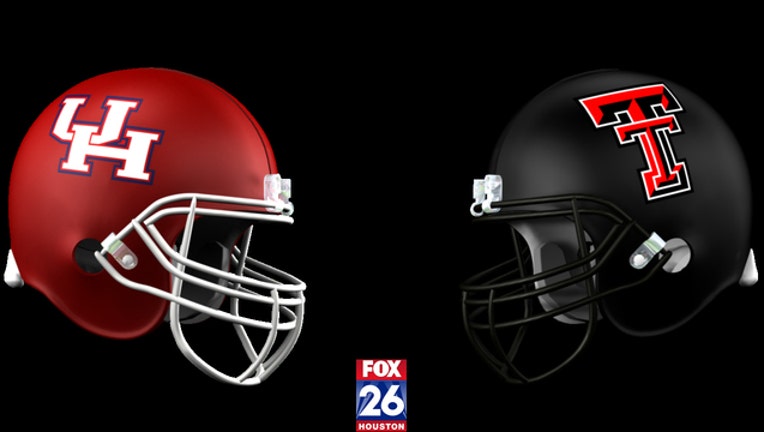 article
LUBBOCK, Texas (AP) - Houston coach Major Applewhite knows what to expect against Texas Tech after facing the Red Raiders as a player, assistant coach and a head coach over the past two decades.
"They always score points, have a great tempo, and they take the ball away," said Applewhite, who at Texas was a Big 12 quarterback at the same time as Kliff Kingsbury. "Defensively, they're holding you under 400 yards, and they have nine starters returning on defense. They're a very good football team."
The Red Raiders (1-1) are coming off a 77-0 win over FCS team Lamar, their highest-scoring game in their six seasons with Kingsbury as coach of his alma mater - or as a record-setting quarterback for the Red Raiders from 1999-2002. It was their first shutout since 2006.
Houston (2-0) is scoring at a nice clip itself in Applewhite's second season, with 45 points in each game. The Cougars jumped out to a 38-0 lead last week against Pac-12 team Arizona - and their former coach, Kevin Sumlin - on the way to a 45-18 victory.
"Offensively, defensively, very skilled players, very athletic, flashing all over the screen against a Power Five team," said Kingsbury, 31-34 as Tech's coach.
Cougars junior quarterback D'Eriq King , who was recruited by the Red Raiders and has also been a receiver in college, leads the nation at 31 points responsible for a game. He hasn't been sacked yet. After throwing three touchdowns and running for another in the opener against Rice, he topped that with six more TDs (four passing, two rushing) against Arizona.
Houston also has 6-foor-3, 292-pound defensive lineman Ed Oliver , a junior who has already declared for next spring's NFL draft and has had 1.59 tackles for loss per game in his career.
"I don't think you can simulate what he brings," Kingsbury said. "His motor is unlike any player I've ever seen, the way he plays that hard every snap, every play, chasing the football, relentless. ... It's impressive to watch."
COUGARS OC
Former Baylor offensive coordinator Kendal Briles is in his first season as OC at Houston after one year in that same role for Lane Kiffin at Florida Atlantic.
SOME SENTIMENTALITY
After playing professionally for five years, including time with five NFL teams and year in the CFL, Kingsbury started his coaching career with Sumlin at Houston. After two seasons (2008-09) as offensive quality control coach for the Cougars, he was the quarterbacks coach for two seasons (2010-11), and called plays as co-offensive coordinator.
"I'll always have a special place in my heart for the University of Houston because they gave me an opportunity to be a coaching when I was trying to figure out kind of my next step in life," Kingsbury said.
TOO EASY?
Texas Tech junior defensive lineman Broderick Washington Jr. was asked about the defense's response from a season-opening loss to Ole Miss to a shutout against FCS team Lamar in Week 2.
"You want my opinion?," he responded before getting an affirmative response. "Honestly, I would have preferred to play two hard teams first, actually three, honestly, and then go into conference knowing that - at least having a good sense of where we are as a team and knowing the things that we need to work on."
LOTS AND LOTS OF YARDS
Since 2006, Houston has piled up 77,967 total yards on offense. That is only 22 fewer than Texas Tech's 77,989 yards. The only two FBS teams with more offense in that span are Oregon (79,965) and Oklahoma (79,965).
NON-CONFERENCE FOES
Kingsbury is 14-3 in regular season non-conference games. The Red Raiders have won their last eight non-conference games, and 33 of 34 since the 2002 season.
___
More AP college football: https://apnews.com/tag/Collegefootball and https://twitter.com/AP_Top25