Correa leads Astros over Braves 4-2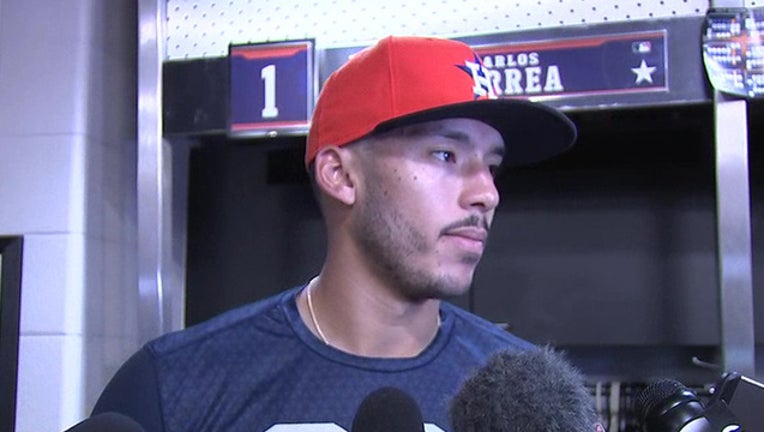 article
HOUSTON (AP) -  
Carlos Correa has developed a knack this season for coming up with big hits with two outs.
He did it again on Wednesday when he had two doubles and two RBIs to help the Houston Astros to a 4-2 win over the Atlanta Braves that gave them the best 34-game start in franchise history.
The Astros had two outs and two on in the fifth when Correa's double off Jaime Garcia (1-2) landed in the left-field corner to score two runners for a 3-2 lead.
"I was just trying to get a good pitch to hit He hung a slider over the middle of the plate and I was able to drive it for us to take the lead," Correa said.
Garcia walked Evan Gattis, and Yuli Gurriel's single scored Correa.
Eight of Correa's 17 RBIs this season have come with two outs. After hitting just .233 with two homers and eight RBIs in April he's heated up this month to bat .344 with two homers and seven RBIs in just nine games.
"The proof is out there every day when he's starting to contribute every game," manager A.J. Hinch said. "I know he had a little bit of a rough start to the season but I think him being up in the middle of the order with the game on the line is exactly what he thrives in."
Houston (23-11) swept the two-game interleague matchup in its first series victory over the Braves since winning two of three from May 1-3, 1999.
Joe Musgrove (2-3) allowed two runs and four hits in six innings, and Ken Giles pitched a perfect ninth for his ninth save in 10 chances.
Garcia tied a season-high with four runs in six innings, giving up six hits.
Freddie Freeman and Adonis Garcia hit solo homers to give Atlanta a 2-1 lead in the fourth, but the Braves couldn't string many together hits after that and tied a season high with their sixth straight loss.
"It's a rough go right now on everything if you get right down to it," manager Brian Snitker said. "We just got to keep grinding and working and eventually you handle something like this and good things will happen on the other end of it."
Dansby Swanson and Emilio Bonifacio hit back-to-back singles in the eighth, but Will Harris struck out three of the next four batters to escape the jam.
Musgrove, who had given up four runs in the first inning in two of his previous three starts, kept the Braves off the board until Freeman opened the fourth inning by hitting his 12th home run . Freeman is the fifth player in franchise history to hit 12 homers in the first 31 games and the first since Justin Upton did it in 2013.
Matt Kemp followed with a single to extend his hitting streak to 11 games, but he was erased when Nick Markakis grounded into a double play.
Jake Marisnick singled with two outs in the third inning and stole second base. The Astros took a 1-0 lead when he scored on a double by George Springer.
MAKEUP GAME SET
The Braves will make up a game their home game with the Mets that was postponed last Thursday because of rain on June 10. The game will be part of a double-header with the first game starting at 1:05 p.m. and the second one, which was originally scheduled to start at 4:10 p.m., being pushed back to 6:05 p.m.
THEY SAID IT
Kemp on the Atlanta's struggles with runners in scoring position: "We've got to get those big hits. Maybe if we get something going like that it will get us back on track. But we're just not getting those timely hits and getting runners out. We're not doing anything right at the moment."
UP NEXT
Braves: Atlanta has an off day on Thursday before opening a three-game series at Miami on Friday. Mike Foltynewicz (0-4, 4.55) will try and bounce back and get his first win this season after allowing nine hits and seven runs - both season highs - in four innings of a 10-0 loss to St. Louis in his last outing.
Astros: Ace Dallas Keuchel will try and improve to 6-0 when he starts the opener of a four-game series against the Yankees on Thursday night. Keuchel has a 1.88 ERA and seems to have put a tough 2016 behind him when he went 9-12 with a 4.55 ERA in the follow-up to his 2015 AL Cy Young Award-winning season.