Broncos trade wide receiver Demaryius Thomas to Texans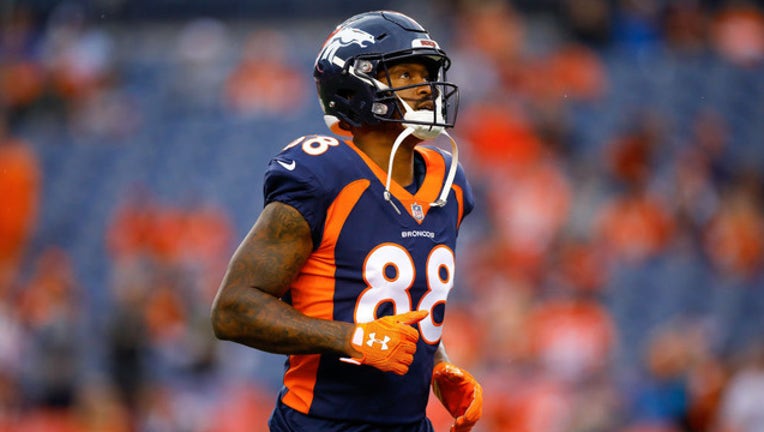 article
ENGLEWOOD, Colo. (AP) - The Denver Broncos traded nine-year veteran Demaryius Thomas to the Houston Texans on Tuesday.
Thomas won't have to wait long to play his old team - the Texans (5-3) visit the Broncos (3-5) this weekend.
The Broncos will also send a 2019 seventh-rounder to Houston and will receive fourth and seventh-round picks in the 2019 draft.
"Demaryius had an incredible run here and we can't thank him enough for everything he's meant to the Broncos," general manager John Elway said in a statement ahead of his news conference Tuesday afternoon.
"He developed into an elite player over the years, establishing himself as one of the NFL's most productive, consistent and reliable wide receivers. D.T. was a big part of so many wins and memorable moments as a Bronco.
"Although it's tough to end this chapter, we're excited about the talent we have at the wide receiver position and wish Demaryius all the best with the Texans."
The Texans found themselves thin at wide receiver when they lost Will Fuller for the season to a torn knee ligament and have had trouble keeping rookie Keke Coutee on the field.
In a conference call with Denver media on Tuesday, Texans coach Bill O'Brien said he knew nothing of the trade talks for Thomas, saying, "I've been in meetings all day game planning." Besides, he added, that's general manager Brian Gaine's department, not his.
That said, he had nothing but praise for Thomas, whom he said he's followed since Thomas was at Georgia Tech.
"He has excellent athletic skills, great hands, very smooth route runner," O'Brien said. "He's a tough guy to defend."
And now it's the Broncos who will have to defend him.
Elway found himself a seller at the trade deadline after the Broncos slipped to 3-5 following last year's 5-11 debacle.
Thomas has a salary cap figure of $15.53 million for 2019, the last year of his deal, and with the emergence of rookie Courtland Sutton as a big-play threat, Elway felt it was time to get something for Thomas.
The Broncos also have rookie DaeSean Hamilton and second-year pro Tim Patrick at wide receiver along with Jordan "Sunshine" Taylor, who's about to return from double hip surgery in the offseason.
Despite averaging a career-low 11.2 yards per catch, Thomas' three TDs were tied with Emmanuel Sanders for the team lead.
Thomas has 36 catches for 402 yards this season.
Thomas was a first-round draft pick - by Josh McDaniels - in 2010 who has amassed 66 touchdown passes in 135 games, counting playoffs. He's served as a captain and was a durable, consistent go-to receiver for quarterbacks Tim Tebow, Kyle Orton, Peyton Manning, Brock Osweiler, Trevor Siemian and Case Keenum.
Thomas has insisted all season that he wanted to stay in Denver, but he grew increasingly agitated about hearing he was on the trading block last week and said nobody in the organization had addressed the possibility with him, although coach Vance Joseph said Monday he'd had several conversations with Thomas about the trade rumors.
Thomas said after the Broncos lost to the Chiefs 30-23 Sunday that a victory at Arrowhead might have helped him stay in Denver.
On Monday, cornerback Chris Harris Jr. said he was hoping Thomas would still be his teammate after Tuesday's trade deadline.
"I love D.T.," Harris said. "He's been a great teammate to me and we've had great competition for the eight years that I've been here. I know he's going out there and he's giving it his all. I've won a lot of games with him."
Yet, Harris realizes the Broncos put themselves in this position with poor play and penalties.
"It's the NFL. It's all business and we're not winning," Harris said. "When you don't win, I think anything can happen."
Thomas' 36 100-yard games are the most in Broncos history and his 60 TDs in the regular season and 9,055 yards are second to Rod Smith.
He's one of only three players in history (Torry Holt and Marvin Harrison) with five consecutive seasons with 90 catches for 1,000 yards. He made five consecutive Pro Bowls from 2012-16.
His biggest play was an 80-yard touchdown catch from Tebow on the first play of overtime that gave Denver a stunning 29-23 victory over the Pittsburgh Steelers in an AFC wild-card playoff game on Jan. 8, 2012.
The next season he was catching passes from Manning and he set a Super Bowl record in 2014 with 13 receptions for 118 yards and a touchdown in the Broncos' loss to Seattle.
Two years later, he won a Super Bowl championship in Manning's final game.
With Siemian under center, Thomas caught 90 passes for 1,083 yards and five TDs in 2016, and his numbers slipped last year (83 catches for 949 yards and five TDs) with the Broncos' turnstile at QB of Siemian, Osweiler and Paxton Lynch.
This season, it was Sanders who connected better with Keenum with 50 catches for 660 yards and three TDs.
Thomas recovered from a bad case of the drops in the opener to be a reliable option for Keenum, too.
___
More AP NFL: https://apnews.com/tag/NFL and https://twitter.com/AP_NFL
___
Follow Arnie Melendrez Stapleton on Twitter: http://twitter.com/arniestapleton