Big day for Reddick as he leads Astros over Athletics 12-9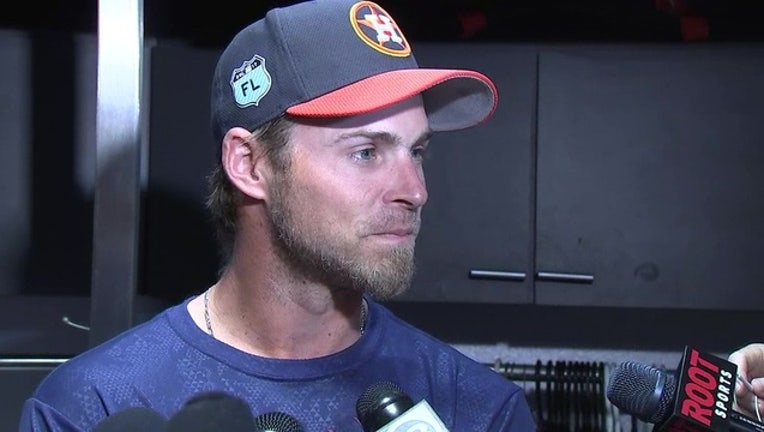 article
OAKLAND, Calif. (AP) - Josh Reddick will take a three-hit game any time. This one meant just a little bit more to the Houston Astros outfielder, though.
"You always want to do well against your former team," said Reddick, who played in Oakland for parts of five seasons. "I enjoy beating them regardless. Whether I got 0 for 4 or I go 4 for 4. So, it is fun."
Reddick homered and scored four runs, Jake Marisnick and Marwin Gonzalez each went deep and the Astros beat the Athletics 12-9 on Thursday.
The major league-leading Astros completed a four-game sweep with their 10th straight victory in Oakland and their 15th win in 16 games against the A's overall. They've won 12 of their last 14 road games. Their 27-8 record away from home is the best in the majors.
Reddick also doubled, tripled and drew a walk, and Marisnick and Gonzalez each drove in three runs.
Reddick didn't get a shot at a single to complete the cycle after tripling in the eighth inning.
"I think anybody would want to have a shot at it just to see," Reddick said. "Once you get to that one, you want to see the boys bat around for you and get up there to get the opportunity to do it.
"I got asked a few times if I was going to stop if it was in the gap. I was, like, 'Nah, I can't do that.' If it's in the gap, I'm going two. I don't have it in me to be that guy to get the personal goal."
David Paulino (2-0) struck out six and gave up three runs, seven hits and two walks. The 23-year-old rookie right-hander struck out five of his first six batters in his sixth career start.
Astros center fielder George Springer left with a left hand contusion after being struck by a fastball from Jesse Hahn (3-5) leading off the game. The ball also grazed Springer's left shoulder. Springer is tied for second in the AL with 21 home runs. X-rays taken during the game were negative, manager A.J. Hinch said. Springer's status is day-to-day.
Springer said after the game he has no intention of going on the disabled list.
"No," Hinch said. "I'm hoping he'll be able to play tomorrow."
Hahn gave up 10 runs (nine earned) in two innings. He acknowledged that hitting Springer threw him off.
"Yeah I think maybe that affected (me)," Hahn said. "For me, my game is coming inside on righties, throwing my sinker in on righties and I kind of babied it in there after that. I started spiking a lot, yanking stuff and it just wasn't good."
Oakland trailed 10-0 after two innings and 12-3 going into the eighth, when Adam Rosales' two-run double highlighted a six-run inning.
Nori Aoki was 3 for 5 with a double for Houston.
A's catcher Bruce Maxwell, called up from Triple-A Nashville earlier in the day, was 3 for 4 with a double.
FIRST TO 400
The Astros became the first team in the majors to reach the 400-run mark. "Shows how special our lineup can be," Reddick said.
ROSTER MOVES
Athletics: C Stephen Vogt was designated for assignment. Maxwell and 1B/OF Matt Olson were called up from Triple-A Nashville.
TRAINER'S ROOM
Astros: 2B Jose Altuve didn't play on Thursday, and Hinch said he wanted to give the reigning American League batting champion an off day.
Athletics: INF Matt Chapman was placed on the 10-day disabled list with a bacterial skin infection on his left knee (retroactive to June 19).
UP NEXT
Astros: RHP Joe Musgrove (4-6, 5.09 ERA) will make his third start since coming off the disabled list with shoulder discomfort in the series opener against the Mariners.
Athletics: RHP Jharel Cotton (4-7, 5.40) will face the Chicago White Sox for the first time. Cotton has allowed 12 home runs over 39 2/3 innings over his last seven starts.
___
More AP baseball: https://apnews.com/tag/MLBbaseball