Astros pound Twins 17-6 to complete sweep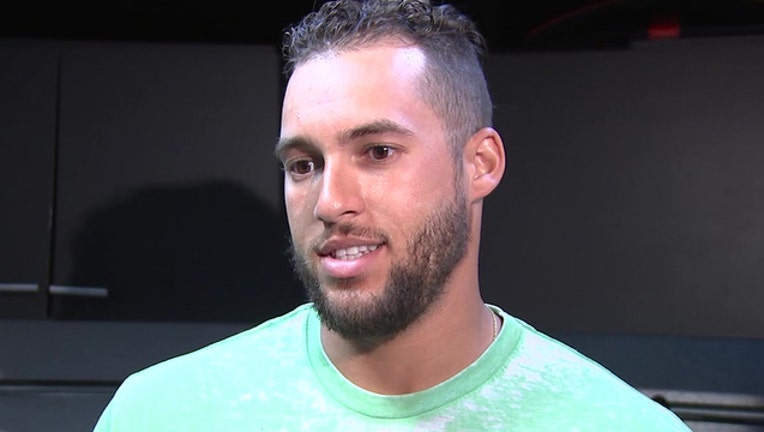 article
MINNEAPOLIS (AP) - George Springer reached base in all six plate appearances and hit two of Houston's season-high six home runs to lead the Astros to their seventh straight victory, 17-6 over the Minnesota Twins on Wednesday.
Carlos Correa, Alex Bregman, Evan Gattis and Marwin Gonzalez also went deep for the Astros, who scored 40 runs in the three games to set a franchise record for runs in a series of any length. They had 19 hits on Wednesday and 37 in the series.
Brian Dozier, Eddie Rosario and Jason Castro homered for the Twins, who have lost four straight. Hector Santiago (4-5) gave up six runs on eight hits and walked three in six innings, three days after he was an emergency fill-in during the 15th inning of a loss to Tampa Bay.
Springer's two homers traveled an estimated 900 combined feet, including a moon shot off of Ryan Pressly in the six-run seventh inning that landed just short of the third deck in left-center field. That was measured at 473 feet, the second-longest homer in the majors this season behind a 481-footer by Arizona's Jake Lamb on April 29.
Springer, who had four hits and two walks, now has 13 homers on the season and five career multihomer games.
Correa, who had three hits and three RBIs, got the Astros going in the first inning with a shot that slammed off the facing of the second deck in left field. The two-run homer was his ninth of the season and seventh in May.
The Twins put three runs on the board in the sixth on homers by Rosario and Castro to pull within 6-5, but the bullpen fallen faltered badly once again.
Gattis had four hits and three RBIs.
PAULINO'S DEBUT
Highly touted Astros prospect David Paulino gave up two hits on five runs and struck out eight in four innings of a wild major league debut.
The 23-year-old was electric in his first three innings, striking out the side in the second and allowing just a solo homer to Dozier. Things unraveled for him in the fourth inning with three wild pitches. But he was able to strike out Castro with two on base to keep the inning from getting away, and manager A.J. Hinch went to the bullpen the rest of the way.
Michael Feliz (2-0) got the win and left-hander Reymin Guduan also made his big league debut, allowing one run on two hits in two innings.
BULLPEN BLUES
Minnesota's bullpen completely fell apart in this series, allowing 27 earned runs in nine innings.
Pressly lasted two batters, walking Jose Altuve after giving up the homer to Springer. Even the normally reliable Tyler Duffey got rocked Wednesday: four runs on four hits without getting an out in the seventh.
Position player Chris Gimenez made his third appearance of the season as a reliever in the ninth inning. He gave up a two-run homer to Gonzalez.
TRAINER'S ROOM
Astros: No updates.
Twins: Miguel Sano missed his second straight game because of an illness.
UP NEXT
Astros: Houston gets a day off Thursday before starting a series against the Rangers in Arlington on Friday. LHP Dallas Keuchel (8-0, 1.81) will start for the Rangers against RHP Yu Darvish (5-3, 2.97).
Twins: Minnesota heads west to open a four-game series against the Los Angeles Angels on Thursday. LHP Adalberto Mejia (1-1, 4.64) will start the opener for the Twins.