U-Haul repossesses couple's rental believing it was abandoned at Clearwater hotel, dumps all belongings inside
CLEARWATER, Fla. - A St. Louis couple was in the process of moving to Riverview when their U-Haul, carrying all their belongings, disappeared from a Clearwater hotel parking lot. Now they say it turned out U-Haul took it, believing it was abandoned, and dumped all their belongings that were inside.
Stan Brown and his wife packed all of their possessions into a U-Haul truck and drove it down from St. Louis to Tampa at the end of August. They couldn't move into the new home until the first weekend of September.
In the meantime, they stayed at their snowbird apartment and paid to park the truck in the parking lot at the Holiday Inn on Ulmerton Road in Clearwater.
But when they went to retrieve it on Sept. 4, the truck was gone. It had everything they own inside, from clothes to furniture to irreplaceable family mementos. They reported to the Pinellas County Sheriff's Office that the truck was stolen.
PREVIOUS: Couple hopes to find U-Haul with all their belongings stolen outside Clearwater hotel
On Wednesday, U-Haul contacted the Browns — one day after FOX 13 reported their initial story. According to Brown, the company told him they thought the truck was abandoned, so they picked it up. They then emptied out all of the couple's belongings and transported them to a dump.
U-Haul Spokesperson Jeff Lockridge released the following statement: 
"Following media reports on Wednesday of an apparent moving truck theft in Clearwater, our local management team investigated. What we learned is that a truck rented by the Brown family, which was on a valid contract, was mistakenly identified as abandoned equipment and repossessed by our local team on Sept. 2. This was the result of human error stemming from a clerical mistake in our system that listed the same equipment number on a separate active contract in another state. The contract with the clerical mistake was referenced when the equipment was spotted in a Clearwater hotel lot, leading a local Team Member to believe it had been abandoned.  
The Browns' equipment and possessions were held at a U-Haul rental location for 10 days, from Sept. 2 to Sept. 12, while our team tried unsuccessfully to reach the customer on the contract. Unfortunately, our team was referencing the incorrect contract and attempting to contact the incorrect customer.  
U-Haul management has been in contact with the Brown family. Our U-Haul Company of Clearwater president visited the family on Thursday morning to deliver several boxes of personal contents that were kept when their larger items were disposed.  
Our Company intends to do right by the Brown family and make them whole for our mistake and the possessions they lost. This was an extremely rare and regrettable series of events for which we take full responsibility. We have offered our sincerest apologies to the Browns, and we thank them for their understanding."
Brown said he did have the truck rented out for the next few days when it was repossessed. Brown and his wife moved into their home in Riverview — without any of the items that were initially in the truck.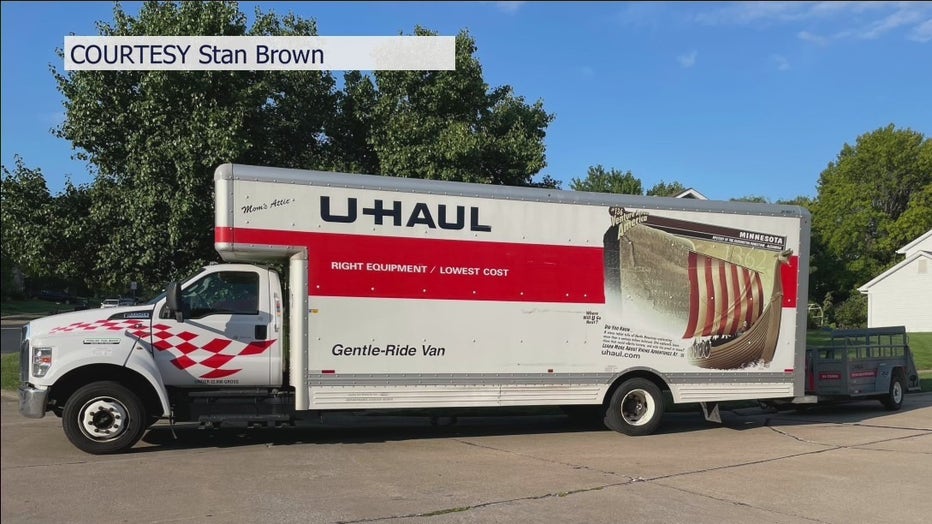 U-Haul said they delivered five boxes of personal items to the Browns. The Brown family did release a statement after receiving the items that could be recovered from the U-Haul:
"These are the five boxes that remain of our truckload. While we are extremely grateful to get them, they represent a quarter of the memorabilia on the truck. It was a real punch in the gut after a very extreme emotional roller coaster ride. My children have been experiencing this same harmful emotional churn. U-Haul had told us that their employees would not/did not go through boxes, but one of these five boxes is a compilation of four other boxes. Either U-Haul or PC Solid Waste employees did go through boxes. We definitely wonder how much of our belongings and information did not make it into the incinerator and ae in someone's hands and not ours.