Where are turkey giveaways, free meals near me in Houston?
HOUSTON - The holiday season is a time for giving and some local businesses/organizations are giving big this year.
Turkey and fully cooked free meal giveaways are always a big thing during this time of year.
Here is a list of Turkey/meal giveaways in the Houston area:
Lotus Seafood Hosts 300-Turkey Giveaway and Limited Quantity "Crack Sauce"-Infused Thanksgiving Turkeys 
WHEN: 300-Turkey Giveaway: Monday, November 20, 2023 
TIME:  9:00am-11:00am 
WHERE:  Giveaway at Lotus Seafood STAFFORD LOCATION ONLY - 2903 S Main St., Suite A, Stafford, TX 77477 
'CRACK SAUCE'-INFUSED TURKEY PRE-ORDER:  Online ordering at https://lotus-seafood.com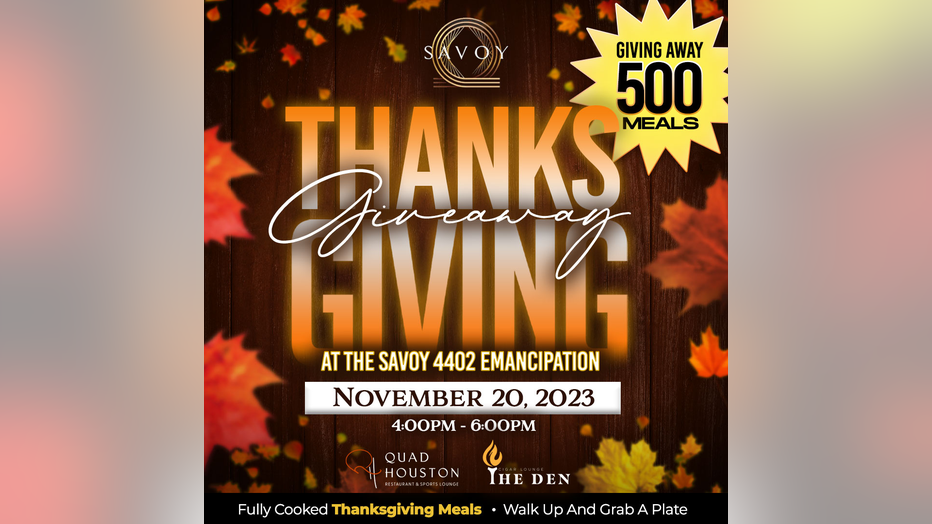 The Savoy Teams Up with Quad HTX, Third Ward Businesses, to Give Away 500 FREE Hot Thanksgiving Dinners
WHEN: Monday, November 20, 2023  
TIME: 4pm-6pm 
WHERE: The Savoy - 4402 Emancipation Ave, Third Ward - Houston, TX 77004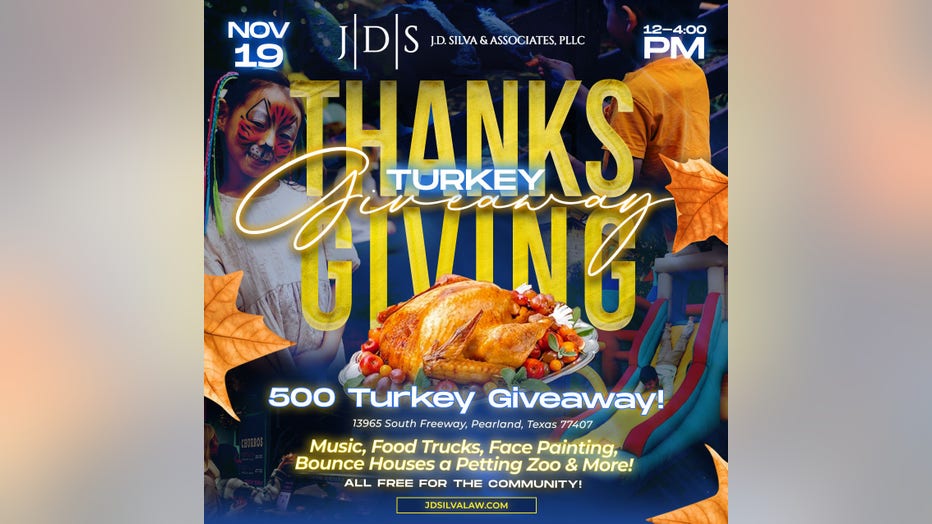 J.D. Silva & Assoc. Hosts Free Thanksgiving Festival for Families with 500-Turkey Giveaway, Petting Zoo, Bounce Houses, etc.
WHEN: Sunday, November 19, 2023 
TIME: 12:00 pm-4:00 pm
WHERE: J.D. Silva & Associates new Lawplex Site- 13965 South Fwy, Pearland, TX 77047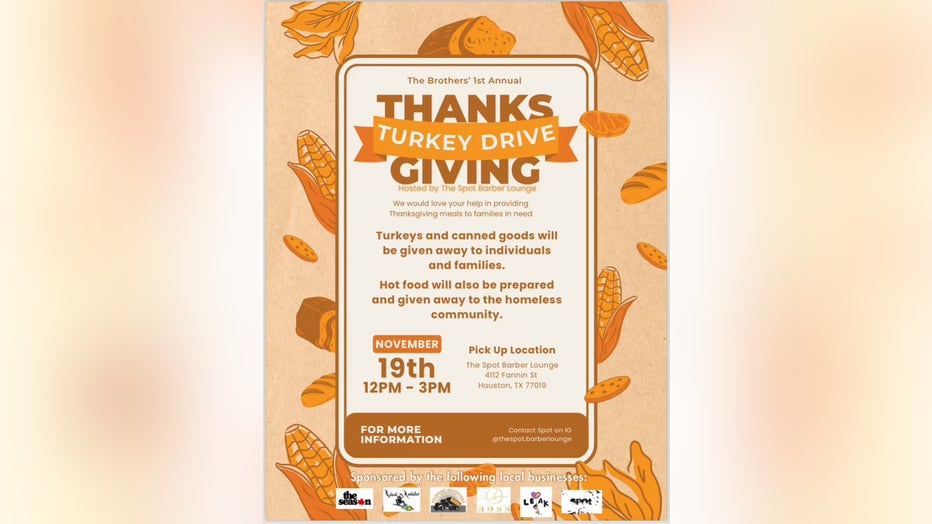 The Brothers' Inaugural Thanksgiving Turkey/Food Drive Giving Away 100 Turkeys, Canned Goods and 150 Fully-Cooked Meals
WHEN: Sunday, November 19, 2023 
TIME: 12:00 pm-3:00 pm 
WHERE: The Spot Barber Lounge- 4112 Fannin Street, Houston, TX 77019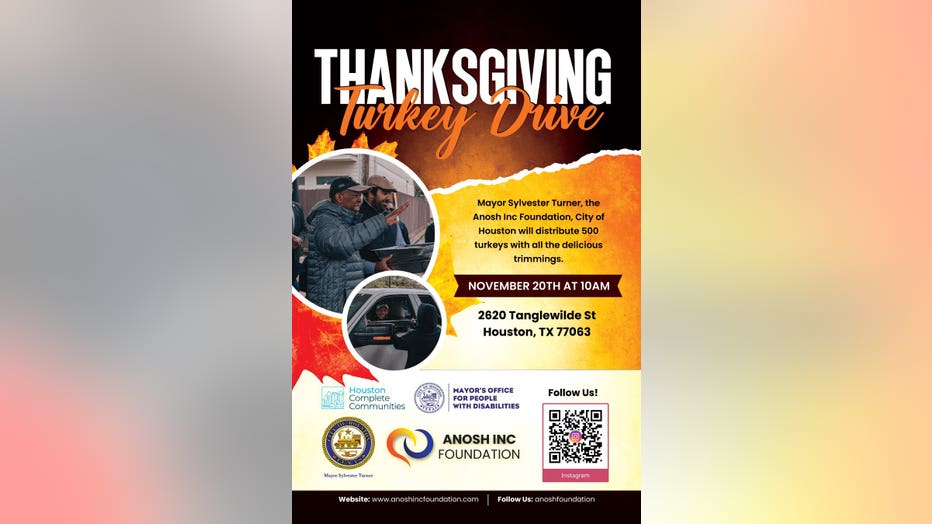 City of Houston/Mayor Sylvester Turner and Anosh, Inc. Foundation Giving Away 420 Turkeys with Full Dinners
WHEN: Monday, November 20
TIME: 10 a.m. –  while supplies last
WHERE: 2620 Tanglewilde Street, Houston, TX 77063
**Each turkey giveaway package includes a full holiday dinner, including a roasted turkey, corn, cranberry sauce, green beans, macaroni, mashed potatoes, and gravy.*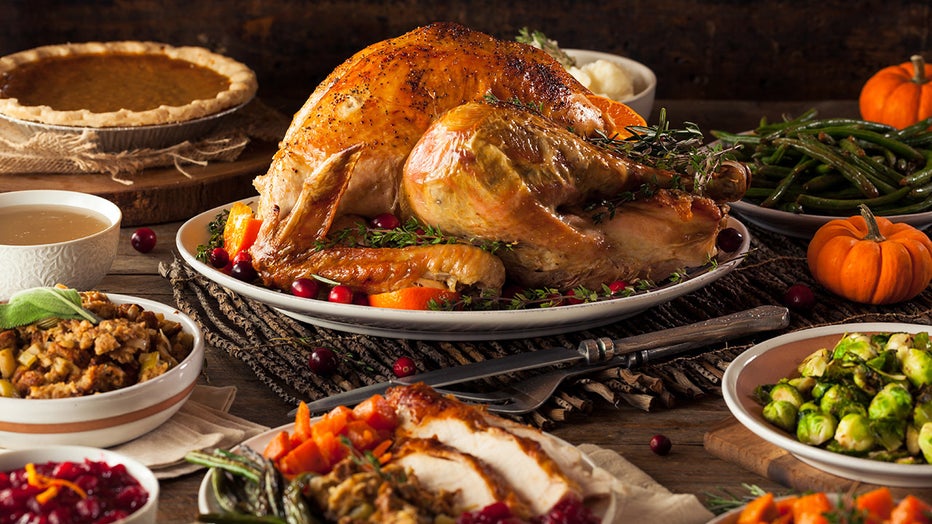 FILE - Homemade Roasted Thanksgiving Day Turkey with all the Sides (Getty Images)
45th Annual City Wide Club Super Feast: Grab'n Go or Sit'n Sup
WHEN: Thursday, Nov. 23
TIME: Begins at 10 a.m.
WHERE: George R. Brown Convention Center
For Grab 'n Go: Chartres St. @ Walker St. (at the Green Flutter Flag)
For the past four decades, the City of Houston has partnered with the City of Houston for Super Feast. You can dine-in on a hot meal, or pickup a food basket with enough food to last a family several days. There are also giveaways for clothing and other items. 
To learn how to donate or volunteer, click here.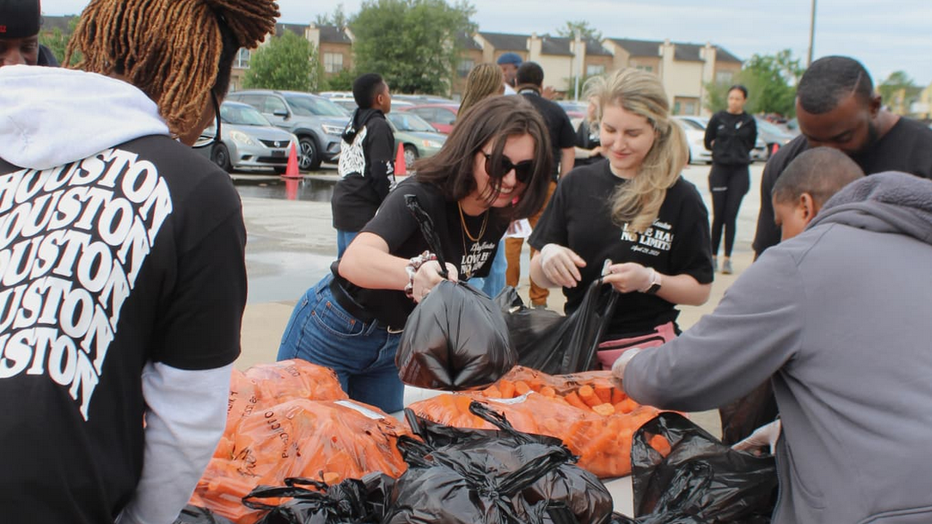 Photo: Courtesy of Higher Dimension Church
ALife Hospitality Group Teams Up with Higher Dimension Church to Provide 600 Thanksgiving Turkeys & Food Boxes to Families and Seniors in Need  
WHEN: Tuesday, November 21, 2023 
TIME: 12:00 pm 
WHERE: Drive-thru Distribution: Higher Dimension Church- 9800 Club Creek Dr, Houston, TX, 77036 
Residential Delivery: Thanksgiving Boxes will be delivered to residents at six apartment complexes in Houston and Katy.