Six ways to spend the $1 billion Mega Millions jackpot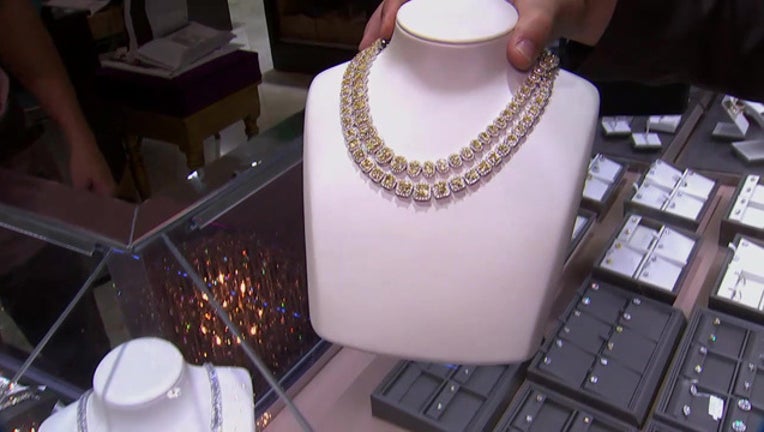 article
HOUSTON (FOX 26) - A lot of people are hoping they'll be a billion dollars richer after Friday night's drawing for the Mega Millions lottery jackpot. 
It all starts in the convenience store with that $2 purchase and big dreams of what you'd spend the money on. FOX 26 News explored a few of the ways to blow a billion bucks.
We started our shopping at Rolls-Royce North Houston and Lamborghini Houston.
"Our most expensive car is the Rolls-Royce Phantom here in the showroom," said sales manager Jimmy Olguin. "This particular car is the Rolls-Royce top of the line luxury sedan and it's $645,000."
The second most expensive car in Olguin's showroom is a red Lamborghini.
"This is fun," said Olguin, unlatching the car's driver-side door, which rotates vertically to open. "This is a Lamborghini Aventador, a V12-powered race car. This car is $550,000."
Next up, a billion dollar lottery winner needs some new bling. FOX 26 stopped by Johnny Dang & Co. Fine Custom Jewelry.
"Let me show you this," said owner Johnny Dang, pulling out a necklace encrusted with dozens of large yellow diamonds. "That's our most expensive fancy GIA diamond. It goes for about $350,000."
With a billion dollars, why not buy a sports team? FOX 26 stopped by the office of Houston Dynamo team president Chris Canetti. 
"You're gonna need to win the Mega Millions jackpot to buy the Dynamo, not that we're for sale," said Canetti. "MLS franchises are probably north of $400 million, maybe up to $500 million in value, so it's great to be an owner of an MLS franchise."
Who hasn't dreamed of buying a yacht? FOX 26 met up with Galati Yacht Sales broker Cory Webster to learn more about one of the 2019 yachts he has anchored in Kemah.
"This is our 2019 460 Prestige Flybridge," said Webster. "Come aboard. We've got a very open saloon in here. Plenty of seating. Lots of AC. Two staterooms. Pop-up TV. Lower helm and upper helm. This is a great boat. Get everybody involved. Get everybody on the water. A lot of fun. This boat is retailed just under $1.2 million." 
If you win the lottery, you'll probably want to buy a new home. You could move into the 27,000-plus square foot estate secluded in 2.5 wooded acres near Houston's Memorial Park. Asking price for the 8-bedroom chateau on Carnarvon Drive is $29,999,998.