O'Rourke tells national audience he'd impeach Trump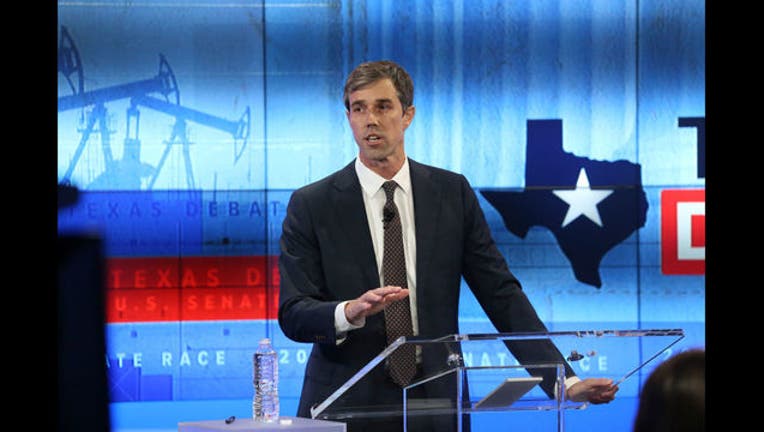 article
AUSTIN, Texas (AP) - Democratic Senate hopeful Beto O'Rourke told a national television audience Thursday night that he'd vote to impeach President Donald Trump and believes Texas can lead the way to a national embracing of relaxed immigration policies and gun control - unapologetically liberal positions that may be hard for some in his deep-red state to stomach.
O'Rourke, an El Paso congressman giving up his seat to challenge Republican Sen. Ted Cruz, had previously suggested that he'd support impeaching the president over alleged collusion with Russia and obstruction of justice. But he went further while appearing at a CNN town hall from the U.S.-Mexico border town of McAllen, saying that even as members of Congress wait for more evidence to emerge during federal investigations, "I do think there's enough there for impeachment."
Cruz has accused O'Rourke of being the only Democratic Senate candidate in the nation to support impeachment. At least one other, California state Sen. Kevin de Leon, who is challenging U.S. Senator Dianne Feinstein, has said he too would vote to do so. Still, it's a position that most candidates from both parties have avoided. Even O'Rourke conceded to moderator Dana Bash, "I know that this not politically easy or convenient to talk about."
O'Rourke fielded audience questions for nearly an hour. Bash said Cruz was invited to attend and declined - even though the Republican's campaign said he offered to make the McAllen event a debate and O'Rourke didn't respond.
O'Rourke said he opposed Trump's proposed border wall and that Texas should be a national model in how to overhaul federal immigration policy in a humane way. He said he was a strong supporter of the Second Amendment and Texas gun culture but added, "We lose 30,000 of our fellow Americans every year to gun violence."
"Either there's something wrong with us, something bad, something evil about the United States of America, or there's a human solution to a human-caused problem," he said to sustained applause. "The people of Texas should be able to lead the way on this conversation."
A onetime punk rocker, O'Rourke has become a political star in national liberal circles as he tries to become Texas' first Democrat to win statewide office since 1994. But polls that once showed him staying close to Cruz now have the incumbent leading by nine points - the same margin by which Trump carried the state in 2016.
The event came two days after O'Rourke scrapped his usual optimistic, bipartisan message and sharply criticized Cruz during a debate in San Antonio, even evoking a nickname that Trump bestowed on the senator when they were bitter rivals during the 2016 GOP primary, "Lyin' Ted."
His going negative was viewed as O'Rourke trying to make up ground with Election Day looming, but O'Rourke told Bash that borrowing from Trump's playbook was "not something that I feel totally comfortable with."
"In the heat of the moment, perhaps I took a step too far," he said.
O'Rourke still lobbed some barbs at his opponent at the town hall, but offered another self-criticism following a question from a woman whose 24-year-old son died of a heroin overdose. He noted that the language of a later-vetoed 2009 resolution he helped author while an El Paso City Council member was "inartful at best" for endorsing legalizing narcotics as a way to curb the drug violence across the border in Ciudad Juarez, Mexico.
O'Rourke still supports decriminalizing marijuana but said he was never in favor of expanding that to heroin, as Cruz has suggested in attack ads.
O'Rourke raised a whopping $38-plus million during the three-month period ending in September alone, but said Thursday he doesn't plan to share his war chest with Democrats around the state or country, saying, "I want to make sure we spare no expense."
Despite that, there's been speculation O'Rourke could use a win, or even a close loss, to run for president in 2020. But when asked by a member of the audience, O'Rourke said "the answer is no," adding that he wants to spend more time with his wife and three kids - not campaigning.
"It's a definitive no," he said. "If I don't win, we're back in El Paso."