New details revealed about California parents charged with torture of 13 children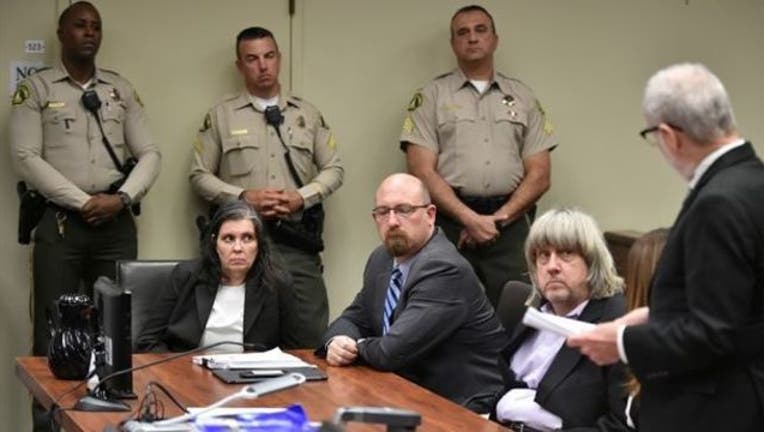 article
LOS ANGELES, CA -  A California couple has pleaded not guilty to allegations they tortured a dozen of their children, kept them chained to beds for months and starved them so much that their growth was stunted and their muscles atrophied.
David Allen Turpin and his wife, Louise Anna Turpin, were arrested Sunday after authorities found the malnourished children in their home in Riverside County. They appeared in court Thursday and were each held on $12 million bail. Their attorneys said they were still reviewing the serious allegations and declined to comment on specific allegations.
Here are some key things to know about the case:
THE PARENTS:
David and Louise Turpin were both born in West Virginia. They were married in 1985 in Pearisburg, Virginia, when she was 16 years old and he was 23. They lived in Fort Worth and Rio Vista, Texas, and moved to Murrieta, California in 2010. They moved into their current home in Perris, about 70 miles from Los Angeles, in 2014.
Investigators are still examining the couple's finances, but David Turpin had worked as an engineer for both Lockheed Martin and Northrop Grumman. Louise Turpin identified herself as a housewife in a 2011 bankruptcy filing.
The couple renewed their vows at least three times - in 2011, 2013 and 2015 - in services presided over by an Elvis impersonator in Las Vegas. They brought their children to at least two of those ceremonies.
___
THE CHILDREN:
The Turpins have 13 children between two and 29 years old. Seven of them are adults. Investigators said the siblings had been so malnourished that the older ones still looked like children. The oldest, a 29-year-old woman, weighed just 82 pounds, prosecutors said. A 12-year-old appeared to be the size of an average seven-year-old.
Their 17-year-old daughter had been planning an escape with several other siblings for two years, Riverside County District Attorney Mike Hestrin said. On Sunday, the girl jumped out of a window and escaped with another sibling, who got scared and eventually went back home. But the 17-year-old used a deactivated cellphone to call 911.
When deputies arrived at their home, the Turpins rushed to free two of their children - an 11-year-old and 13-year-old - from their chains as the deputies stood at the door, Hestrin said. Inside the house, they found a 22-year-old chained to a bed, he said.
Most of the Turpin children were homeschooled but one of the older boys was allowed to attend classes at a local college, Hestrin said. His mother would drive him there, stay outside in the hallway during the class and then take him back home as soon as the class ended, he said.
___
THE ALLEGATIONS:
Prosecutors said the abuse of their children dated back years, to when the couple lived in Texas and appeared to intensify over time.
Years ago, they would tie up their children with ropes and at least one of the children had been hogtied but after that child escaped from the ropes, they started to use chains and padlocks, Hestrin said.
Some of the children would be chained for weeks or months at a time and wouldn't be freed to use the bathroom, he said. Their punishments included frequent beatings and strangulation, the district attorney said.
The children were only allowed to shower once a year, Hestrin said. When washing their hands, if they washed above their wrists, they would be accused of playing in the water and would be chained up, he said.
When they weren't chained up, the siblings were locked in different rooms in the house and "fed very little on a schedule," Hestrin said.
___
THE HOME:
From the outside, the brown-and-beige four-bedroom home in a quiet residential neighborhood looked fairly orderly. Neighbors said they were not close with the Turpins and rarely remembered seeing all the children at once.
Prosecutors said David and Louise Turpin would buy food for themselves but did not allow their children to eat it. They placed apple and pumpkin pies on the table, let their children look at the food but would not let them eat any of it, Hestrin said. The couple also purchased "a lot of toys they never opened," he said.
Prosecutors said the entire family would go to sleep around 4 a.m., sleep through the day and would be up all night. They said the children were allowed to write in journals and investigators are reviewing hundreds of journals they seized from the home.
David Turpin had been home schooling his children at the residence, which he called the Sandcastle Day School. In the 2016-17 school year, it had an enrollment of six - all his children.
Private schools in California are not licensed by the state education department and no agency regulates or oversees them. They are, however, subject to an annual inspection by the local fire marshal.
___
Follow Michael Balsamo on Twitter at http://www.twitter.com/MikeBalsamo1 .