Fairfax County bakery wins English award for pineapple-filled pasty, infuriates British media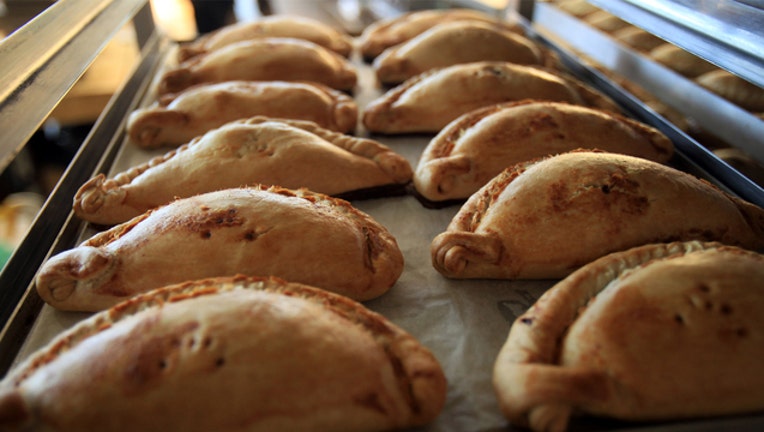 article
CORNWALL, England - A Fairfax County bakery took home a prestigious award at an English competition but British media seems upset because of one specific ingredient: pineapple.
The Pure Pasty Co., based in Vienna, Virginia, claimed the 2018 Open Savoury Company award at the World Pasty Championships in Cornwall, England.
The event, put on by the Eden Project and celebrating its seventh year, sees competitors fly in from all over the world to battle for the top prizes.
An American bakery had never won at the competition, but that was until Mike Burgess' BBQ chicken pasty tantalized the judges' taste buds. The winning dish contains barbecue chicken, sweet potato, zucchini, red pepper, sweet corn and pineapple. Burgess, the English-born owner of Pure Pasty Co., recalled to the Washington Post about witnessing British journalists' reaction when he explained the prized pasty's ingredients.
"I said, 'Well, there's dry rub on the chicken, and we make our own barbecue sauce… Oh, and there's a bit of pineapple as well,' and every journalist there, their eyes just lit up at the word 'pineapple,'" Burgess told the Washington Post.
British headlines reflected their sentiment toward the pineapple-filled pasty.
"Top Cornish pasty in the world is filled with... pineapple: American newcomer trumps British entries with radical ingredient for dish it calls 'Hawaiian pizza,'" the Daily Mail's headline read.
The Telegraph wrote, "It is among the most controversial and divisive ingredients chefs can add to a savoury dish."
Despite the British reaction, Burgess told the Washington Post that Americans were flocking to his business after the awards were announced and he wants to make sure they don't run out of his prize-winning dish.
"We're not a huge restaurant," Burgess told the Washington Post. "We're seeing a lot more foot traffic, and I don't want them to run out."
Burgess also told the Washington Post that the BBQ chicken pasty has joined its full-time menu.
The Pure Pasty Co. is located at 128 Church St. NW Unit C in Vienna. More information about the bakery can be found here.