East Houston car crash leads to fatal officer-involved shooting
HOUSTON - What started as a car wreck in East Houston turned into a fatal officer-involved shooting a mile away. Harris County Sheriff's Deputies believe the suspect may have planned it all along.
Sheriff Ed Gonzalez said deputies were called to the 400 block of Freeport Street around 10 AM Sunday to the scene of a car wreck. Witness reportedly saw that the man was armed and walked away with a backpack.
"We don't know what the initial connection is to him and the car was. We don't know if he was driving it, if he was in it or if he was the one that had caused an accident," Gonzalez said.
Deputies then canvassed the area and found the suspect roughly a mile away, on a bridge near the corner of Maisemore and Black Rock Road.
Jerome Austin, his wife, and two kids live at a house on that intersection and watched the entire confrontation unfold through their windows.
"It happened right in the yard. The cop was by this tree. The kid was by that tree," Austin said.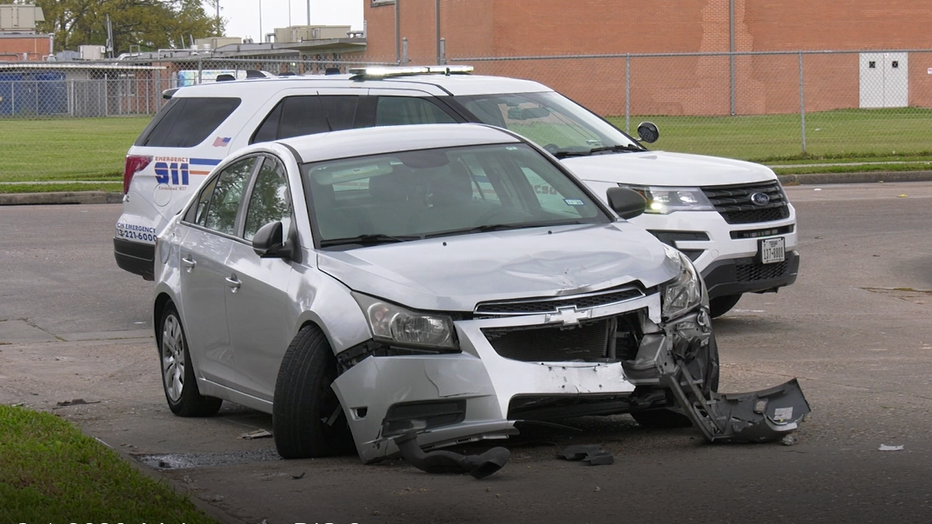 Austin said his son had the garage partially open and saw the man being chased by Harris County Sheriff's deputies outside.
"He ran across the yard right here and we came outside to see what was going on. By that time, the police were in my yard, guns drawn, police cars coming up. And they tried to negotiate with the kid, tell him to put the gun down," Austin said.
When the Austin family realized what was going on, they retreated back inside. Deputies apparently went back and forth unsuccessfully with the man for nearly 7 minutes.
"They asked him to put the gun down multiple times, they even offered him help. He was saying that he didn't want to go to jail. He had just gotten out of jail. Just wouldn't put the gun down," Austin said. 
According to Sheriff Ed Gonzalez, the man began displaying suicidal symptoms.
"He was indicating that he didn't want to go back to jail. He mentioned several women's names and that they were telling him to do it. He had the gun to his head as well as just waving the gun around. There were homeowners inside the home at the time. The deputies tried de-escalation techniques to really calm him down, to no avail. He kept waving the gun and he finally pointed it at them and one of our deputies who was on the scene, fired multiple shots," Gonzalez said.
"They shot four times and we were looking out the windows and saw the whole thing. He was no more than 20 years old," Austin said.
"This type of situation is very consistent with some type of suicide by cop, or somebody just has it in their mind that they don't want to continue anymore, or want to die and kind of force law enforcement to take action and at this point, that's what happened," Gonzalez said. 
No deputies were injured in this case. The suspect's identity has not been released.