Do disappointing HISD test scores merit reform?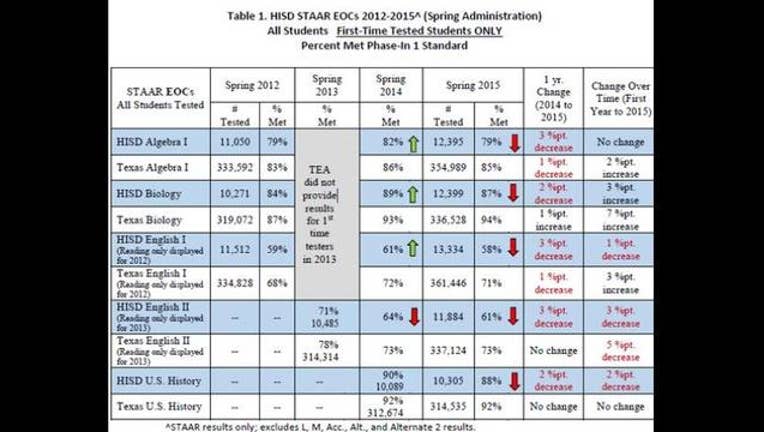 Like every school district in Texas Houston ISD pours enormous resources and extraordinary time into improving the performance of its students on standardized tests.
That said, the latest results can only be viewed as disappointing.
Among HISD high school students as a whole, the level of passing scores on the state mandated end of course exams fell in every subject.
Algebra I - down 3%, English I - down 3%, English II down 3%. Biology and History each down 2 % when compared to 2014 scores.
Bob Sanborn of Children at Risk says the declining level of achievement can be explained, in part, by the higher scores demanded this year for passage.
"Nationally when we look at how we test compared to other states we set a lower bar in Texas than almost any other place and we are bound to look good because of that low bar. Lately with these STAAR tests we are not setting that low bar so we are bound to look bad because we've raised the bar a little bit," said Sanborn.
But HISD school board candidate Ann McCoy says with an unacceptable level of students unable to read and write at grade level what HISD is doing clearly hasn't worked.
She say significant improvement will demand dramatic change.
"Test prep is not what our children need. Our children need enriched educational learning experiences and they need to get those from their teachers. We need to have teachers who are committed to a campus and we have teachers and principals working together to create a positive learning environment for our children. As long as have lots of churn and teacher turnover and principal turnover in HISD we are creating unstable learning environments for our children," said McCoy.