'Dad jokes' could be helping kids grow into healthy adults, experts say
NEW YORK - Dad jokes are notoriously corny, but those seemingly cheesy wisecracks might actually be doing some good. 
Marc Hye-Knudsen, who is a humor researcher and lab manager at the Aarhus University's Cognition and Behavior Lab in the United Kingdom, published an article in the British Psychological Society's journal that found embarrassing your kids a little can help them grow into healthy adults.
Hye-Knudsen wrote that when dads embarrass their kids with corny jokes, it teaches them how to overcome awkward moments when they grow up.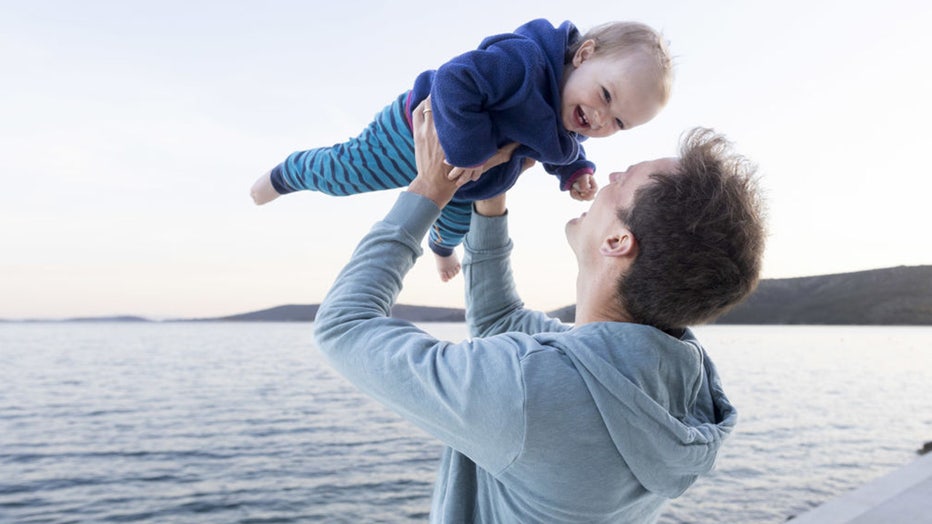 FILE - In this photo illustration a father is having fun with his baby. (Ute Grabowsky/Photothek via Getty Images)
One New York dad shared his own joke that would make any kid experience a twinge of embarrassment.  
"I went to a Star Trek convention recently but they wouldn't let me in because I wasn't the real McCoy," he told FOX 5 New York. 
Another dad said he learned this gem from his own father, "He used to ask kids, 'Where were the first donuts made? In grease!' That's the joke." 
Are your cheeks flushed yet? 
One kind stranger told FOX 5 this joke: "A man's walking on the side of the river, he hollers to the man on the other side of the river and says, 'Excuse me, how do I get across?' He says, 'You're already on the other side.' What does that mean? That's the dad joke!"  
OK, OK, we'll stop. 
"Any time parents can role-play at home or offer tools for socialization to kids, put them in situations where they can practice their social tools, I think they can be incredibly beneficial for children," Dr. Nava Silton, a developmental psychologist in New York City, told FOX 5. 
It can be helpful even if your kids miss the punchline.