Cosas que hacer en Houston este fin de semana, del 28 al 30 de abril: festival de cine, festival de música
HOUSTON - Todo se ha calmado después de la toma de control de The Eras Tour, ¡pero todavía hay mucho que puedes hacer este fin de semana! ¡Diviértete en un espectáculo de comedia, mira algunas películas en un festival de cine o disfruta de un festival de música estilo picnic!
He aquí un vistazo a algunas de las cosas que hacer en el área metropolitana de Houston.
Festival de Artes y Artesanías de Bellaire
¡El sábado, lleve a su familia o amigos a Paseo Park para el Festival de Artes y Oficios! Los huéspedes pueden disfrutar de comidas y bebidas de diferentes vendedores de alimentos mientras compran obras de arte excéntricas y peculiares de artistas.
Ubicación: Parque Paseo, 5000 Bellaire Blvd. Bellaire, TX 77401
Horario: 10 am a 4 pm
Gratis
Haga clic aquí para más información.
Festival de Cine Submarino (Bajo el Agua)
Este evento de fin de semana de 2 días tiene como objetivo promover el cine submarino y la apreciación de la vida marina. El Festival de Cine Submarino de Houston muestra el trabajo de videógrafos de todo el mundo de más de 22 países que han reunido un total de 61 películas. El evento del sábado tiene 3 categorías: "Hecho en Texas", "Películas de arte y ensayo" y "Proteger y respetar los océanos", mientras que la proyección del domingo incluye películas de "Cortos", "Animación y danza" y "Largometrajes" con una recepción para seguir
Ubicación: Midtown Arts and Theatre Center Houston, 33400 Main St, Houston, TX 77002
Hora: Las películas comienzan a las 3 p.m. ambos días
Costo: los boletos cuestan $ 15 para la proyección del sábado o el domingo. Los huéspedes también pueden comprar paquetes de boletos para ahorrar dinero.
Haga clic aquí para más información.
Exhibición de Autos en los Woodlands
Dirígete a Grace Woodlands para su exhibición mensual de autos. El evento es gratuito para que traiga a su familia y amigos por un día para ver autos increíbles.
Ubicación: Grace Woodlands, 24400 Interstate Hwy 45, The Woodlands, TX 77386
Hora: 9 am a mediodía
Gratis
Haga clic aquí para más información.
En el club Riot Comedy Club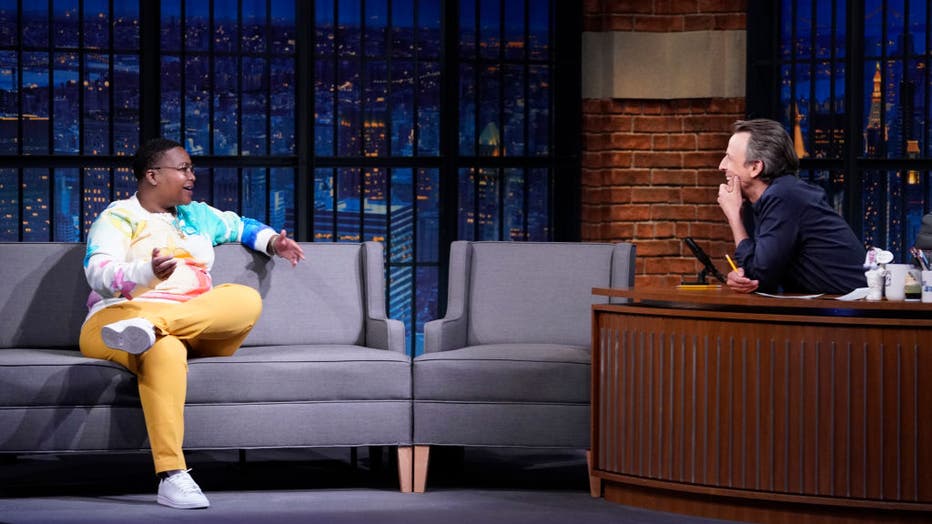 LATE NIGHT WITH SETH MEYERS -- Episode 1148A -- Pictured: (l-r) Comedian Sam Jay during an interview with host Seth Meyers on May 18, 2021 -- (Photo by: Lloyd Bishop/NBC/NBCU Photo Bank via Getty Images)
¿Quieres tener una buena carcajada? El cómico de stand-up y escritor nominado al Emmy Sam Jay estará en el Riot Comedy Club el sábado. Disfruta de comidas, bebidas y buenas vibraciones. Actualmente se puede ver a Jay en la temporada 2 de "Pause with Sam Jay" de HBO, una serie nocturna semanal en la que se desempeña como presentadora y productora ejecutiva. Y la serie de Peacock "Bust Down", que co-creó con los coprotagonistas Langston Kerman, Jak Knight y Chris Redd.
Ubicación: Riot Comedy Club, 2010 Waugh Dr, Houston, TX 77006
Hora: 9 a 10:30 h.
Costo: los boletos comienzan en $ 17 más impuestos y tarifas por un asiento individual
Haga clic aquí para más información.
Célébrez en Rosé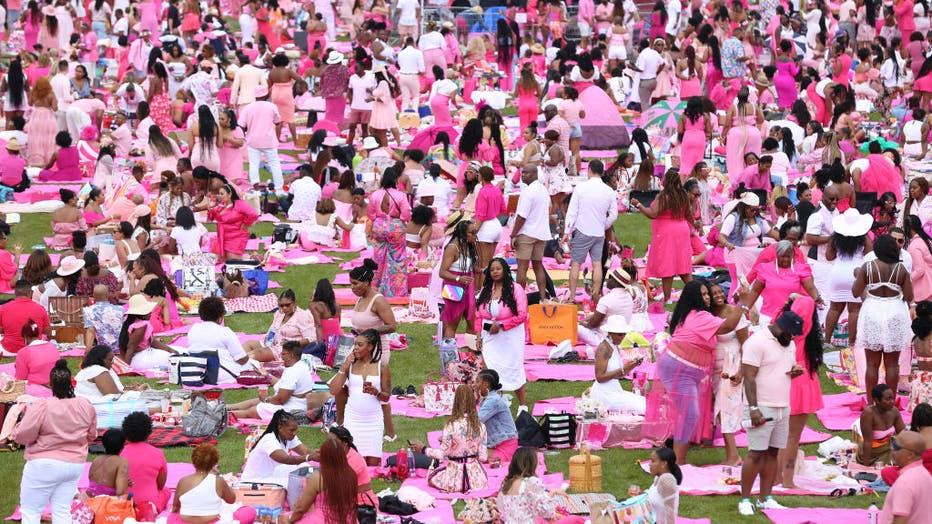 OXON HILL, MD - JUNE 11: A view of attendees during Célébrez En Rosé - Washington, D.C. at The Plateau at National Harbor on June 11, 2022 in Oxon Hill, Maryland. (Photo by Brian Stukes/Getty Images)
Célébrez en Rosé en francés significa "Celebrar en Rosa" y es un festival de vino y música que brinda un ambiente estilo picnic para que todos disfruten de un fin de semana. ¡El evento de este año en Houston contará con Jacquees, The Soul Rebels, Big Freedia, MC Lyte, DJ Mr Rogers, DJ Young Streetz y Marium Echo! ¡Siéntese afuera en el Jardín Botánico de Houston para un día de diversión y música en vivo!
Ubicación: Jardín Botánico de Houston, 1 Botanic Lane, Houston, TX 77017
Hora: Se abren las puertas a la 1 p.m.
Costo: los boletos comienzan en $85 más impuestos y tarifas
Haga clic aquí para más información.
Películas Bajo las Estrellas
¡Tome algo de comida y una manta para disfrutar de la proyección de la película Eat, Pray, Love protagonizada por Julia Roberts en Market Square Park!
Ubicación: Market Square Park, 301 Milam Street, Houston, TX 77002
Hora: 8 p.m.
Gratis
Haga clic aquí para más información.
18º Festival Anual de Frida
El mes terminará con el 18º Festival Anual de Frida que tendrá lugar en MECA en el edificio histórico de la escuela Dow.
El festival contará con músicos y artistas locales junto con un mercado de arte con una amplia gama de comerciantes, vendedores, artesanos y hallazgos únicos.
También tendremos nuestro famoso Concurso de Parecidos a Frida para todas las edades. Este año facilitaremos el concurso en línea con un anuncio del ganador en el Festival Frida.
MECA @ Dow School, 1900 Kane Street Houston, TX 77007
Sábado, 29 de abril
Día del Niño
Obras cortas en inglés y español interpretadas por actores y grupos de teatro de Houston.
Actuaciones de Main Street Theatre, Grupo de Teatro Indigo y Grupo Somos Todos.
¡Casa inflable, refrigerios y divertidas actividades artísticas disponibles!
Paga lo que puedas tarifa de entrada.
MECA TBH Center, 333 S Jensen Dr, Houston, TX 77003
Domingo, 30 de abril
RICARDO MONTANER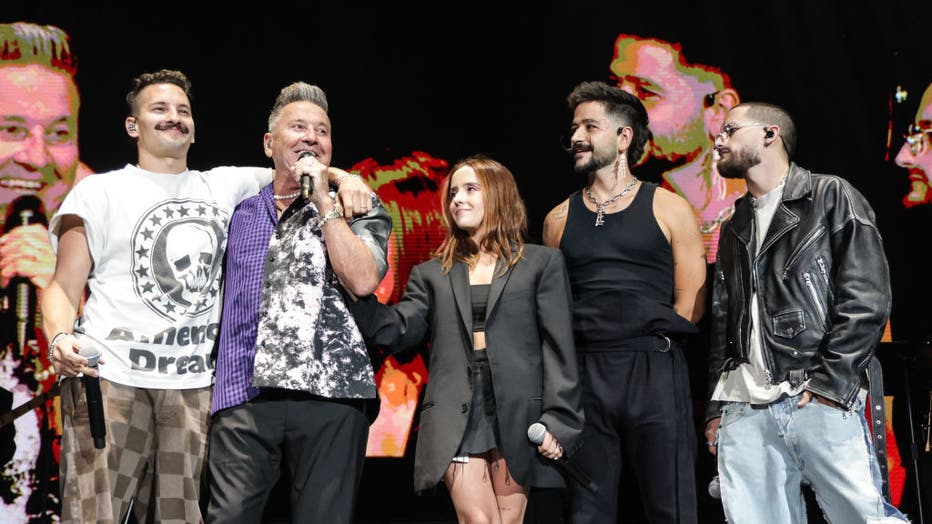 MIAMI, FLORIDA - MARCH 31: (L-R) Mau Montaner, Ricardo Montaner, Evaluna Montaner, Camilo and Ricky Montaner performs together during Ya Te Echo de Menos Tour Opener at Miami-Dade Arena on March 31, 2023 in Miami, Florida. (Photo by John Parra/Getty
En Concierto
Domingo 30 de abri 8:00 PM
Smart Financial Centre, 18111 Lexington Boulevard, Sugar Land, TX 77479 
Para más información: (281) 207-6278