Christian couple unveil anti-gay billboard after battle over gay wedding refusal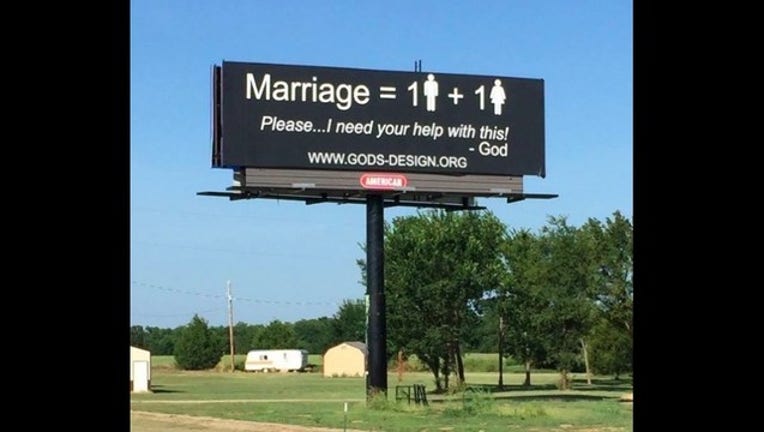 article
The Görtz Haus Gallery, a one-stop wedding venue, restaurant and flower shop in Grimes, Iowa has shut down after 13 years.
Now, former owners Betty and Dick Odgaard are launching an organization that will post billboards across the U.S. in an effort to defend "traditional marriage".
The decision to close the Görtz Haus Gallery doors comes after an intense legal battle.
The Odgaards' turned away Lee Stafford and his fiancé Jared Ellars in 2013, a decision that resulted in a $5,000 settlement payout to the same-sex couple.
With their new organization, God's Original Design Ministry, a 501(c)(3) , the couple will be unveiling billboards across the country promoting marriage between a man and a woman.
Their first billboard went up in Durant, Oklahoma, on July 24.
It is a 14-foot-by-48-foot message that reads, "Marriage =" an image of a man, a plus sign, and an image of a woman. Underneath that is a quote attributed to God that reads, "Please…I need your help with this."
The Odgaards hope to raise enough money to be able to place 999 additional messages across America.
"It has become very obvious that many people of faith have wandered from the word, and/or are deeply confused with this issue," Betty Odgaard told TheBlaze. "With that, the primary objective our mission with these billboards is to spark 'drive-time epiphanies." In other words, to remind the faithful of the truth."
With their shop just days away from closing, the couple plan to focus on their new-found ministry. As for the building in which Görtz Haus Gallery is located, a church will likely start renting there - a plan that the Odgaards revealed earlier this summer.
What do you think about the Odgaards' initiative? Share your thoughts on our FOX 26 Houston Facebook page.