Child prostitution charges brought against Oklahoma lawmaker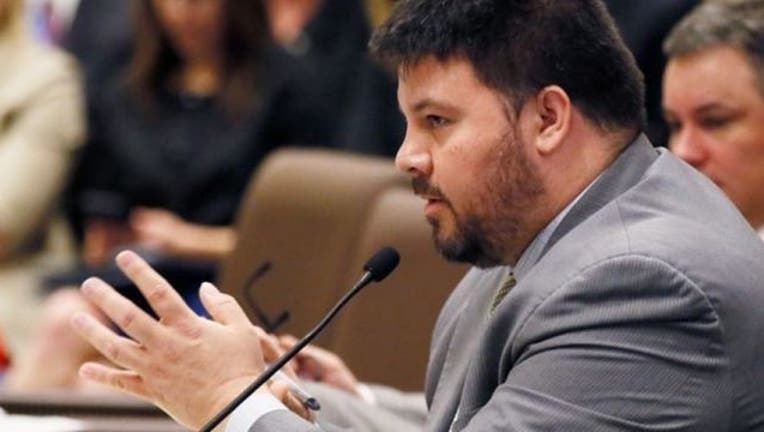 article
OKLAHOMA CITY (AP) - Oklahoma prosecutors on Thursday filed child prostitution charges against a Republican state senator after police found him in a hotel room a 17-year-old boy.
Ralph Shortey, 35, is charged in Cleveland County with engaging in child prostitution, transporting a minor for prostitution and engaging in prostitution within 1,000 feet of church. An arrest warrant was issued for him.
Shortey, a conservative Republican from south Oklahoma City, hasn't replied to several phone messages seeking comment, and court records don't show if he has retained an attorney yet.
Moore police said that acting on a tip from the teen's father, officers went to the Super 8 Hotel last week and smelled marijuana coming from a room. They found Shortey and the teen alone inside.
A search of the teen's tablet uncovered a series of sexually explicit exchanges in which Shortey offered the teen cash in exchange for "sexual stuff," according to a police report. Police also found lotion and a box of condoms inside a backpack in the room.
The age of consent in Oklahoma is 16, but Oklahoma's prostitution statute applies to any person under 18 years old.
The Oklahoma Senate imposed sanctions Wednesday on Shortey, voting 43-0 for a resolution that accuses him of "disorderly behavior." Among other things, it removes Shortey from membership and leadership of various Senate committees, bars him from occupying his office and reserved parking spot at the Capitol, blocks his expense allowances and authorship of bills, and revokes his right to have an executive assistant.
Shortey, who was a county coordinator and early supporter of Donald Trump's presidential campaign, wasn't present when the resolution was adopted and didn't show up to his Capitol office on Wednesday.
In a statement following its passage, Senate President Pro Tem Mike Schulz said it was not intended to be "a presumption of guilt or innocence."
"The Oklahoma Senate has full faith that the judicial system will play out appropriately and bring this matter to a lawful conclusion," Schulz said. "This resolution reserves the right of the Oklahoma Senate to pursue further action if more facts come to light."
___
Senate Resolution 7: http://bit.ly/2nG84WX
___
Associated Press writers Sean Murphy and Ken Miller in Oklahoma City contributed to this report.