Arizona officer helps woman who gave birth on side of road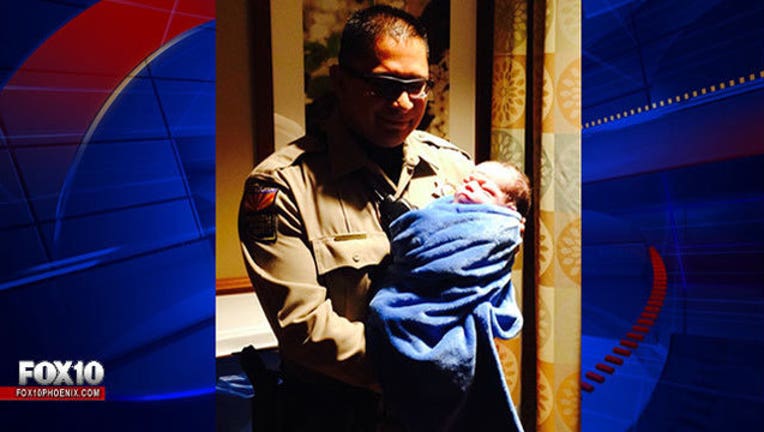 article
TUCSON, Ariz. (AP) — An Arizona highway trooper getting ready to cite a speeding driver instead wound up helping a woman in another car who delivered a baby boy on the side of the road.
Trooper Miguel Rincon was conducting a traffic stop Saturday on a highway near the southern Arizona town of Bisbee when a car pulled up behind him. The driver told Rincon that her granddaughter was about to give birth and that they needed an ambulance.
But the baby couldn't wait.
Courtney Benavidez gave birth in the car. The baby was out before Rincon even had time to run over to her.
He let the speeding driver go.
Benavidez named the boy Carter Jett, a reference to how quickly he was born.
She was in labor for only about an hour and a half. Her grandmother was driving her to the hospital, but Benavidez couldn't make it. The women pulled over when they saw the trooper's patrol car.
"I was just in shock, and I couldn't believe it," Benavidez told The Associated Press on Tuesday. "I think I went pale."
Rincon, a seven-year veteran with the Arizona Department of Public Safety, said he stayed calm and handed Benavidez a blanket for the baby. An ambulance arrived and took mom and infant to the hospital.
They were released the next day and are in good health.
"I'm just absolutely thankful and blessed because things could have gone down south very quickly, and I'm just thankful that everything turned out OK," Benavidez said.
Rincon said he doesn't have medical training to deliver a baby, but his instincts kicked in as he ran to get a blanket for the newborn.
"The only training I can say is I do have three kids of my own, so that kind of makes me a little familiar with the process," he said.
Benavidez, a third-grade teacher, said she was shocked by how quickly things moved. Her 4-year-old daughter was born after 12 hours of labor, and she wasn't expecting such a speedy delivery.
"It's very surreal how it happened, but I'm so thankful that everything turned out OK and we're all OK," she said.