Aging infrastructure, missing data, and backlog of repairs plague PG&E
Aging equipment, a backlog of maintenance and tree trimming, and an increase in power outages continue to plague the Pacific Gas and Electric Comp.'s efforts to combat wildfires and provide services for 16 million customers, a new independent monitor report released by state officials on Tuesday found.
A revolving door of executive leadership is also contributing to PG&E's woes, the report stated, with nine changes in top positions since November 2022, despite the new CEO's promises to bring change to the beleaguered utility company.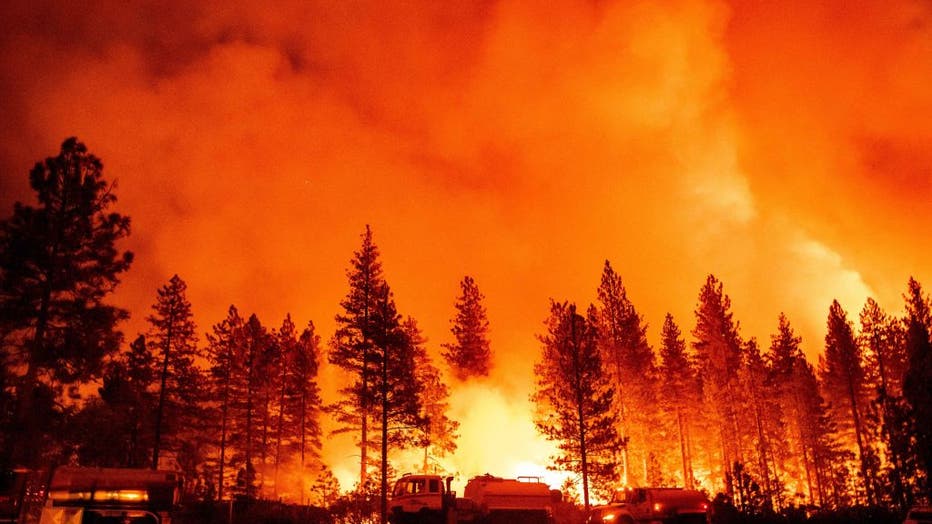 TOPSHOT - Water tender crews monitor a backfire during the Mosquito fire in Foresthill, an unincorporated area of Placer County, California on September 13, 2022. - The Mosquito Fire, California's current largest blaze, has now swept through nearly 5
The independent monitor's report released by the California Public Utilities Commission is the second of many investigative studies being conducted by Filsinger Energy Partners, Inc. as part of PG&E's bankruptcy settlement agreement. 
Filsinger Energy Partners does not have the ability to mandate changes, and the report is mostly a look behind the curtains at one of the country's largest utility companies. However, the report shows PG&E continues to fail to address many of the company's shortcomings that have caused catastrophic wildfires in California over the past decade. 
The report highlights how the energy company is missing key data on its aging infrastructure, that it is failing to replace infrastructure in a timely manner and faces a growing backlog of repairs and vegetation pruning. Top PG&E leadership claims it lacks the money to address many problems even though it reported more than $600 million in profits during the first three months of 2023.
The CPUC hired FEP, a Denver-based firm, in 2020 after PG&E was found liable for billions of dollars in damages associated with multiple wildfires that were caused by equipment failures. In 2018, PG&E pleaded guilty to 84 counts of felony manslaughter after an aging piece of equipment failed on a transmission line just outside the town of Paradise. The resulting Camp Fire killed 85 people and destroyed over 12,000 homes. 
PG&E was also blamed for starting the Dixie Fire in Northern California and is currently under criminal investigation by the US Forest Service for the Mosquito Fire that burned across Placer and El Dorado counties in September 2022. The USFS seized a PG&E transmission pole and the attached equipment on Sept. 24. 2022 in relation to the Mosquito Fire, a filing by PG&E with federal officials states. 
"PG&E's most important responsibility is keeping our customers and our hometowns safe that we are privileged to serve," said Lynsey Paulo, a spokesperson for PG&E. "We welcome the oversight provided by the Independent Safety Monitor. We also welcome input from additional external oversight provided by the Governor's Office Operational Observer and county monitorships which bring continued openness and transparency to our critical safety work."
Wildfire risks and vegetation management
The independent monitor inspected a small sampling of PG&E equipment and found over 60 trees that required trimming or felling that were not identified by PG&E inspectors. Although this small sampling represents a tiny fraction of PG&E's equipment, it suggests the agency is overlooking potential trouble spots in its vast network. 
In a bright spot, PG&E has been able to reduce the number of ignitions caused by its equipment by utilizing new technology that shuts power to the electrical lines if a fault is detected, the report found. This resulted in 14 reportable ignitions in 2022, down from 59 in 2017.
"Our proven layers of protection have reduced wildfire risk from our equipment by more than 90%," said Paulo, who pointed to the use of stronger poles, covered powerlines, a program to put 10,000 miles of wires underground and other safety measures.
However, PG&E is not pruning trees and other vegetation near its equipment fast enough, according to the report. PG&E identified over 175,000 trees that need to be removed in the coming years but only has a target of 15,000 for 2023. At this rate, it would take nearly 12 years to complete the tree trimming. The energy company allocated $1.4 billion for its vegetation management programs for 2023, which is a reduction of $400 million dollars from the previous year. 
The independent monitor also identified problems between PG&E and its contractors. 
"The contractors indicated that in most years they are required to halt [vegetation management] work prior to the end of the year. However, in 2022, the contractors stated the work stoppage was earlier than usual and occurred with minimal notice," the report found.
"Additionally, the contractors described a lack of communication between the PG&E [Vegetation Management] Construction group, the PG&E [Vegetation Management] field organization, and the [Vegetation Management] contractors," the report continued.
PG&E said the early work stoppage was due to contractors completing their commitments ahead of schedule, not because of budget issues.
"PG&E's leadership team has continued to intensify its focus on fostering an environment that encourages coworkers and contract partners to raise concerns on any topic, especially around safety and risk, so that we can address issues that need to be fixed or made safe," Paulo said.
Missed inspections and a backlog of repairs
The monitor inspected over 1,100 PG&E structures in the field and found unreported damage on nearly 20% of them. It found broken, burnt, and deformed electrical poles; deficient electrical line splices; and trees or vegetation too close to power lines. The monitor also found equipment that is years and even decades older than the industry standard, raising concerns about breakdowns. 
The recent report found 60% of PG&E's underground electrical lines exceed its useful life, that over one-third of all overhead electrical lines will need to be replaced in the next 10 years and nearly 120,000 power poles already tagged for replacement. 
Additionally, there is a bevy of equipment of unknown age, making it difficult to evaluate its condition. The age was not known for 54% of primary conductors and 88% of secondary conductors. 
"While age is only one factor in determining conductor failure, this missing data limits the predictive power of PG&E's risk models," the report states. 
To adequately replace the aging powerlines, PG&E needs to install about 800 miles of new lines a year. However, it has only been able to replace approximately 40 miles of line a year during the past seven years. Replacing the power lines is critical, especially for fire prevention. Overhead wire failures resulted in 101 equipment-caused ignitions between 2017 and 2022 and PG&E expects that number to rise if the equipment ages faster than it is replaced, the report found. 
Paulo said that PG&E updated 44,000 miles of powerlines with enhanced safety settings last year that are extremely effective at reducing fires. 
PG&E faces a similar ballooning backlog for its power poles. The energy company needs to replace 28,000 poles yearly, but it's only averaging 12,000 poles a year. Additionally, there are thousands of poles needing repairs. 
"Personnel cited that there are approximately 150,000 open pole corrective maintenance tags," the report found, adding that 90,000 of those poles are in areas at high risk of fires.
To make matters worse, PG&E is struggling to stock up on the needed supplies due to supply chain issues that have plagued much of the country's manufacturing base.
Leadership at PG&E has admitted that the replacement program was repeatedly reprioritized over the years to combat wildfires and other high-risk programs and there isn't enough money to replace all the deficient equipment. 
"In meetings attended by the [independent monitor], concern was expressed by PG&E leadership that the magnitude of capital needed for asset replacement programs was far in excess of the amount of capital believed to be available," the report states.
PG&E reported a profit of $623 million during the first quarter of 2023 – an increase of nearly $100 million from the same quarter in 2022 – as many customers faced massive increases in their energy bills. 
Outages have increased
Power outages have increased 66% since 2020 largely due to the introduction of the public safety power shutoffs and the enhanced powerline safety settings – the new technology that shuts power to a line if a fault is detected. 
There were 2,375 power outages affecting approximately 2.1 million customers in 2022, with an average outage time of nearly three hours. The most common cause for the outages was "unknown" (1,083 incidents) but PG&E officials said the most likely causes of the outages were either birds, animals or tree branches in areas where PG&E crews were unable to find a direct cause. Animals caused nearly 400 power outages in 2022.
"We are continuing to work closely with the ISM team to address the items and observations covered in their reports and are committed to making ongoing progress and continued improvements in these areas," Paulo said. "We remain focused on working closely with the Independent Safety Monitor, the CPUC, and other stakeholders towards our shared and unwavering goal of safety."
Freddy Brewster is a reporter for KTVU. 
Email Freddy at freddy.brewster@fox.com or call him at 513-379-7522. 
Follow him on Twitter @freddy_brewster