2 arrested, AR pistol recovered after threat reported at North Texas high school football game
EVERMAN, Texas - Two adults and one juvenile were taken into custody Friday evening after authorities received information about a "credible and potentially imminent threat" at the Everman High School Homecoming game.
The crowded event was nearly the scene of what could've been a deadly mass shooting.
"We're taking about over 3,000 people in a consolidated space," Everman Police Chief Craig Spencer said.
Everman police said an off-duty Tarrant County Sheriff's Office deputy received a credible tip that someone was on his way to the football game with the "intent of utilizing" a gun he got earlier in the day.
Police said there was already a heavy law enforcement presence at the game, but additional officers were quickly called to assist.
"The information that we received included a suspect identification and vehicle information," Spencer said.
A short time later, police said officers saw a vehicle matching the suspect's vehicle description southbound on Race Street, heading towards the Everman High School football stadium.
"One of our officers attempted to make a traffic stop on that vehicle. The vehicle initially did not stop," Spencer said.
Officers managed to stop the vehicle near the stadium's east gate entrance.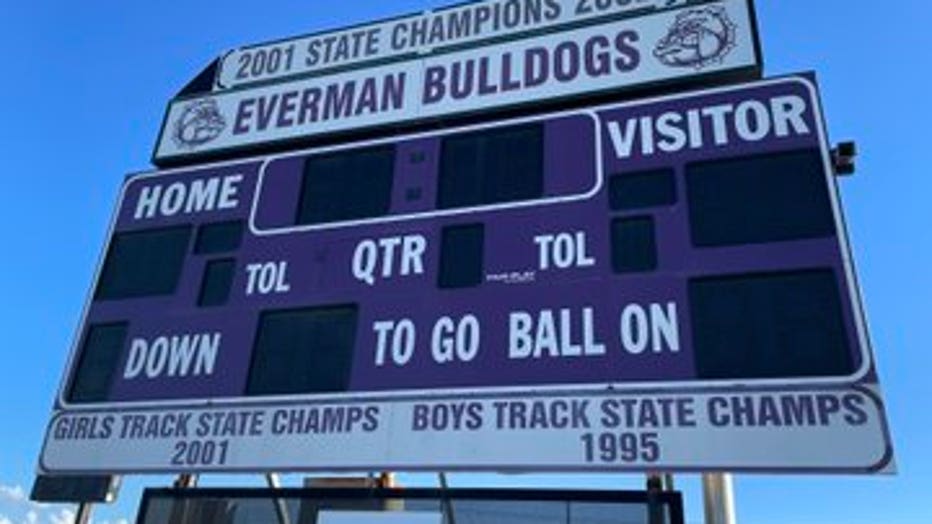 READ MORE: Fort Worth ISD confirms monkeypox diagnosis at one of its campuses
Three people from inside the vehicle were taken into custody, and police said they recovered an AR-15 pistol and a 60-round magazine.
Two suspects, and 18-year-old and a 17-year-old, were arrested and charged with unlawful carrying of a firearm in prohibited places. The third passenger, a 10-year-old, was later released to their parents.
The names of those involved have not yet been released.
"We have to treat every single threat that comes in as a credible threat until we can prove otherwise," Spencer said.
Police are still investigating to find out what their plan was. It's unclear if they were targeting fans, players, or someone else.
"Some 'beef' that he was trying to take out with a group of people. We do not know the identity of the actual targets," Spencer said.
It's also unclear where the suspects planned to carry out the alleged shooting.
"I think it's pretty safe to assume their targets were Everman ISD students or somebody associated with Everman ISD since they were coming here," Spencer explained.
The police chief does not classify this as gang activity.
"Gangs today are very different from what gangs were 10-15 years ago," he said. "The societal standard of gangs now is very different."
However, he added it might be something similar.
"What we consider clique activity or group activity," Spencer said.
Police said they didn't want to stir panic at the game with an announcement, adding there really was no time to do so.
"This threat was addressed and limited within minutes," Spencer said.
There were no additional threats reported after the arrests were made.
Looking back, with 3,000 people in attendance, police believe they averted a deadly disaster.
"There's no doubt," Spencer said. "I certainly believe wholeheartedly, from the bottom of my heart, that these officers did save countless lives."