10 moments from Trump's Iowa speech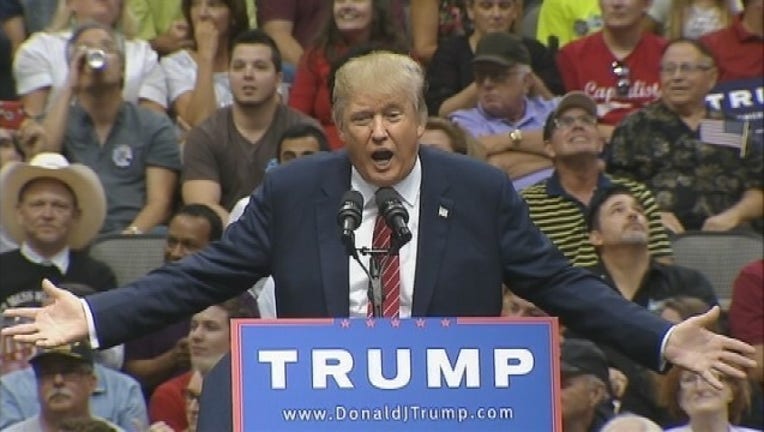 IOWA - AMES, Iowa (AP) — Republican presidential candidate Donald Trump delivered an angry, freewheeling speech Thursday night in which he used a four-letter epithet, sarcastically assailed rival Ben Carson and called voters "stupid" for believing accounts in Carson's compelling biography. Here are some highlights:
___
On his plans for dealing with Islamic State militants:
"I know more about ISIS than the generals do. Believe me," he said. He went on to describe his plans for attacking Islamic State-controlled oilfields to choke off revenue.
"I'd bomb the s--- out of them," he said. "I would just bomb those suckers. That's right. I'd blow up the pipes; I'd blow up the refineries. I'd blow up every single inch. There would be nothing left."
___
On Ben Carson, the retired neurosurgeon who is challenging his lead in opinion polls:
"Carson's an enigma to me," said Trump, zeroing in on Carson's description of his own temper as a teenager.
"I don't want a person who's got pathological disease," Trump said. "Now if you're pathological, there's no cure for that. ... And I did one of the shows today and I don't want to say what I said, but I'll tell you anyway. I said that if you're a child molester, a sick puppy, you're a child molester, there's no cure for that. There's only one cure and we don't want to talk about that cure."
___
Recounting Carson's story about attempting to stab a friend with a knife, also when he was young:
"He took a knife and he went after a friend, and he lunged — he lunged that knife — into the stomach of his friend, but, lo and behold, it hit the belt!" Trump said, dramatically recounting the scene from Carson's book.
"Give me a break. Give me a break," he said, before stepping away from the lectern to give a demonstration of his belt buckle moving up and down.
"Anybody have a knife, you want to try it on me?" he asked.
"How stupid are the people of Iowa? How stupid are the people of the country to believe this crap?"
___
Questioning Carson's religious conversion:
"He goes into the bathroom for a couple of hours and he comes out and now he's religious. And the people of Iowa believe him. Give me a break," Trump summarized inaccurately. "Give me a break. It doesn't happen that way."
"Some people might not like it, 'Oh that's not really nice what you said.' Don't be fools. Don't be fools, OK?"
___
On not caring what people think (and the press):
"I may leave here and you may say, 'Oh that was not nice what he said.' Who cares? Then you know, I go back to my life, I don't have to do interviews, which I don't like doing, to be honest with you. I can leave this scum back here, the press alone. I don't need 'em anymore, they're garbage. No, they're scum."
___
On Iowa:
"I love Iowa. I've been here so many times now, I think I'm going to buy a farm and maybe just move here."
___
On Florida Sen. Marco Rubio:
"Weak on illegal immigration. Weak like a baby, like a baby. Not a good poker player because every time he's under pressure he starts to just profusely sweat. If he was playing poker with me, I'd say, 'Oh, I know what.' The water would start pouring off his body. I'd say, 'Ahh!' Oh boy he'd have a hard time."
___
On Democratic presidential candidate Hillary Rodham Clinton:
"She's going to run, she's going to be the candidate, and she's going to lose. She's going to lose, I tell you. Because people are sick and tired of watching what's going on, they're sick and tired with her, with her "ohhh," with her whole big attitude. And she's playing the woman card up. That's all she has. Honestly outside of the woman's card, she's got nothing going. Believe me."
___
On his theory that former Iraqi leader Saddam Hussein lied about having weapons of mass destruction to scare Iran:
"This is the Trump theory on war. But I'm good at war. I've had a lot of wars of my own. I'm really good at war," he said. "I love war in a certain way. But only when we win."
___
On illegal immigration:
"If you cross the North Korean border, and if you do it illegally, you get 12 years hard labor, 12 years. I think you get more than that. Actually, I think they kill you. ... If you cross the Afghanistan border illegally, you get shot. ... In Iran, you get eight years. ... There's a $5,000 fine for Americans crossing the Canadian border," he said.
"If you cross the United States border illegally, you get a job, you get a driver's license ... you get food stamps, you get a place to live, you get health care, housing, child benefits and in many cases education. You wonder why we're a debtor nation. You wonder why our country's going to hell."