Strong storms leave behind heavy rainfall, Houston bracing for record breaking heat this weekend
HOUSTON - Mother Nature made her presence known in the Houston area on Thursday night after a line of storms moved across the area.

Radar estimates as of 9 p.m. Thursday night show the Huntsville area received over 3 inches of rain in the past 24 hours. 
CLICK HERE FOR A LOOK AT RADAR & LATEST FORECAST

While there were no tornado warnings issued in the Houston area, there was a tornado watch that was issued for areas north of Houston for the early part of Thursday evening.
Now as the strong storms move away from the area, Houstonians should prepare for a record-breaking heat wave this weekend. 

High temperatures are expected to reach almost 100 degrees with a heat index of over 100 degrees.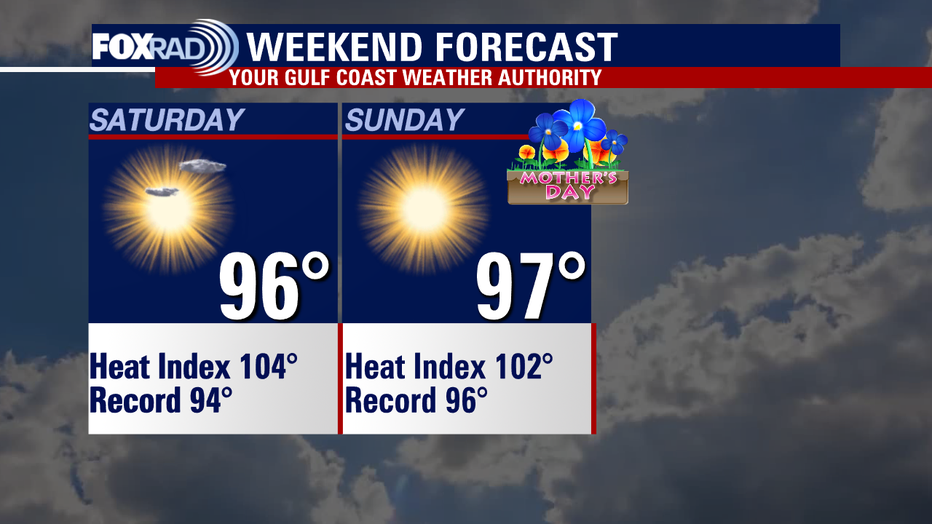 The high temperatures will also create a large demand for power in the state of Texas. 
RELATED: Record-breaking heat wave possible Mother's Day weekend, ERCOT urging power plants to prepare
ERCOT already asked power plants earlier this week to be sure they're prepared to provide electricity through the weekend. 

If you find yourself spending time outside, be sure to take frequent breaks and drink plenty of water to avoid heatstroke. 

Stay safe out there, Houston!
The FOX 26 Weather Team is closely monitoring developments to keep you up-to-date online, on-air, and on social media. You can also stay up-to-date 24 hours a day by downloading the free FOX 26 weather app. You'll receive weather alerts for your location, along with video weather updates.