Texas Southern beats Alcorn State 53-50, wins SWAC title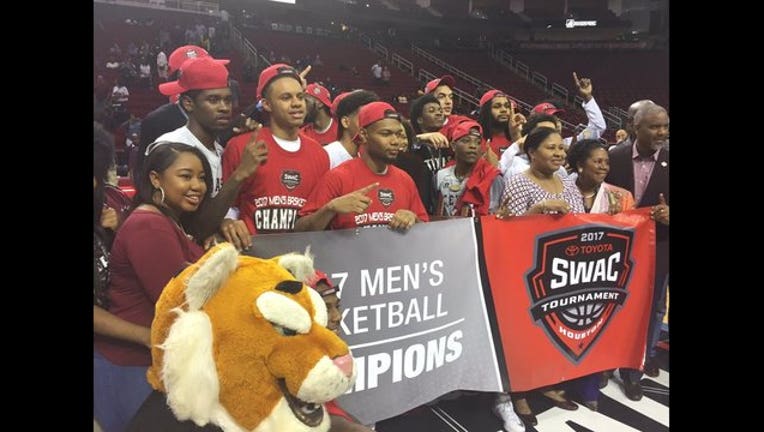 article
HOUSTON (AP) - Unlike the rest of the conference tournament championship games across the country, an NCAA Tournament berth wasn't on the line in the Southwestern Athletic Conference.
With Alcorn State being ineligible for postseason play, the meeting between the Braves and the Texas Southern was just for the conference tournament title.
Kevin Scott had 15 points and 12 rebounds and top-seeded Texas Southern beat Alcorn State 53-50 on Saturday.
"Very difficult to get up for a game knowing you're already qualified for the NCAA Tournament," Texas Southern coach Mike Davis said. "Very challenging but they stepped up to the plate. Ugly game for both teams but we're excited to be in the NCAA Tournament."
The Tigers (24-11) won the title for the third time in the last four years.
Tournament MVP Marvin Jones added 14 points on 6-of-7 shooting, and Demontrae Jefferson had 13 points for Texas Southern.
"It feels unbelievable," Jones said. "I feel numb. It's just a blessing. When you're going through things in your life and you have downfalls, you just have to find that faith in yourself and God. I just took that and I ran with it. Just being here sitting in front of you guys is normal because I already picture myself doing this."
Reginal Johnson led Alcorn State (18-14) with 16 points, and Denel Dulin had 12.
Jefferson scored Texas Southern's final five points, hitting a 3-pointer with 1:06 left for a 51-47 lead.
"It was huge because the first two games we played with them we had a tip-in with 0.8 seconds to go up two and to play overtime at our place," Davis said. "To be in the situation where we are up four points, making it a two possession game it gave us a little confidence."
Alcorn State's A.J. Mosby had a wide-open look for a tying 3-pointer with six seconds left, but it rattled out and Texas Southern got the rebound to secure its ninth straight victory.
"I wanted to put the ball in A.J. Mosby's hands," Alcorn State coach Montez Robinson said. "He's normally, percentage wise, our best shooter from behind the arc He had a solid look, it actually went in and came out. You couldn't have asked for a better shot, better execution from your guys. One of those situations where the ball was at a bad angle."
The third meeting of the season played out just like the previous two, which Texas Southern won 67-65 and 94-88 in overtime.
Texas Southern took a 10-2 lead, with Scott and Jones scoring eight points.
Shooting 42.6 percent from the field in the opening half, the Tigers were able push their lead up to as many as 10 at multiple points. Alcorn State struggled, going 8 of 28 in the first half.
Down 37-31 with 10:37 left in the game, Alcorn State had a 12-5 run to take a 43-42 lead, the first of the game for the Braves with 5:34 left.
"We started out slow," Robinson said. "I thought our legs got up under us and we were able to flow into our offense and do what we needed to do. We guarded the crap out of them, I thought it was one of our best defensive games that we've had all year It's really tough when these guys have done everything you've asked them to do."
With 4:20 left, Scott buried his lone 3-pointer, giving Texas Southern the lead for good. Scott scored nine of his 15 points in the second half.
The trio of Jefferson, Scott and Jones scored 42 of Texas Southern's 53 points. The Tigers shot 39.2 percent from the field, while Alcorn State was at just 33.3 percent.
Texas Southern is 0-6 in NCAA Tournament play.
"I want to get it to the point where people expect us to go play in the Final Four," Davis said. "No one thinks that way. Everybody thinks, you're in the NCAA Tournament, feel good about it, go next week and play well. Make us proud. Making me proud is playing for the national championship."