Rhoades left Rice to lead VCU basketball program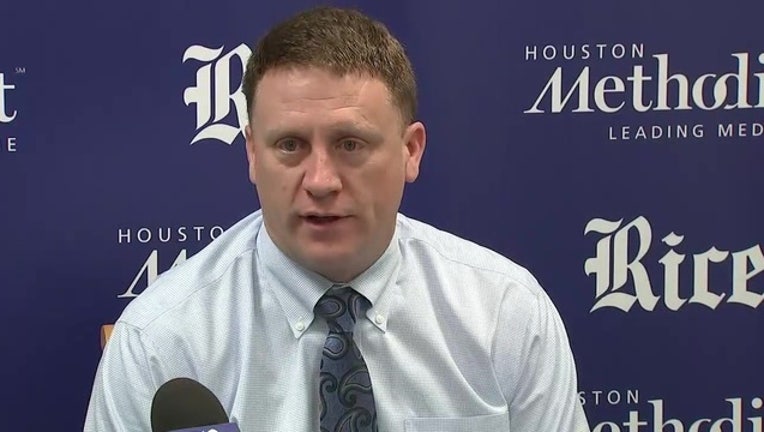 article
HOUSTON (FOX 26) - An emotional Mike Rhoades left Rice University Tuesday afternoon to take over as the new head basketball coach at VCU.
Rhoades was an assistant for five years at VCU before being named the Owls head coach three years ago.
"Dream come true," Rhoades said in an interview with FOX 26 Sports. "We're really excited about it.
"It's time to move forward and get going."
And while this is a great moment for Rhoades, it was not easy for him to leave Rice.
"Tough day, tough day," Rhoades said. "I love these guys at Rice.
"The foundation here is really strong. Joe Karlgaard is an awesome AD. I came to work for him. These players in this building are going to work really hard. They're going to try to win a championship. That's the culture we've talked about. I love everyone of them."
Rhoades feels for the players he's leaving at Rice.
"It's hard, it's hard," Rhoades said. "We've got big boys in that locker room. They're going to be okay. We've got each other's backs forever."
In his third season at Rice, Rhoades led the Owls to a 23-12 record, 11-7 in Conference USA. The 23 wins are the second most in Rice history, and was just the eighth 20-win since the program began in 1914.
The Owls were eliminated by Utah Valley in the quarterfinals of the CBI on Monday night.
Rhoades is proud of what he has accomplished in his three years with the Owls.
"Just that you can do it here," Rhoades said. "You can get it done at Rice.
"That's what we did."
Rhoades left Rice with a message for the school's fans.
"Thank you for everything." Rhoades. "Our family and I are going to really miss it."
Rice Director of Athletics Joe Karlgaard issued this statement late Tuesday night: