Pres. Trump honors World Series champion Houston Astros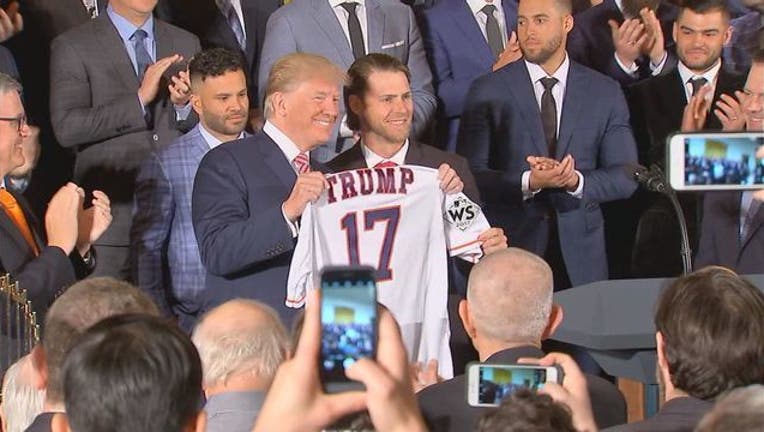 WASHINGTON (FOX 26) - President Donald Trump has honored the Houston Astros for winning the World Series.
The Astros used Monday's day off from spring training in Florida to fly to Washington for the White House ceremony.
Houston defeated the Los Angeles Dodgers in Game 7 last year to claim the franchise's first World Series title. Trump calls it "one of the greatest baseball games anybody's ever seen."
He congratulated the team on their win and discussed the player highlights from the series.
READ MORE: REGULAR SEASON TICKETS ON SALE, HOME OPENER SOLD OUT
The team presented the president with his own Astros jersey to commemorate their win.
Houston's Mattress Mack was also in attendance at the White House. He told FOX 26, "it was one of the great thrills of my life."
Following the meeting with Pres. Trump, General Manager Jeff Luhnow said, "If there's one thing this experience gave me is the desire to come back here as soon as possible."
Carlos Correa and Ken Giles were notably not at the White House event. Astros owner Jim Crane said, "a couple guys had family issues, and [it's] spring break."
The Associated Press contributed to this report.