MVP favorites Harden, Westbrook get first-round showdown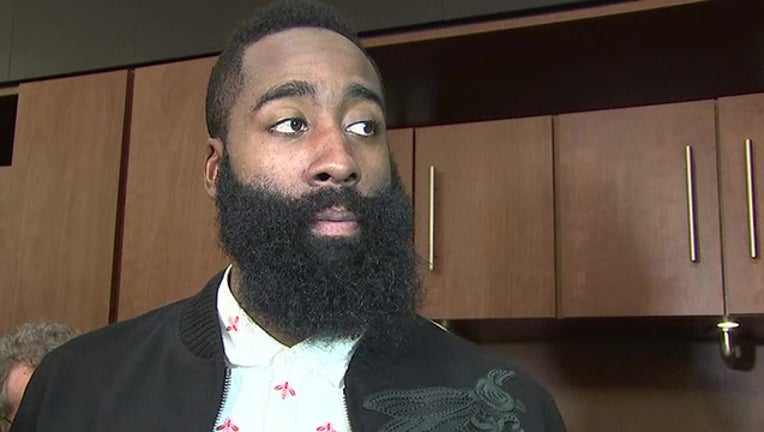 article
HOUSTON (AP) -  
While everyone must wait more than two months for the NBA's MVP to be announced, the league will showcase the two front-runners for the honor in James Harden and Russell Westbrook when the Houston Rockets and Oklahoma City Thunder open a first-round playoff series Sunday night.
"I think the league is very prosperous because we've got some great players that are doing things that I don't think any fan has ever seen, or they have seen and they probably can't remember it because it's been so long," Houston coach Mike D'Antoni said. "Putting up unbelievable numbers, unbelievable seasons and some great story lines. It's good for the NBA. It's great for business."
The Rockets had the third-best record in the NBA and are eyeing a deep playoff run in their first season under D'Antoni after being ousted in the first round by Golden State last year. Oklahoma City is in the unfamiliar role of underdog after reaching the Western Conference finals last season before also being eliminated by the Warriors.
Most expect either Harden or Westbrook to take home the MVP trophy on June 26 after both players had stellar regular seasons. Harden averaged 29.1 points, 11.2 assists and 8.1 rebounds a game- all career bests - in helping Houston to a 55-27 record.
Harden had 22 triple-doubles and became the first player in NBA history to have 2,000 points (2,356), 900 assists (907) and 600 rebounds (659) in a single season.
Westbrook became the first player since Oscar Robertson in 1961-62 to average a triple-double by scoring an NBA-best 31.6 points a game, with 10.7 rebounds and 10.4 assists. He set an NBA record for most triple-doubles with 42, allowing the Thunder to withstand the loss of All-Star Kevin Durant in free agency and secure the sixth seed.
Harden and Westbrook are former teammates in Oklahoma City and remain good friends, but neither seems drawn by the hype that this series is all about them. Harden cut off a reporter before he could finish his question about how the focus entering this series is on him and Westbrook.
"I don't really care about the talks," he said. "I just want to win."
When prodded about what makes Westbrook so good, Harden provided some praise for the fellow point guard.
"Obviously he's talented, really explosive (and) athletic," Harden said. "He just goes out there and plays relentless."
Westbrook acknowledged it will be "cool" to match up against his friend in this best-of-seven series.
"It's a great experience," he said. "Something that we can talk about later on down the line. Definitely, it's good."
Some things to know about the Thunder-Rockets series.
GUARDING THE MVP
Houston's Patrick Beverley and Oklahoma City's Andre Roberson have perhaps the toughest jobs in this series, as they'll guard Westbrook and Harden. Both teams will certainly employ various tactics to slow down the other's star, but Beverley and Roberson will be the first line of defense.
"Pat is probably the unsung hero," D'Antoni said. "His edginess and what he has to do, he has to guard Westbrook ... he is a big, big part of what we do."
Beverley embraces the challenge.
"It's going to be hard as hell," he said. "He's one of the most explosive point guards probably to ever play the game. But you know me. It will be fun."
Roberson feels the same way about Harden.
"I definitely like a challenge, and I like to go against the best," he said. "Go out there and prove we're just as good, too."
OKC'S REBOUNDING
The Rockets know a key to success will be limiting Oklahoma City's rebounding. The Thunder led the league with 46.6 rebounds a game and tied for first by averaging 12.2 offensive boards.
D'Antoni has been drilling those numbers into his players' heads for weeks, bringing it up repeatedly as soon as it looked like the Rockets would draw the Thunder in the first round.
"You've got to rebound," D'Antoni said simply.
GORDON'S IMPACT
Eric Gordon is a candidate for Sixth Man of the Year after averaging 16.2 points, 2.7 rebounds and 2.5 assists off the bench in his first season in Houston after five years with New Orleans. Gordon, who has struggled with injuries over the last few seasons, appeared in 75 games, which is the most since he played 78 as a rookie in 2008-09. Gordon ranked fourth in the NBA with a career-high 246 3-pointers, after he hadn't made more than 141 in a year in the first eight seasons of his career.
He takes pride in being a spark off the bench.
"We've got some guys that can make an impact, so we just want to press the gas," he said. "If our first unit gets the lead, we want to (extend) the lead even more."
This will be just his second trip to the playoffs after he appeared in just one series with the Pelicans, in 2015.
___
AP Sports Writer Cliff Brunt contributed to this report from Oklahoma City.
___
More AP NBA: apnews.com/tag/NBAbasketball