Le'Veon Bell on NFL field in 2018 merely a fantasy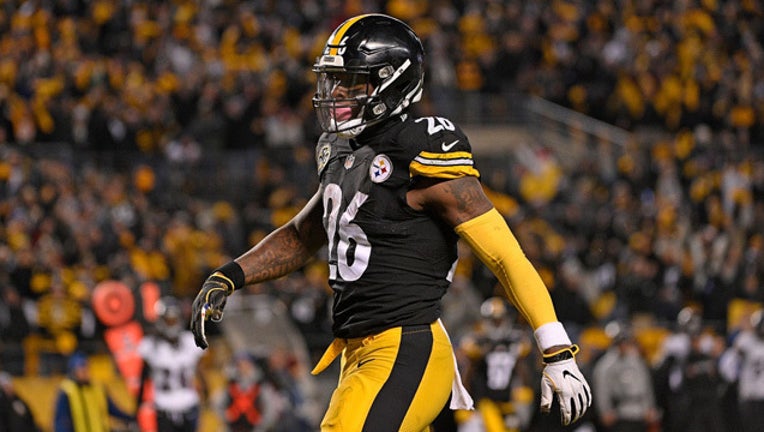 article
PITTSBURGH (AP) — Le'Veon Bell won't play in 2018.
The star running back declined to sign his one-year $14.4 million franchise tender with the Pittsburgh Steelers by Tuesday's deadline, making him ineligible to suit up for the AFC North-leading Steelers or anyone else this season.
The unusual decision to sit out won't prevent Bell from becoming a free agent next spring, when the three-time Pro Bowler hopes to cash in with a contract that would make him the highest-paid back in the NFL.
Steelers coach Mike Tomlin seemed resigned to Bell's decision shortly before the 4 p.m. deadline, saying simply "so be it" when asked about the possibility of Bell never returning to the team that drafted him in the second round of the 2013 draft and helped mold him into one of the league's top players.
"Even when we don't understand it, we're sensitive to it, so we're not shocked when things happen from a business standpoint, no," Tomlin said.
The Steelers, who have won five straight to sprint to the top of the division heading into a visit to Jacksonville on Sunday, will turn to second-year back James Conner and reserves Stevan Ridley and rookie Jaylen Samuels to help shoulder the load with Bell out of the picture.
All season Tomlin stressed he was focused on the players in the locker room and not the ones outside it and hardly seems bothered by Pittsburgh's quest for a postseason berth without the talented 26-year-old Bell.
"That train has left the station," Tomlin said. "We're comfortable with how we function, the people at our disposal, the division of labor and our ability to ready ourselves for the challenges."
The Steelers drafted Bell with the 48th overall pick in the 2013 draft, won over by his youth, size and versatility. Along with wide receiver Antonio Brown, Bell became the linchpin in which the Steelers rebuilt themselves on the fly as the franchise's identity shifted from away from the defense that fueled three Super Bowl appearances in six years from 2005-2010 toward an offense that ranked among the most dynamic in the league.
The makeover relied heavily on Bell, whose patient running style became his trademark while helping Pittsburgh to four straight playoff berths.
Bell is one of only three players to be franchise tagged in consecutive seasons. The first two - linebacker Karlos Dansby and quarterback Kirk Cousins - played all 16 games during their second season under the tag then went and cashed in elsewhere in free agency.
As his star rose, Bell insisted he wasn't merely a running back, pointing to his success as a receiver - he finished 10th in the league with 85 catches in 2017 - as proof that he should be paid far above his peers.
When Bell and the Steelers failed to reach an agreement on a new deal last summer, he said "both sides worked extremely hard" in an attempt to get something done. When it didn't happen, he skipped training camp again, just as he did in 2017. His teammates stressed it was no big deal, confident Bell would show up in time for the regular-season opener.
Only he didn't. And when preparations for Pittsburgh's Week 1 trip to Cleveland began without Bell, several of his teammates - particularly the offensive line - vented their frustrations publicly.
The anger eased as the weeks passed and Conner thrived in Bell's absence while Bell remained in Florida, where encounters captured on social media found him riding a Jet Ski or hitting the club. He returned to Pittsburgh last week and even played some pickup basketball at a fitness center.
It's as close to breaking a sweat with the Steelers as Bell will get. Though the team could use the franchise or transition tag on Bell next spring, it's more likely he'll just walk away.
Now the player who would frequently place his hand on the back of an offensive lineman while waiting for a hole to open - much as a child sticking close to a parent in a crowded store - finds himself all alone in uncharted territory.
___
More AP NFL: https://apnews.com/tag/NFL and https://twitter.com/AP_NFL