Leonard scores 32 points as Spurs rout Grizzlies 111-82 in Game 1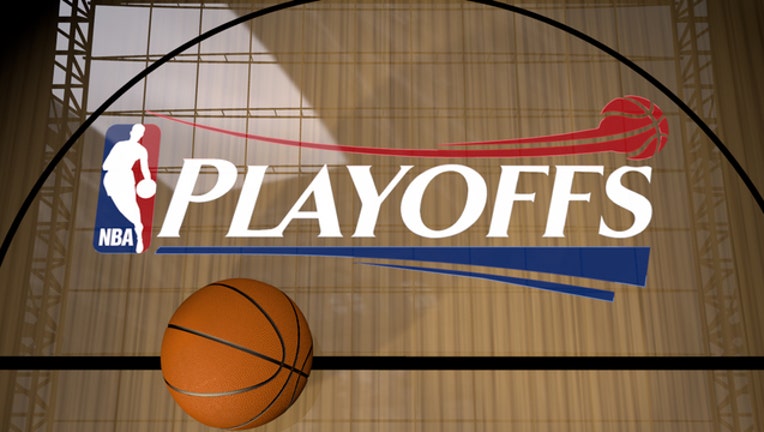 article
SAN ANTONIO (AP) -  
Playing the Memphis Grizzlies in the postseason keeps bringing out the best in the San Antonio Spurs.
Kawhi Leonard matched his postseason high with 32 points and San Antonio rolled to a 111-82 victory over Memphis on Saturday night in Game 1 of the first-round playoff series.
"That's what star players do," Spurs coach Gregg Popovich said about Leonard. "It's the playoffs, he stepped up. He made a lot of great plays for us. He's a very determined individual. He's just beginning to come into his own and realizing the effect he has on a game on both ends of the court."
Game 2 is Monday night in San Antonio.
Memphis was outscored by 34 points over the final three quarters in dropping its ninth straight postseason game to San Antonio.
"It got ugly quick," Memphis coach David Fizdale said. "They just got after us, they really got after us. They upped their pressure."
Marc Gasol had 32 points, but only seven in the second half as the Grizzlies fell behind by as many as 36 points. Memphis point guard Mike Conley finished with 13 points, but did not score after making a layup with 8:40 remaining in the second quarter.
San Antonio guard Danny Green had only two points, but blocked four shots and had a steal while primarily defending Conley.
"It wasn't just me," Green said. "Patty (Mills) did a great job on him (and so did) Kawhi, Tony (Parker). We had different spurts on him, threw different looks at him. Try to wear him down a little bit. We have a lot of good defenders around here."
The Grizzlies made their first five shots and first four 3-pointers in racing to an 18-7 lead. Gasol hit a turnaround jumper and 3-pointer on Dewayne Dedmon to open the game.
"We started to jump into the ball-handler," Leonard said. "We tried to get an extra body on Marc Gasol, he got going, as well as Conley. Just trying not to make it easy for those guys. They are great players and they can win a game."
San Antonio would not take its first lead until there was 8:53 remaining in the second quarter, but raced to victory once it did.
LaMarcus Aldridge had 20 points and Parker added 18, but it was Leonard who sparked the blowout win.
"Kawhi is our main guy," Parker. "He's been playing great this year, MVP level. He's been aggressive every game. If we want to go anywhere in the playoffs, he's going to have to perform at that level every game."
Memphis was without defensive lynchpin Tony Allen. He's out indefinitely with a calf injury, and Leonard took advantage for his fourth career playoff game of 30-plus points.
"Obviously, we wanted to win a game," Leonard said. "We are on our home floor and we went down early, but we stayed in it."
After falling behind 28-15 with two minutes left in the first quarter, the Spurs outscored the Grizzlies by 42 points over the next two quarter, including a 19-0 run to bring the third and fourth periods.
Amid chants of "MVP! MVP!" Leonard scored 15 points in the third quarter as the Spurs built a 20-point lead. His pull-up jumper off an isolation against James Ennis III gave San Antonio an 84-64 lead to close the third, erasing a 13-point deficit in the first half.
Leonard was 4 for 5 from the field in the third quarter and made all seven of his free throws in the third.
The Spurs were able to sit all their starters but Dedmon in the fourth quarter as their lead ballooned to as many as 36 points.
TIP-INS
Grizzlies: Allen is out indefinitely with a strained right calf. The 13-year veteran suffered the injury when he was kicked in the calf during the first quarter of Memphis' regular-season finale against Dallas. ... The Grizzlies last postseason victory over the Spurs was a 99-91 victory April 29, 2011. The victory knocked the then top-seeded San Antonio out in six games in the opening round. ... Gasol's previous high against the Spurs was 28 points in a 107-101 loss on Dec. 15, 2014. ... Vince Carter has played in 83 career postseason games over 11 seasons, starting 61 times. He has played in four games or less in four of those postseasons.
Spurs: San Antonio is 15-4 against Memphis in the postseason. ... Manu Ginobili suffered a small cut under his left eye late in the first half that forced him to the locker room, but he returned for the second half. ... The Spurs have opened the postseason on the road just twice in 15 years since moving into the AT&T Center in 2003. ... Ginobili has 309 3-pointers in his postseason career, third behind Ray Allen (385) and Reggie Miller (320) in league history.
MISSING ALLEN
Memphis has to accept Allen is not expected to play against San Antonio, Fizdale said.
"We can't worry about that no more," Fizdale said. "We've just got to do a better job of obviously taking the challenge one on one. I didn't think we shrunk the floor well against them. I didn't think we got the ball synch to the pick and roll coverage when we called the coverage."
PRIME PARKER
Parker had 18 points in 22 minutes after averaging 10.1 points in the regular season.
The 16-year veteran only had two assists, but no turnovers in leading the Spurs to a decisive victory.
"Him being aggressive, knocking down shots, and penetrating, getting the defense to get an extra guy to go to him is big for us," Leonard said. "Not just for me, but for everybody. It gets us open shots."