Eagles' Wentz has torn ACL, will miss rest of season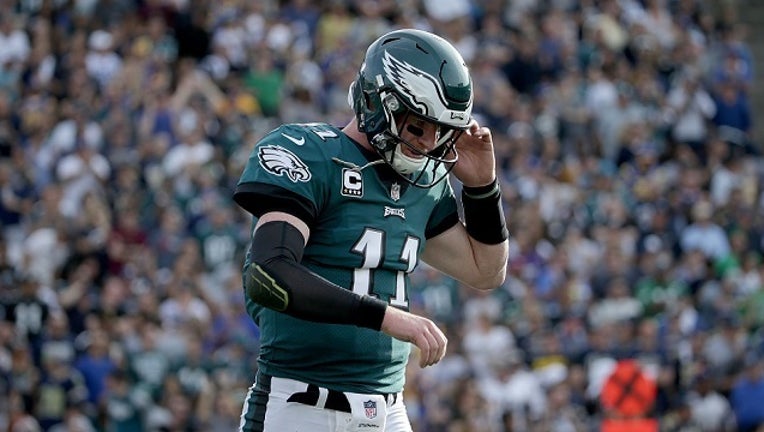 article
PHILADELPHIA (AP/WTXF) -- Eagles star quarterback Carson Wentz has a torn left ACL and will miss rest of the season and playoffs, coach Doug Pederson confirmed
Wentz, a favorite in the NFL MVP race, had an MRI on Monday that revealed the severity of the injury. Wentz was hurt late in the third quarter Sunday at Los Angeles. Backup Nick Foles rallied the Eagles (11-2) to a 43-35 win over the Rams that secured the NFC East title and put them in first place in the conference with three games remaining.
MORE: Eagles beat the Rams, win NFC East
"If there's ever an opportunity for me to rally the troops as the football coach, now might be the time," Pederson said. "You can't lose faith. This has been a resilient football team all season long."
After starting all 16 games as a rookie, Wentz made a giant leap this year. He passed for 3,296 yards and set a franchise single-season record with 33 touchdown passes while only tossing seven interceptions.
Foles led the Eagles to a pair of field goals on consecutive drives against the Rams. He is 20-17 as a starter in six seasons with the Eagles, Rams and Chiefs.
Pederson insisted the offense won't change with Foles.
Nick Foles: 'I'm absolutely ready to go' in wake of Wentz injury
"He's a highly intelligent football player," Pederson said.
A third-round pick by former Eagles coach Andy Reid in 2012, Foles in his second stint in Philadelphia. He replaced an injured Michael Vick in 2013 and led the Eagles to an NFC East title during Chip Kelly's first season as coach. Foles tied an NFL record with seven TD passes in a game at Oakland in November 2013 and finished that season with 27 TDs and only two picks. The Eagles lost at home to New Orleans in the playoffs. Foles went to the Pro Bowl and was the offensive MVP.
MORE: NFC East champion Eagles confident despite Wentz injury
But Kelly traded Foles to St. Louis for Sam Bradford after the 2014 season. Foles spent a year with the Rams, a season with the Chiefs and returned to Philadelphia as a free agent this season.
Second-year pro Nate Sudfeld is Philadelphia's No. 3 quarterback. Pederson said he hasn't spoken to personnel boss Howie Roseman about adding a third quarterback yet.
"I'm absolutely ready to go -- need be," Foles said after the win over the Rams. "I prepare every day."