Dynamo name Barrett as interim head coach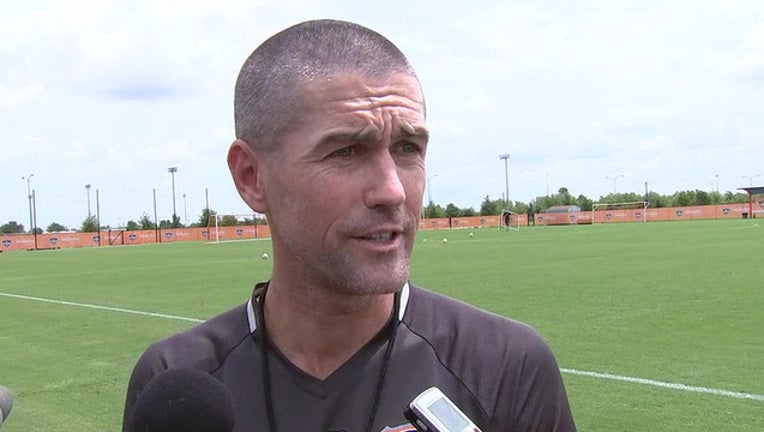 article
HOUSTON (FOX 26) - Wade Barrett, a former Houston Dynamo captain and an assistant coach with the franchise since 2010, has been named the team's interim coach later Tuesday for the rest of the season.
"Wade will take over as the interim head coach," says Dynamo general manager Matt Jordan. "Wade's done a very good job leading the team with some difficult circumstances. We feel this is the best position at this time to win games. We have a lot of the season left to play. All of our goals that we outlined in the preseason are still out there."
Barrett, along with assistants Paul Caffrey and Paul Rogers, had been running the team since the Dynamo mutually parted ways with head coach Owen Coyle on May 25.
However, Barrett was the assistant chosen to meet with the media, and now it is his team for the time being. And it makes sense.
Barrett, is the longest serving member of the organization, and has been with the team since it relocated to Houston from San Jose in 2006.
He helped the Dynamo win the MLS Cup in 2006 and 2007, playing in 61 of the 62 games with the Dynamo during that span.
Barrett retired prior to the 2010 season, transitioning to the coaching staff as an assistant, where he has been since.
"Yeah, of course I want the job," Barrett told reporters last Tuesday. "I've been with this team probably longer than anybody. I was here for the press conference in 2006. I've been in every MLS Cup that we've won. I've been in every MLS Cup that we've lost. I know what it takes to get there."
And Barrett will use that knowledge to help the Dynamo this season, and perhaps even longer.
Barrett will be a candidate for the job on a permanent basis, which Dynamo officials will address after this season is over.
The Dynamo released the following statement on Tuesday: