Deandre Hopkins takes part in first training camp practice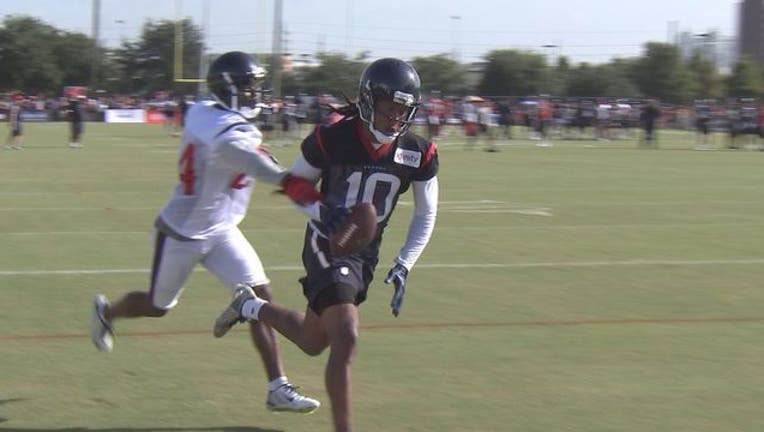 article
Houston - The holdout did not last long, but the Texans hope Deanre Hopkins' career in Houston does.
"I'm happy he's back," Texans owner Bob Mcair said. "I think it's in his best interest for him to be here. We'll deal with his contract at the proper time. We take care of our players and we'll take care of him."
Hopkins, 24, returned to practice on Monday.
He made the Pro Bowl last season after registering 111 catches for 1,521 yards and 11 touchdowns.
Hopkins was subject to a fine of up to $40,000 for each day he missed.
Hopkins said he was not trying to send a message, only trying to do what was best for him and his family.
Despite the ordeal, Hopkins didn't suggest he was harboring any ill will toward the franchise.
"I play football. That's what I love doing. I love my teammates, I love my coaches. I love this organization," he said. "I play football for a living. That's my job. I love coming out here and being with my teammates. I just have to keep working. I know it'll come. I'm not rushing it. I know it'll happen one day."
The Texans track record suggests Hopkins will ultimately get the contract he seeks. However, there are no guarantees and even Hopkins would not say he would be a Texan long term. For now, Hopkins says, "All I can do is go out there and play football and keep continuing doing what I'm doing and what I'm going to do."
The Texans first preseason game is scheduled for August 14th at San Fransisco.