Astros lose, fall out of wild-card spot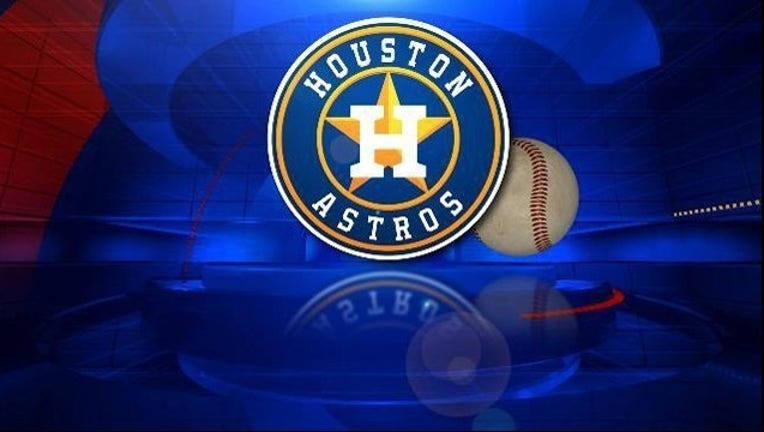 article
SEATTLE (AP) — If the Houston Astros intend to close out the season with their first playoff berth in a decade, manager A.J. Hinch said his team first needs "to find a way to close out games."
The Astros, involved in two postseason races, collapsed with two outs in the eighth inning Tuesday night as Shawn O'Malley hit two-run, bases-loaded single that gave the Seattle Mariners a 6-4 comeback victory.
The loss dropped the Astros among the leaders in the American League wild-card chase displaced by the Los Angeles Angels, an 8-1 winner over Oakland on Tuesday.
The New York Yankees, who lost to Boston 10-4, maintains the top wild-card spot with the Angels now second. Houston slips a half-game behind Los Angeles
As for the AL West race, division-leading Texas beat Detroit 7-6, and has a two-game lead over the Angels and 2 1-2 over the Astros.
"The last four runs they scored were all with two outs," Hinch said.
In the sixth, the Astros led 4-2 but Robinson Cano hit his milestone 20th home run, a two-run, two-out shot off Mike Fiers that tied the game.
"We're just not getting it done," Fiers said. "We had the game right there, with the lead. I just needed one more out to get out of the inning and keep the momentum going. Cano jumped me on the first pitch, put on a good swing, hit it out.
"You don't want to throw a fastball down and in to Robinson Cano," he added. "I was trying to go away."
Cano is the eighth second baseman to hit 20 or more homers in at least six seasons. He joins Jeff Kent (12), Dan Uggla (7), Craig Biggio (7), Joe Gordon (7), Rogers Hornsby (7), Bret Boone (6) and Ryne Sandberg (6).
It also extended Cano's hitting streak to 12 games, the longest current streak in the AL.
"Not a surprise to me," Mariners manager Lloyd McClendon said. "I said all along that Robby would hit to the back of his baseball card and he has. ... And he's not done yet."
The victory broke the Mariners' six-game losing streak.
Tom Wilhelmsen (2-2) earned the victory with 1 2-3 innings of relief. Oliver Perez (2-4) took the loss.
Seth Smith started the winning rally with a two-out single to right off Perez. Mark Trumbo then singled off Pat Neshek and Franklin Gutierrez walked. O'Malley then lined a 2-2 pitch from Neshek over second base.
"That (Smith) was a one-arm single off Perez. He was fortunate there," Hinch said. "Against Neshek, they just found holes. A couple soft, bloop hits. When we do it, we call it good hitting. When it's against you, it's frustrating."
George Springer had three hits for the Astros and Marwin Gonzalez hit his 12th home run.
"We have to play the whole schedule," said Hinch, whose team has four games remaining. "We could be a half game up or a half game back, we have to play the whole schedule to make it work."
TRAINER'S ROOM
Mariners: RHP Felix Hernandez has a tender right elbow and could be given an extra day's rest, pushing him back to Saturday. ... LHP James Paxton (left middle index finger) will not pitch again until the Arizona Fall League.
Astros: OF Carlos Gomez, who missed 13 games in September with intercostal discomfort, took batting practice before the game. He is on a track to return but Hinch could not say when. ... 3B Jed Lowrie left the game in the fifth with left quad soreness.
UP NEXT
Mariners: The Mariners have not named a starter for Wednesday but it's certain to be a reliever. McClendon likely will start either RHP Mayckol Guaipe (0-3, 5.32) or LHP David Rollins (0-2, 7.88). Neither has a major league start.
Astros: LHP Scott Kazmir (7-11, 2.97) has struggled to contribute over the past two months. He is 1-6 since Aug. 5 and the Astros are 2-8 over his last 10 starts. "He's one good start away from forgetting his tough ones," Hinch said. Kazmir is 5-4 with a 3.08 ERA in 15 career starts against Seattle.
ONE YEAR COMPLETE
A year ago Tuesday, Hinch was hired as the 18th manager in Astros history. "A lot has happened in a year," Hinch said. "It's a big step in my career and obviously I've really enjoyed how the year has gone thus far." The Astros were 70-92 last season/