City of Uvalde cancels council meeting ahead of Robb Elementary shooting anniversary
UVALDE, Texas - The city of Uvalde has canceled its second May council meeting ahead of the one-year anniversary of the deadly mass shooting at Robb Elementary School.
No city-sanctioned events are planned for the week of May 24, and the Tuesday, May 23 city council meeting has been canceled.
Mayor Don McLaughlin and City Manager Vince Di Piazza will be holding a media briefing on Monday, May 22 at Uvalde's SSGT Willie de Leon Civic Center. 
"May 24 is going to be a difficult day. We are holding the news briefing to balance the news media's need to tell a story and the need of Uvalde residents to have space and privacy to reflect on the last year without the fear of intrusion," said Mayor McLaughlin.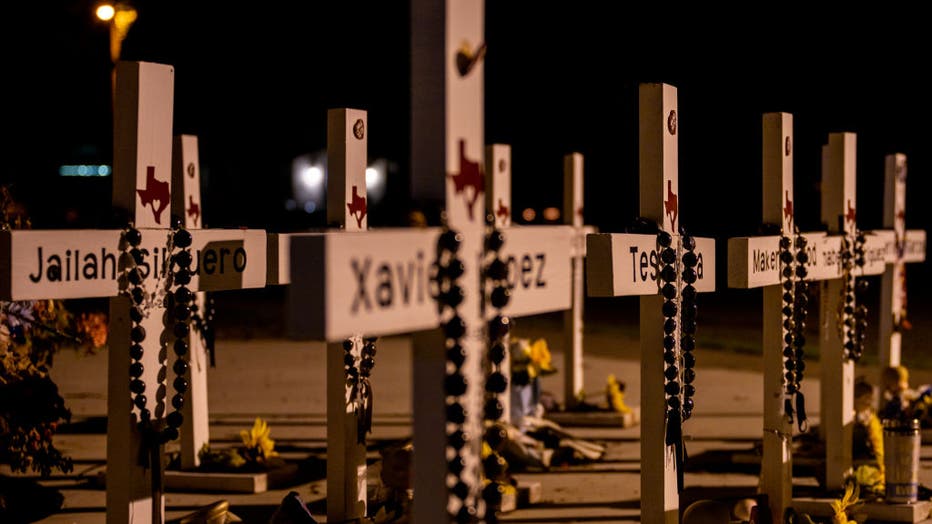 UVALDE, TEXAS - APRIL 27: A memorial dedicated to the 19 children and two adults murdered on May 24, 2022 during the mass shooting at Robb Elementary School is seen on April 27, 2023 in Uvalde, Texas. The town of Uvalde is preparing to mark the 1-yea
READ MORE
Beginning at 6 p.m. Tuesday, May 23, no parking will be allowed around Uvalde Main Plaza, Robb Elementary School, the Healing Uvalde Murals, and the Civic Center parking lot. Vehicles will be removed at the owner's expense, says the city. Visitors are asked not to obstruct traffic or right-of-way.
The city is also not accepting gifts and visitors are asked not to bring or leave any items.