Mandatory, voluntary Hurricane Harvey evacuations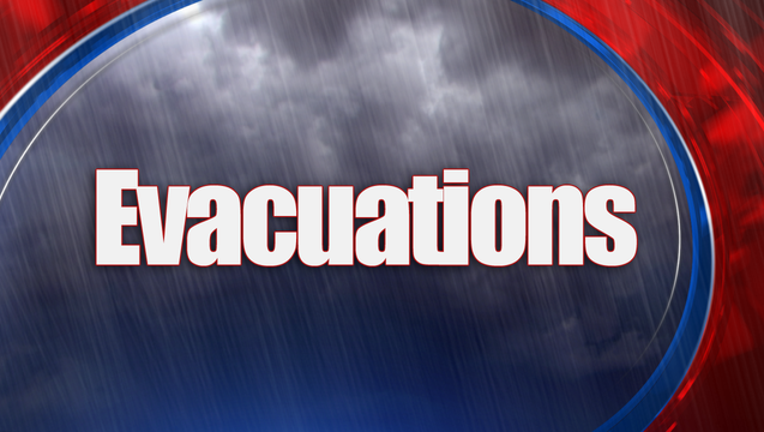 HOUSTON (FOX 26) - All evacuation orders for Fort Bend County are cancelled:
During hurricane Harvey's impact and in the days immediately following, Fort Bend County Judge Robert Hebert issued evacuation orders in many areas of the county in order to protect life and property. These orders at their height covered an estimated 50,000 households.  While high water is still present in some areas, conditions on the Brazos River, San Bernard River, and in areas adjacent to the Barker Reservoir have improved enough to warrant cancellation of these orders for the remaining portions of the county. Effective immediately, no areas in Fort Bend County are under an evacuation order.
Residents should still use extreme caution when entering these areas.  Remember to; "Turn Around, Don't Drown." Although all remaining evacuation orders have been cancelled, those areas may still have hazards present such as flooded roads, fallen trees, displaced animals, and standing water.
"This historic flood event has challenged Fort Bend County, but our residents have risen to that challenge and shown great courage, poise, and patience in the face of this tragedy," Judge Hebert said. "We want you to know that we're right here with you and we are doing everything we can to help you get the care you need, get back into your home, and get assistance from FEMA.  Remember, there are still hazards out there, so be careful and keep your family safe."
Make sure to visit the Fort Bend County Office of Emergency Management website at fbcoem.org and Fort Bend Recovers website at fortbendrecovers.org for information as you begin the long-term recovery process.
For information on recovering from Hurricane Harvey, visit FortBendRecovers.org.
PART OF WEST HOUSTON: Houston Mayor Sylvester Turner urges anyone who has water in their home and lives west of Gessner Rd, to please immediately evacuate! Homes could remain flooded for 15 days or more. 
List of mandatory and voluntary evacuations for Hurricane Harvey.
Alphabetical listing, counties, cities. Updates posted in red.
Bay City has issued a mandatory evacuation by 1 p.m. Monday:
EMERGENCY: Confirmed, catastrophic flooding expected in Bay City with up to 10ft of water in downtown. Mandatory Evacuation by 1pm tomorrow is called for the entire City and surrounding areas. 
Today the Matagorda County Emergency Operations Center received a flood model from the Texas State Operations Center that projects severe flooding of every structure in Bay City with up to 10 feet of water in downtown. Western Gulf Rivers Forecast Center and the National Weather Service have confirmed the accuracy of this model. This flooding will close Highway 35 West and prevent the ability to evacuate after tomorrow, Monday August 28, 2017 approximately at 1:00PM.
Instructions:
Mandatory Evacuations MUST be completed before the DEADLINE of Monday, August 28, 2017.
Brazoria County has issued a MANDATORY evacuation for Coastal Communities:
***Brazos levee breached at Columbia Lakes has breached. Residents in the area are urged to evacuate.***
Residents living on the Gulf side of the Intercoastal Canal (Coastal Communities) are now under a Mandatory Evacuation due to expected 6-10 foot storm surge.
Voluntary Evacuation for residents living along the San Bernard River in effect. Historic river crest is imminent per NWS river hydrologists. Residents should stay informed for Mandatory evacuation information forth coming.
The City of Conroe has issued MANDATORY and RECOMMENDED evacuations for some residents.
Dickinson's mandatory evacuation LIFTED:
This City of Dickinson has lifted the mandatory evacuation order for all of Dickinson.  Citizens are asked to be aware that the infrastructure is still fragile within the city.  Some services may be limited and / or delayed. Everyone is asked to use their own personal judgment in regards to their safe return.
The nighttime is still in effect. Curfew will be from dusk to dawn until further notice.  
Fort Bend County has changed the voluntary evacuation to a MANDATORY evacuation order for the following subdivisions:
The U.S. Army Corp of Engineers is currently forecasting a record pool elevation level in the Barker Reservoir several feet above the levels in the Tax Day flood of 2016. The reservoir has risen to 101.1 feet at this time and imminent flooding is expected in this area.
CANYON GATE - all sections

CINCO RANCH - following sections: Bayou Park Estates Cinco Forest Equestrian Village Fountain View Greenway Village Institutional Core Southpark Meadow Place North Lake Village Plaza Subdivision West, Section 7 Willow Fork

Bayou Park Estates

Cinco Forest

Equestrian Village

Fountain View

Greenway Village

Institutional Core

Southpark Meadow Place

North Lake Village

Plaza Subdivision

West, Section 7

Willow Fork

GRAND LAKES - all sections

KELLIWOOD – following sections: Courts Fairways Greens Links Park Pointe Terrace

Courts

Fairways

Greens

Links

Park

Pointe Terrace

RICEFIELD VILLAGE

WILLOW FORK - Greens, Section 1
There is an interactive map on the Fort Bend County OEM website where citizens can type their address and see if they are in a mandatory evacuation area.  Fort Bend County Office of Emergency Management Evacuation Interactive Map.
Fort Bend County's unincorporated area is currently under a curfew from 12:00 AM to 6:00AM and it is best not to travel on these roadways until daylight.   Residents are advised to make preparations now to remove all persons and pets out of the neighborhoods.  All evacuees should take their important documents and medication with them when they leave.  Additional vehicles can be parked at the Cinco Ranch High School.
If you are a resident in the evacuation zones and you do not have transportation or a place to go – PLEASE CALL Fort Bend Office of Emergency Management at 281-342-6185 and request assistance with the evacuation.
For current shelters in Fort Bend County go to Fort Bend County Office of Emergency Management's Road Closures page. Fort Bend County Office of Emergency Management's Shelter page.
Fort Bend County has issued MANDATORY and VOLUNTARY evacuations for residents:
The mandatory evacuation zone for neighborhood s in the Fort Bend County portion of the Barker reservoir has been revised effective 9 a.m. Thursday:
The voluntary evacuation order previously put in place for neighborhoods in the Fort Bend County portion of the Barker reservoir has been lifted. A smaller mandatory evacuation area was ordered last night for neighborhoods near the Barker reservoir to provide the Sheriff's Office the authority they need to ensure the safety and security of residents in the evacuation area.
As the water levels recede in the neighborhoods near the Barker Reservoir, we will continue to reduce the size of the mandatory evacuation zone as quickly as possible. We will update this page regularly.
Brazos River threat continues
There is an increasing threat to Fort Bend County residents as the Brazos River continues to rise. River crest is now expected sometime on Saturday.
We encourage all residents to use extreme caution if moving about, to respect all evacuation orders, and to follow instructions of local Law Enforcement. The sun is shining today, but the river continues to rise and we all need to be vigilant for changing situations.
Galveston County has issued a voluntary evacuation for Bolivar Peninsula and extended low lying areas of the county including the communities of San Leon, Bacliff, Freddiesville, Old Bayou Vista and Highland Bayou.
Galveston County Judge Mark Henry has issued a voluntary evacuation for residents on Bolivar Peninsula effective Friday, Aug. 25 at 8 a.m. This order includes the unincorporated areas of Port Bolivar, Crystal Beach, High Island and Gilchrist. Residents who rely on medical assistance or those who cannot go without power for an extended period of time are encouraged to leave.

Judge Henry has warned residents of the area they might find themselves isolated as the heaviest winds and rains wash ashore, which could cut people off from emergency services. The order will remain in effect through the weekend.

The combination of high winds and tides may also force the temporary disruption of the Bolivar Ferry raising the possibility the area could be cut off during the storm. TxDOT will decide whether to suspend service if tides reach more than 4.5 ft. or winds reach more than 45 mph. As of noon Thursday ferry services were still running.

"The voluntary evacuation order is intended to alert residents of Bolivar Peninsula that emergency responders may be unable to reach them," Judge Henry said. "Elderly residents and people with medical conditions should make plans to leave if they cannot be without power for possibly a few days."

Matagorda County - MANDATORY evacuation underway for parts of Matagorda County:
There will be a mandatory evacuation after 8am Friday morning for the areas south of FM521 and FM2611 in the Sargent area and for all areas south of FM 521 in Matagorda County and south of Business SH35 in Palacios to where Business 35 meets SH 35 west of Palacios. Please use your time wisely today and move what you can. All children under the age of 18 must be out of the mandatory evacuation
The City of Dickinson has issued a VOLUNTARY evacuation: 
The City of Dickinson Office of Emergency Management is issuing a VOLUNTARY Evacuation notice for those citizens with medical conditions, special needs, or those residents in low lying areas of the city.  

Medical conditions may include the need for oxygen, ambulatory needs, respiratory needs etc.  

Special needs could include issues such as the young or the elderly easily affected by extreme heat (in case of loss of power), etc.  

Those residents who experience street and/or yard flooding during usual high tides or high rain fall totals are advised to make plans to secure property and move to higher ground prior to Friday afternoon/evening.

No public shelters are scheduled to be open within the City of Dickinson at this time.
Freeport is calling for a MANDATORY evacuation of all low coastal flood prone areas and an urged self-evacuation for the entire city:
We are calling for a mandatory evacuation of all low coastal flood prone areas to include Bridge Harbor and an urged self-evacuation for the entire city of Freeport based on the new storm impact projections. Based on landfall and impact projections our residents still have time to evacuate based on the aforementioned evacuation orders.
Hurricane Harvey's impact with the Texas coast is imminent. Weather projections are Harvey will make landfall between Matagorda and Corpus Christy today during the late evening hours. The hurricane is expected to be a category 3 storm upon landfall with 110 mile per hour winds. Projections are the storm will move slowly on land and stall and in some projections re-enter the gulf and impact the remaining Texas coastline heading towards Louisiana. We have been advised to expect hurricane and tropical storm force winds over the next two days along with tidal surges and rainfall in the 20"range. Residents should expect these weather conditions and should prepare for this event and catastrophic flash flooding.
With this development and continued impact to our coastline over the next two days we urge residents to consider a voluntary evacuation for the entire city limits of Freeport. We also call for a mandatory evacuation of all low coastal areas to include the Bridge Harbor area.
We will continue to plan and monitor the storm and its rapid development and provide our citizens with the most accurate information on our website, Facebook and Everbridge Citizens Alert system. If you have not received messages from the alert system please register your information and provide your cellular number on our city website so you can receive the most up to date storm and city information.
We urge our community to be aware of the storm and it is now time to take action if you chose to evacuate Freeport. Stay informed and have a plan of action. Stay tuned to our website, Facebook and Everbridge Citizens Alert system for the most up to date storm and warning information.
A mandatory evacuation has been ordered for both the Inverness Forest and Northgate subdivisions.
The Northgate Crossing Municipal Utility No. 1 has announced that a mandatory evacuation which includes the Northwood Pines subdivision. It is possible that if conditions worsen, residents may not be able to leave the subdivision after 11 p.m. Monday.
Northwood Pines residents have been told to prepare for immediate mandatory evacuation. 
The City of Kemah has issued a voluntary evacuation:
Based on the 10:00 a.m. conference call with that National Weather Service, Mayor Carl Joiner has called for a voluntary evacuation for Kemah, Texas. This action is consistent with Galveston County as a precaution for the impact of Hurricane HARVEY. The National Weather Service is predicting a 2-4 foot storm surge, with rainfall of 15-25 inches for the next 5 days. Heavy rain combined with high tides and tropical storm force winds at 30-40 mph could hinder transportation in flood-prone areas. Power outages are also possible.
Residents who rely on medical assistance or those who cannot go without power for an extended period of time are encouraged to leave.
Mayor Joiner stressed that this decision was based on the forecast as of Friday morning at 10:00 am. but is subject to change. Additional information will be provided as weather updates come in Updates will be posted on the City of Kemah website and social media channels. Residents can call city hall for recorded phone updates at 281-334-1611.
The City of La Marque has issued a voluntary evacuation and established a shelter:
La Marque Mayor Bobby Hocking signed a declaration of local disaster Thursday, August 24, 2017, and enacted a voluntary evacuation for citizens with functional needs, citizens with medical needs and citizens in low lying areas. There is no mandatory evacuation at time.

Low lying areas are primarily around Highland Bayou and homes outside of the hurricane protection levee. Camp Circle, Melody, Mary, Bluebonnet, Honeysuckle, Azalea and surrounding areas are also prone to flooding. La Marque Police and Fire went door-to-door in these areas yesterday, August 24, 2017.

Homeowners who have experienced street flooding from heavy rain in the past should expect street flooding during Hurricane Harvey. Up to 35 inches of rain is predicted, along with swollen bayous and rivers due to the storm surge. Expect ditches to hold water and water in yards. Water in homes is possible. La Marque Public Services crews have been mowing ditches and clearing culverts all week and will continue to monitor as Harvey comes ashore.

Be prepared to go several days without power.
If you choose to evacuate, do not drive on flooded roads. A car can float away in as little as six inches of water. If you come across a flooded road, find another route or turn around.
Once the rain stops, streets and ditches are predicted to hold water. Be courteous to your neighbors and do not drive on flooded neighborhood roads. Wakes caused by vehicles driving on flooded streets can cause water to enter homes and may cause severe damage.
The American Red Cross has established a shelter for displaced citizens of Galveston County at Abundant Life Christian Center at 601 Delany in La Marque. City of La Marque cannot provide transportation to the shelter. Citizens needing dialysis should call ESRD Network at 469-916-3800.
City of La Porte has issued a Voluntary Evacuation for the entire city prior to the arrival of Hurricane Harvey.
A mandatory evacuation has been issued for Audubon Woods 1 subdivision in Richwood. The sewer service in those areas have become over capacitated:
The Mayor of the City of Richwood has issued a MANDATORY EVACUATION for Audubon Woods 1 subdivision from Polk Elementary to 2004 and 288, Briar Creek Street, Four Oaks Street, & Quail Run Drive. Please call 979-265-2082 for assistance with evacuating.
The Rosenberg Police Department issued a mandatory evacuation at 2 p.m. Saturday for the following boundaries:
West Street and Mulcahy Street, north of Avenue D
all properties north of River Road adjacent to the river
all properties north of the Brazos River within city limits
all properties east of 4th Street north of Avenue B in north Rosenberg
all properties on 1st street North of Avenue D
With the flooding related to Harvey, the Brazos River is expected to crest at around 55 feet. which is higher than the Memorial Day flood of 2016. 
UPDATE: Rosenberg has ordered a mandatory evacuation for homes on Huntington Road. "Unknown if bridge into area will hold as river levels rise. Bridge is only way out."
City of Seabrook has issued a voluntary evacuation:
Seabrook city officials have now ordered a Voluntary Evacuation for the entire city prior to the arrival of Hurricane Harvey. Residents and businesses are encouraged to evacuate by noon on Friday, August 25. 
The National Weather Service is predicting heavy amounts of rainfall and possible storm surge in Seabrook making the city susceptible to flooding and street closures. The voluntary evacuation order is intended to alert the residents of Seabrook that emergency responders may be unable to access some areas of the city.
This notice is very important to elderly residents and/or people with medical conditions. We encourage these residents to evacuate the city at your convenience, however, due to rain, storm surge and the probability of heavy traffic you are encouraged to do so by noon on Friday, August 25. 
The City of Shore Acres has called for a Voluntary Evacuation of residents in low-lying prone areas.
The City of Victoria has issued a mandatory evacuation
Waller County Office of Emergency Managment ordered the following voluntary evacuation to begin on Sunday morning:
Wharton County OEM says residents in The Orchard or Peach Creek Acres should leave immediately:
URGENT MESSAGE FOR RESIDENTS OF THE ORCHARD OR PEACH CREEK ACRES: If you live in these areas you should be leaving immediately and seeking shelter elsewhere. The report from law enforcement officers is that the water is collecting rapidly in those areas. Please call your friends and neighbors as it is late. A shelter is established at Holy Family Catholic Church at 2009 Briar Lane, Wharton. PLEASE BE SAFE!