Houston's 7 mayoral hopefuls weigh in on Houston flooding, solutions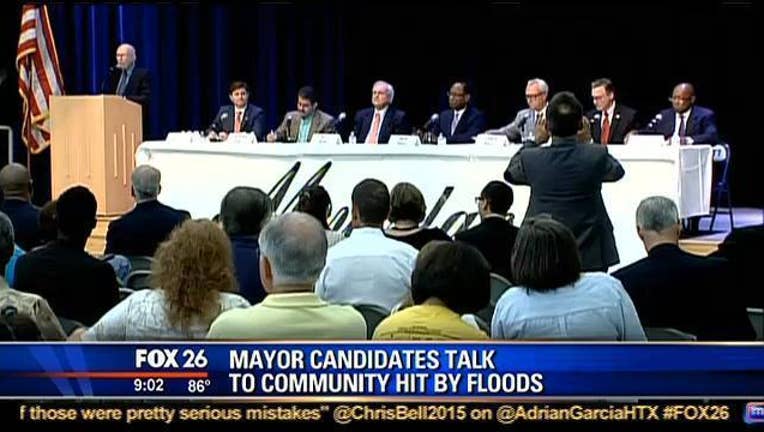 MEYERLAND, Texas - They certainly don't agree on who should be the next mayor of Houston, but several of the mayoral hopefuls who attended a forum in the flood-ravaged Meyerland area, and other neighborhoods along Brays Bayou, have put out some of their thoughts about what went wrong, and how to fix it. 
The most popular answer: complete Project Brays.  The project run by the Army Corps of Engineers and the Harris County Flood Control District isn't a City project.  So what is a mayor to do?  Lobby for the Federal dollars.
State Rep. Sylvester Turner says: "If given the opportunity i would love to work with the Congressional delegation to see if we can speed up that timeline. if we're able to do that, that would make a significant difference."  
The project was started in 1994, and received significant updates in the early 2000s.  But its estimated completion year is 2020, about 8 years behind schedule. Turner's sentiments were echoed by Bill King, Stephen Costello, and former Congressman Chris Bell.  
Bell also said "ReBuild Houston," a city-funded project which was supposed to make drainage better, failed, "it made some areas worse." Adrian Garcia added: "Whatever it is doing, we need to make sure that Rebuild Houston is doing for this neighborhood what it is doing for others."  Garcia also said high water rescue vehicles and alert systems could have saved the lives of some of the 8 flood-related victims.
Attorney Ben Hall said a storm water management and road tunnel system used in Malaysia has practical applications for Houston.  "Once the glass is full, it's going to overflow but if you have two glasses, or a saucer underneath then you have capacity and less flooding."
Marty McVeigh added that a 2 year City flood plan is just too brief. "I am not sure how long it needs to be, maybe 15 years."